Third Annual Flu and Wellness Fair a Highlight for Families in Pediatrics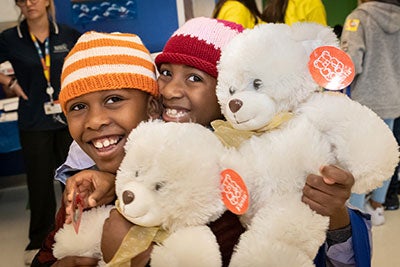 On Saturday October 5, the Department of Pediatrics hosted its third annual Flu and Wellness fair. The fair provided flu vaccines to Boston Medical Center patients with the goal of vaccinating as many children in our practice as possible. This was also an opportunity to sign families up for MyChart—an online portal for patients to communicate with their providers—and a fun way to inform families of a variety of programs at BMC.
This year, more than 200 children received their flu vaccine during this three-hour event. Additionally, representatives from 25 programs within and outside of BMC set up tables to meet families, hand out prizes and run activities. Although many children who entered the clinic to get their vaccine were scared or shy, this fear quickly turned to smiles when they were greeted at the end of their shot with a teddy bear, and saw the clinic hallways lined with activities and prizes. Whether you were drawn to learning some new yoga moves with the Child Witness to Violence team or learning about healthy snacks with the Family Advisory Board, there were activities for children and teenagers of all ages and interests. As families moved from table to table, they completed a scavenger hunt by collecting stamps for each activity. This scavenger hunt could be handed in at the end of the event to be entered into a raffle for fun prizes like signed footballs and toys. 
This event has been one of the highlights of the year for patients, providers and staff, since we started it in 2016 and it would not be possible without the volunteers, care team members and planning team who generously contributes their time, resources and creativity to making it a success. A special thanks to our sponsors the Boredom Busters who were also there to hand out coping bags to school-aged children, and WGBH who provided infant and toddler bags for the event.