A Culture That Thrives: Diversity, Equity, and Inclusion at BMC
Diversity, equity, and inclusion aren't new concepts to BMC – they're a part of who we are. It's built into our history, our mission, and our values. Building on our rich legacy, we work to live our values in everyday interactions with our patients and with each other. The variety of perspectives, backgrounds, talents, and experiences that exists at BMC makes us uniquely capable of providing exceptional care, without exception. Being our best means ensuring BMC is a place where every member of our community feels secure and welcome, that the contributions of all individuals are respected and celebrated, and that all voices are heard.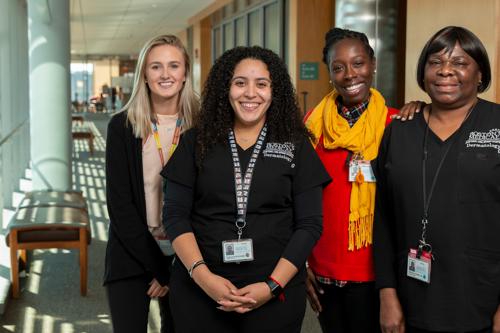 DEI in Action
BMC's commitment to diversity, equity, and inclusion is the thread that connects our community and is woven into our interactions and operations. While our work at the organizational level is a driving force behind our impact, the numerous innovative and successful initiatives that are generated by teams and departments throughout BMC carry that impact even further as we do the daily work of making a positive difference in the world.
2022 Diversity, Equity & Inclusion Year in Review
We're thrilled to share our third issue of Together @ BMCHS | 2022 Diversity, Equity, and Inclusion Year in Review – explore highlights of some of the remarkable work to advance DEI within the health system and local community. From internal initiatives like living out our DEI strategic framework, to external efforts including the hospital's newest addition, the Brockton Behavioral Health Center, we invite you to explore and celebrate our ongoing efforts toward creating an inclusive and equitable workplace for all.
Read it below or download the PDF.
The BMCHS Culture Code
Bringing meaningful change to systemic issues starts with recognizing the power of our individual impact. The BMCHS Culture Code was developed to provide clear, concrete ways to put our mission and values into everyday actions that celebrate our shared humanity and make space to honor the richness of experiences represented across the BMCHS community.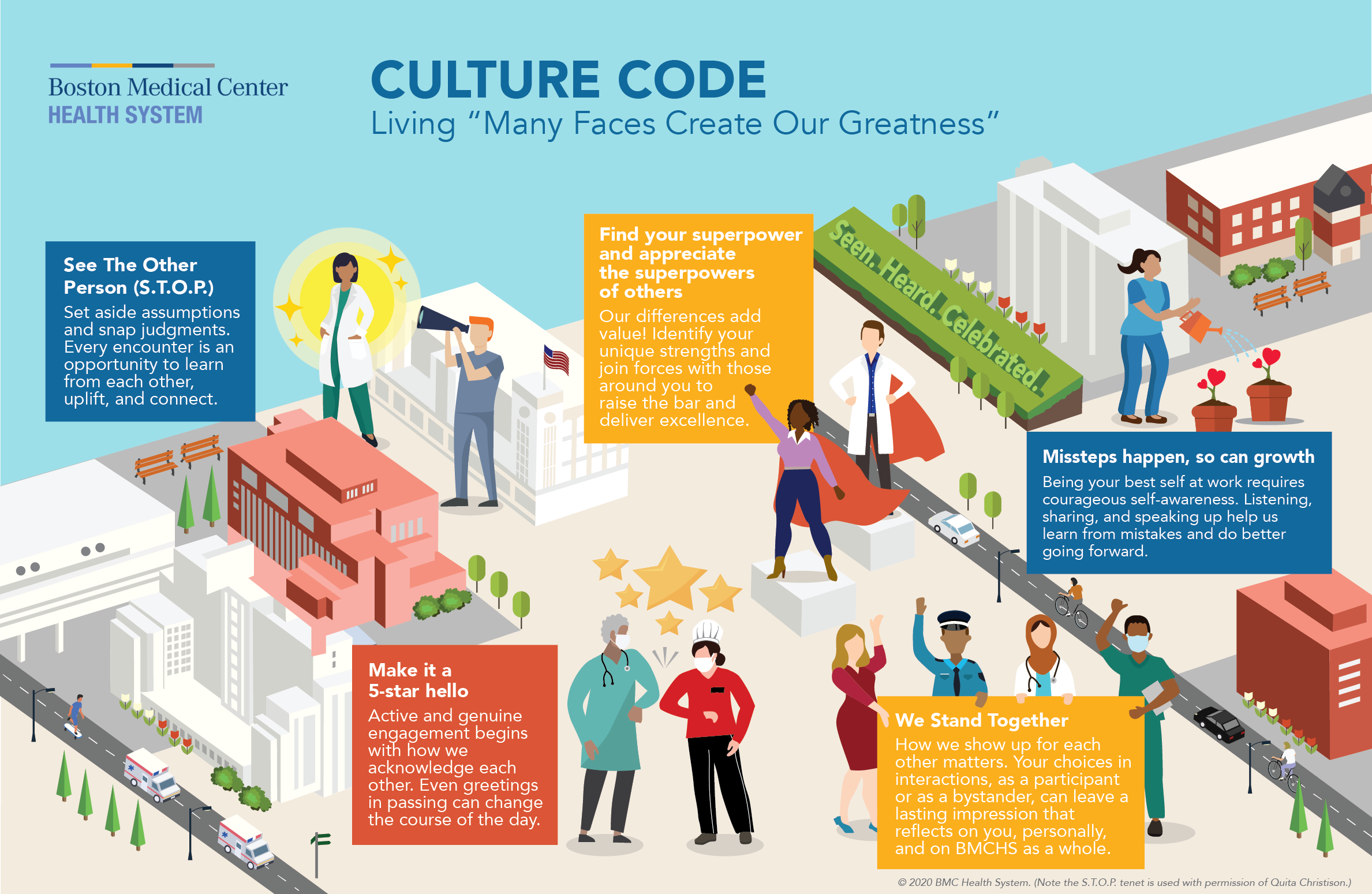 The Glossary for Culture Transformation
Boston University Medical Group's Office of Equity, Vitality, and Inclusion, in partnership with Boston Medical Center, Boston University Chobanian & Avedisian School of Medicine, Boston University School of Public Health, Boston University Goldman School of Dental Medicine, and Boston University Graduate Medical Sciences collaboratively developed the Glossary for Culture Transformation as a tool to align our goals of justice, equity, and belonging and strengthen our collective understanding. Establishing shared language is foundational to creating common understanding by expanding our awareness of the world beyond our individual identities and experiences.
GME: Graduate Medical Education
Of the cohort of residents that joined BMC in July of 2020, 22 percent self-identify as underrepresented minorities (URM). With the national average of active URM residents in the US at 11.7 percent, the Graduate Medical Education department (GME) sees BMCHS's above average numbers as a direct result of intentional efforts across programs to increase diversity and inclusivity in recruitment.
BMC launched initiatives around data transparency and holistic interviewing processes to aid in addressing areas of unconscious bias that negatively affect URM trainee recruitment. A GME Diversity & Inclusion Council comprised of residents, fellows, and program directors was created to evaluate trends and collect data to improve the learning environment. A GME Cohort Mentorship Program was also launched to provide cross-program guidance for URM trainees as they transition into their first year of residency at BMC. In addition, the established URM Steering Committee continues its ongoing activities to create further interpersonal and community engagement opportunities for residents of color.
"Residents are excited to join BMC because of our mission and the things we're doing in our approach to patient care," says Shawnda Walker, URM Program Manager. "Setting up best practices around recruitment and continuing to build an inclusive climate and culture helps ensure there's a sense of belonging that supports all of our residents as they do the work they're passionate about."
JP Morgan Chase/BOS Collaborative
Boston Medical Center is the lead organization in a monumental grant awarded by JPMorgan Chase as a part of its AdvancingCities Challenge, part of the firm's $500 million, five-year initiative to advance inclusive recovery and help create greater economic opportunity in cities. BMC joined partners Boston Children's Hospital, Brigham and Women's Hospital, and Health Resources in Action in teaming up with the City of Boston and four community partners (the Dudley Street Neighborhood Initiative, BlueHub Loan Fund, Action for Equity, and Jewish Vocational Services) to create The Boston Opportunity System (BOS) Collaborative that will receive a $5 million philanthropic investment to establish neighborhood-based training strategies for 1,100 residents of color, and fund 250 new and preserved affordable housing units in historically underinvested Boston neighborhoods, including Black and Latinx communities.
Pharmacy Department All-In Initiative
The BMC Pharmacy Department launched the All-In initiative to further promote equity and inclusion in the field of pharmacy. The 12-week program provides a career development opportunity for students in their final year of pharmacy school rotations to ensure that they are set up successfully for future careers, ideally at BMC! During the rotation, each participant is partnered with a pharmacist mentor serves as a touchpoint throughout the student's experience. Targeted outreach introducing the program began first with pharmacy programs at historically Black colleges and universities to address opportunity gaps for advancement in the field that could be served by increased institutional partnerships. For more information, email us at DG-BMCALLIN@bmc.org.
All-In Committee APPE Scholarship: Program Guide and Application Information
Equitable and Inclusive Care
BMC is committed to providing equitable and inclusive care to all patients who come through our doors, particularly those who may need additional services and support. No matter what assistance you may need, we will be there to ensure you receive customized care the way that works for you.
The Center for Transgender Medicine and Surgery Comprehensive trans-friendly services that provide a single point of contact for patient care needs. As societal understandings of gender identity and expression continue to evolve, CTMS continues to break down barriers to provide more opportunities, access, and education for the transgender community and our BMCHS teams.
The Grayken Center for Addiction at Boston Medical Center is committed to providing equitable care to patients with substance use disorder. Grayken serves as a national resource for policymakers, clinician thought leaders, and advocates to bring evidence-based practice to our most vulnerable patients. 
BMC's Interpreter Services department, one of the oldest and most extensive programs in the United States, is here to help patients with in-person interpretation in 13 languages and can facilitate communication in over 250 languages.
BMC adheres to all aspects of the Americans with Disabilities Act and ensures that its staff is trained and sensitive to the needs of people with physical, developmental, and cognitive disabilities.
Community Connections
BMC has long-term relationships with many diverse community-based service organizations and professional associations connected to careers in health care, education, and programs for youth, including:
Big Sister Association of Boston
Boston Area Health Education Center (BAHEC)
Boston Collegiate Charter High School
Boston Private Industry Council's Job Shadow Day
Cristo Rey Boston High School
Madison Park Development Corporation
NAACP (Boston Chapter) Summer Job Pipeline to Leadership Youth Program
5th Annual Urban League of Eastern Massachusetts' Jobs Rebuild Boston Community Conference and Career Fair
Dudley Street Neighborhood Initiative
Action for Equity
Jewish Vocational Services (JVS)