Contact Volunteer Services
Email: [email protected]
Main Phone: 617.414.5122
Volunteer Services Department
Boston Medical Center
85 East Concord Street
Boston, MA 02118
The Volunteer Services Department at BMC is dedicated to helping BMC fulfill its mission of providing consistently excellent and accessible health services to all in need of care, regardless of status or ability to pay. Our volunteers continue to grow and support staff, patients and families.
Volunteers assist the BMC community with services that support the hospital's mission while providing an enriching experience for the volunteer.
Volunteer Services' main goal is to integrate and assimilate volunteers throughout the hospital where they have the greatest impact to BMC's patients and staff. In doing this, Volunteer Services is also devoted to providing a meaningful experience for the volunteer that aligns with the hospital's mission and the volunteer's goals and desires to give back to the community.
---
---
Program of the Month
Pediatric ENT Playspace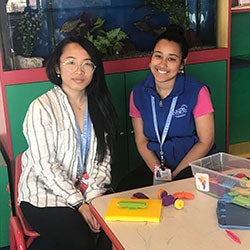 The Department of Pediatric Otolaryngology (otherwise known as Ear, Nose, and Throat, or ENT) provides care for patients with problems involving the ears, sinuses, oral cavity, airway, nose, throat, and neck including sinus conditions, neck masses, allergy, and snoring. Child Life Specialists leverage a child's natural inclination to play in order to facilitate emotional expression and create a sense of normalcy in an unfamiliar environment.
Volunteers in this role must be at least 16 years old and have previous experience with children. The volunteer provides a warm, cheerful welcome to all patients entering and departing the clinic and may help to research illnesses, diseases and appropriate resources for families. Volunteers assist the Child Life Specialist by engaging pediatric patients through play in the outpatient waiting area.
Shifts
Monday-Friday 9:00 AM–1:00 PM and 1:00 PM–4:00 PM.
If interested in this role, please complete an application and specify Pediatric ENT Playspace on your application!
---
Volunteer of the Month: Nancy Wilbur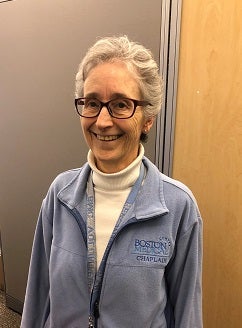 What is your volunteer role at BMC? How did you decide on this role?
A: I am a spiritual care provider, a chaplain, with Chaplaincy Services. About 10 years ago, after I retired from salaried employment, I began volunteering as a chaplain at another healthcare facility. I also completed a unit of Clinical Pastoral Education. Being a volunteer chaplain allows me to be with patients as a listener, to hear their stories, accompany them through their concerns and joys, and join them as they connect to their own spiritual strengths.
What do you like most about volunteering at BMC?
A: A former BMC chaplain once wrote that BMC is a "hospital at the crossroads of humanity." I love the patients and staff I meet at BMC. At BMC, I am also blessed with opportunities to develop relationships with patients over time. I am a witness to moments that affect people in profound ways. I also witness the care and dedication of the BMC staff. By entering into the difficulties of the people I see, I am challenged and changed. I keep developing my capacity and my understanding as well as my own spiritual strengths.
What is the biggest takeaway from your experience so far? Can you give an example?
A: My takeaway: Love, respect, knowing that no one is "less than" and celebrating the lives of people, is fundamental and more multi-dimensional than I knew. Any time that I think I've learned that lesson, I've got more to learn. Volunteering at BMC shows me the deep impact on healthcare of the great divides in United States, especially on the basis of income and race.
What would you want someone to know who is thinking about volunteering at BMC?
A: Do it! Try it! Appreciate the privilege of being of service. Know that everyone here is your teacher, and as ancients have said, the "stranger" may be the "angel" bringing you gifts you'd never have imagined.
---
---