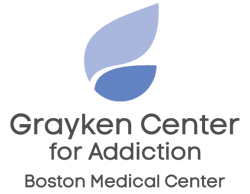 To schedule an appointment with an addiction specialist, please call 617.414.6926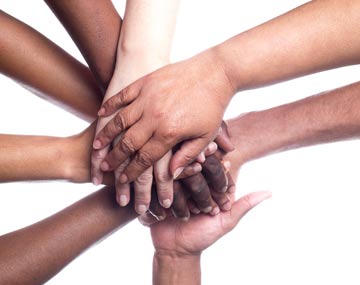 Through innovative treatment, education, and research programs, the Grayken Center for Addiction at Boston Medical Center is committed to making long-term recovery a reality for every patient. From policy makers to clinicians to patients and families in crisis, people across the country turn to BMC for expertise in caring for patients with addiction. Over the last 25 years, BMC has become one of the most comprehensive and influential centers for addiction treatment in the country. BMC has created widely replicated care models and training programs for those at the front lines of the opioid crisis sweeping the nation.
The Center was launched in 2017 with a generous gift from the Grayken family the largest private gift in the US in the last decade in the addiction field. With the US death rate from opioids now higher than it is for car accidents, the timing could not be more critical.
Today, the Center serves as the umbrella for all of BMC's work in addiction and is a national resource for revolutionizing addiction treatment and education, replicating best practices, and providing policy, advocacy and thought leadership to the field.
By disseminating proven models of care, the Center's work affirms that treatment works and recovery is possible.
Treatment
BMC is home to groundbreaking and highly successful addiction treatment programs. The Grayken Center for Addiction at Boston Medical Center is scaling successful programs locally and nationally, and expanding access to treatment and recovery. These efforts, in turn, are reducing the significant cost of the disease to the health care system.
Training and Prevention
BMC's addiction leaders are sought-after experts in diagnosing, treating and preventing substance use disorders. Training programs developed here include curricula for physicians on safe prescribing, effective overdose prevention programs and ways to expand access to naloxone to reverse opioid overdose. The Grayken Center for Addiction at Boston Medical Center will continue to support our experts as they train colleagues across the nation in groundbreaking techniques.
Learn More

about Training and Prevention
Research and Evaluation
BMC conducts high quality research that broadens and deepens our understanding of addiction treatment and care delivery so that successful approaches can be extended to more patients in need. The Grayken Center for Addiction at Boston Medical Center is increasing the pace of innovative research and evaluating new models of care delivery to create pathways to long-term recovery throughout the health care system.
Learn More

about Research and Evaluation
Timeline: Addiction Medicine at BMC
For Decades, BMC has lead research, teaching and clinical programming on substance use disorders and their consequences.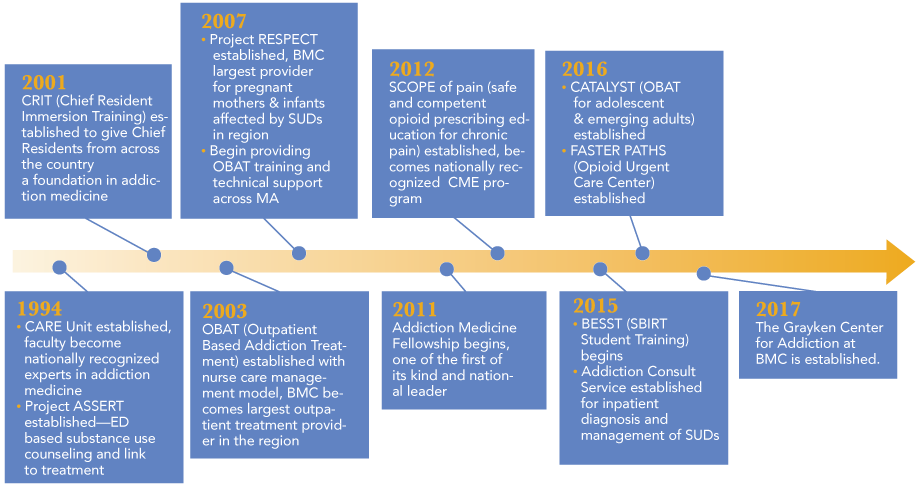 Your support makes a difference.
Join the fight against addiction today.
Every contribution helps the Grayken Center continue to make strides in fighting the epidemic through groundbreaking advancements in addiction medicine.