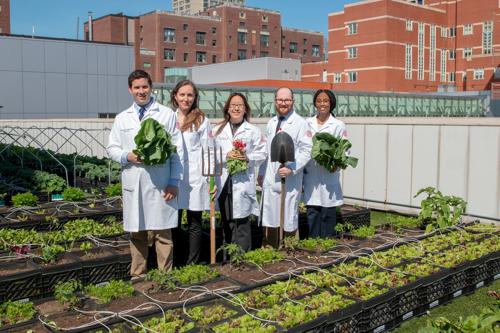 At BMC, we are dedicated to reducing our carbon footprint because we know that healthier hospitals mean healthier communities. BMC is widely known as the 'greenest' hospital in the city and transforming our clinical campus to prepare the hospital to thrive well into the future. From having the first hospital-based rooftop farm to partnering with MIT and the Post Office Square Redevelopment Corporation to buy electricity from a solar power installation in North Carolina, BMC is an organization that has thrived on change and adapted in order to succeed.
BMC generates much of its own electricity and heat thanks to a two-megawatt combined heat and power plant installation, which further enhances BMC's standing as one of the most resilient hospitals in Boston. Having reduced the hospital's energy use by 19.4 percent from 2011, BMC aims to become carbon-neutral by 2030.
The hospital is also a member of the Boston Green Ribbon Commission, a groundbreaking effort created to catalyze the fight against climate change on a broad scale, of which BMC President and CEO Kate Walsh chairs the healthcare sector. Our two green bond offerings, totaling more than $200 million, greatly broadened our pool of investors to include those with environmentally responsible portfolios and were quickly oversubscribed.
Cogeneration Power Plant
Since the spring of 2017, Boston Medical Center has been generating much of its own electricity and heat through a natural gas-fired, two-megawatt combined heat and power plant (CHP).
The CHP, or cogen facility will save BMC about $1.5 million in heat and energy costs annually, money that can put back into patient care. Traditional power plants, which release excess heat into the atmosphere, operate at about 35 percent efficiency. Cogen technology, which instead traps and reuses the heat, operates at 70 percent efficiency.
Cogen also has "black start" capability, meaning that if the electric grid goes down, the hospital can restart the cogen plant and heat and power its inpatient units on an "island" for months at a time, as long as it has a supply of natural gas. The cogen plant is located on the roof of the Yawkey building, high above any potential floodwaters. In addition to powering and heating much of the hospital, the cogen facility will also serve as a backup power source for city and state emergency communications.
 "We've learned lessons from Hurricane Katrina and Sandy, which devastated the health care infrastructure in their communities," said Bob Biggio, Senior Vice President for Facilities and Support Services. "Hospitals that had cogen were able to stay open and care for patients, while those without cogen were forced to evacuate. As the largest safety-net hospital and biggest trauma center in New England, we have an obligation to protect our patients in a natural disaster. Cogen gives us the ability to continue to care for the most vulnerable population in our city, even when the electric grid goes down."
Solar
In 2016, Boston Medical Center took a major step toward a carbon-neutral campus with an innovative solar purchase and partnership with the Massachusetts Institute of Technology and the Post Office Square Redevelopment Corporation.
The agreement enabled the construction of Summit Farms, 650-acre, 60-megawatt solar installation on farmland in North Carolina. Summit Farms is the largest renewable-energy project ever built in the U.S.  and serves as a partnership model for other organizations working to mitigate climate change. The solar farm began delivering power into the mid-Atlantic grid in January 2017.
BMC is committed to purchasing 26 percent of the power generated by the solar array, which is equivalent to 100 percent of BMC's projected electric consumption.