Our office has moved to the 5th & 6th floor of the Crosstown Building located at 801 Massachusetts Avenue. We are no longer located in the Shapiro Building.
Adult patients in BMC's General Adult Primary Care department have a Medical Home where they become part of a primary care team which provides a new, expanded type of care. In a Medical Home environment, BMC coordinates all of a patient's healthcare needs, from helping them stay healthy by reminding patients of preventive checkups and tests, to working with individuals to manage chronic conditions, visits to specialists, hospital admissions and more.
There are six Adult Primary Care clinics at BMC with more than 50 providers, offering patients not only primary care they need, but also specialized clinics in women's health and opioid addiction, and a clinic for those who speak only Spanish.
BMC's diverse staff speak many languages and multilingual interpreter services are available to make your experience as easy and comfortable as possible.
New patient appointments are available. To make an appointment, call 617.414.5951.
Contact Us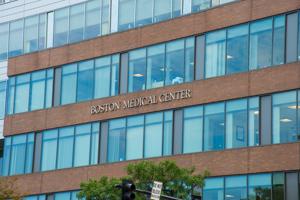 Treatments & Services
Wellness Care
Routine physical exams and immunizations, regular screening and health counseling for HIV, cholesterol, high blood pressure, heart disease, sexually transmitted diseases, addiction, diabetes and cancer.
Urgent Care
If a patient is sick, he or she should call the office for an appointment. If the patient's regular provider is not available, they will be scheduled with someone else. A doctor is always on call when the office is closed and can be reached calling the main office.
Chronic Care
Ongoing evaluation and treatment of any chronic conditions such as asthma, high blood pressure, diabetes, heart disease, and many other conditions and illnesses.
Specialty Care
Primary care services are complemented by a full spectrum of specialty services at Boston Medical Center. For example, if a patient needs surgery, the Internal Medicine department works in coordination with the patient's surgeon.
Medications
BMC has two pharmacy locations allowing patients to have quick, convenient access to their prescription medications, as well as the option to have medicines delivered directly to a patient's home through mail order.
Our Team
Primary Care
All of the physicians are board-certified in Internal Medicine. Several have additional certifications and expertise in sub-specialty areas, such as Public Health, Infectious Diseases and Substance Abuse.
In addition to physicians, a Clinical Pharmacist is on site full time. The pharmacist assists physicians to provide excellent care and is involved extensively in helping patients understand their medical conditions and medications. The practice also includes behavioral health professionals, social workers and registered nurses.
Multilingual Doctors
In addition to English, staff members speak Arabic, Spanish, French, Haitian Creole, Portuguese Creole and Amharic. Interpreters for many other languages are available either on site or on call to assist patients who do not speak English.
Department News
BOSTON – The average hours worked…
BOSTON – New research from Boston Medical Center found that enhancing pharmacy services for patients with high levels of health care utilization did not lead to reduced…
New research from Boston Medical Center found that alcohol screening rates dropped substantially during the first COVID-19 surge.