A Primary Care Doctor Close to Home
---
At Boston Medical Center, everyone is encouraged to have a primary care physician. "Whether you are entering adulthood, middle aged, or in your senior years, establishing a relationship with a primary care physician can help keep you healthy and possibly prevent future diseases," says Joanna D'Afflitti, MD, a general internal medicine physician at BMC.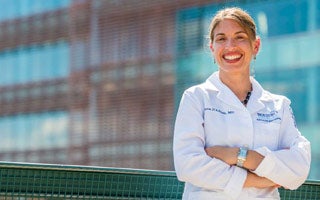 Having a designated primary care physician is important for several reasons. First, it establishes a relationship between you and your physician so that if you need help with a medical issue, there is someone who already knows you well and can help guide you in decision-making. Second, it provides continuity of care for you as you change and age. And finally, it ensures that at your annual physical, you have all the appropriate screenings and blood work, and that your health is evaluated not only based on the present, but on the years past.
BMC is proud to provide adult primary care in several locations throughout Boston, making accessing an appointment as easy as possible for patients. In all of these locations, new patient appointments are available within 2 weeks and existing patients can often be seen within a few days. And, appointments can be made online!
On Campus
We offer adult general internal medicine, family medicine, and a geriatric clinic. Book online at the following locations: