Weight Loss Surgery (Bariatric Surgery)
Request an appointment
Request an appointment
New Patients
We're glad you've chosen BMC for your care! Please call the department you wish to make an appointment with to get started. learn more about coming to BMC
If you are a new patient and need an appointment, please contact us at the phone number below.
617.414.8052
Refer a patient
Refer a patient
Call our department to schedule a referral appointment
617.414.8052
617.414.8052
PLEASE NOTE: Due to COVID-19, New Patient Information Sessions are not currently being held and patient support groups are being conducted virtually.
Change Your Life with Weight Loss Surgery at Boston Medical Center
If you or someone you know lives with obesity, you understand the struggles of endless weight-loss programs that have shown no results, exhaustion from small tasks, and the increase of various health risks due to weight.
At Boston Medical Center, our team understands these challenges and works with each patient to find the best treatment and surgical option. Our surgeons have performed thousands of successful surgeries and our Bariatric Surgical Program is recognized as a MBSAQIP-Accredited Comprehensive Center.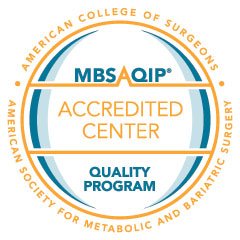 Weight loss surgery can help you lose weight and provide an excellent tool for managing your weight and weight-related health problems.
New Patient Information Sessions
If you are interested in learning more about the Bariatric Surgery Program at Boston Medical Center, please call our office at 617-414-8052 to register for a New Patient Information Session. It provides an opportunity to meet our surgeons, receive introductory information on surgical options, and learn about the path to surgery in a friendly, supportive environment. These sessions are offered in both English and Spanish. 
Make an Appointment
To make an appointment, or if you have any questions about weight loss surgery at Boston Medical Center, please call us at 617.414.8052. 
---
Watch our informative video about obesity, procedures we offer, and how we can help you on your journey to achieving lasting weight loss. 
Contact Us
Treatments & Services
At Boston Medical Center, we offer two types of weight loss surgery: gastric bypass and gastric sleeve (vertical sleeve gastrectomy). These procedures, which are commonly performed laparoscopically, limit the amount of food you can eat and can achieve excellent weight loss. There are some important differences to consider when deciding which procedure is best for you and your surgeon.
Gastric Bypass Surgery
Gastric bypass surgery is a surgical procedure in which the stomach is made smaller by stapling and dividing it into two compartments. The smaller compartment is called a pouch. The larger part of the stomach is bypassed, meaning that the food is going around it, rather than passing through it.
Gastric Sleeve (Vertical Sleeve Gastrectomy)
With the sleeve gastrectomy or gastric sleeve, your stomach will be made smaller by stapling and dividing the majority of your stomach and removing it from your body. The remaining stomach is shaped like a long narrow tube with a small reservoir for food at the end of the tube.
Revisional Weight Loss Surgery
The weight loss surgeons at Boston Medical Center have extensive experience in the field of revisional surgery for weight loss. This includes the removal of adjustable gastric banding devices (the Lap Band®), or conversion to another type of weight loss surgery.
Our Team
Bariatric Surgeons
Registered Dietitians
Wendy Anderson, MS, RDN, LDN
Senior Bariatric Surgery Dietitian
Wendy has been practicing as a bariatric dietitian since 1999. She has and continues to be the lead dietitian in several obesity-related research projects including the implementation of Boston Medical Center's surgical weight-management clinical database. She earned a Bachelor of Science degree in Nutrition Sciences at the University of Vermont and completed her Dietetic Internship and Master Degree at the University of Rhode Island. She has authored multiple publications in the field of obesity medicine which have been published in peer-reviewed journals. She has presented topics on bariatric surgery at obesity conferences including Obesity Week and the Boston Nutrition Obesity Research Center (BONRC). Prior to her current position as Senior Bariatric Surgery Dietitian, she was the dietitian for the obesity program at Jewish Memorial Hospital located in Boston, MA. She is a member of the Weight Management Practice Group affiliated with the Academy of Nutrition and Dietetics. Wendy's special interests include obesity research, bariatric surgery, weight management, integrative medicine, and mindful eating practices.
Claire LeBrun, MPH, RDN, LDN
Bariatric Surgery Dietitian
Claire has been practicing as a registered dietitian since 1986. She earned a Bachelor of Science degree in Food Science and Human Nutrition from the University of Florida (1986) and a Master of Public Health degree in Health Promotion/Disease Prevention from Florida International University (1992). She has also completed graduate level counseling courses and extensive training in "Motivational Interviewing", a non-authoritative counseling style, which has been proven effective in eliciting health-related behavior change.
Before becoming a bariatric surgery dietitian at Boston Medical Center, she was the Senior Nutritionist at the Medical Faculty Associates of George Washington University. Claire was in private practice before this, and held positions at both the George Washington University Lipid Research Clinic as a Research Assistant and the George Washington University Weight Management Program as the Director of Nutrition Services for 12 years. She specializes in bariatrics (weight management), endocrinology, cardiology and gastrointestinal nutrition disorders.
Currently, as a fulltime bariatric dietitian at BMC, Claire sees patients for pre and post-operative weight loss surgery and leads both bariatric educational classes and support groups.
Lesley Levitt, MS, RDN, LDN
Bariatric Surgery Dietitian
Lesley completed her dietetic education at Simmons College along with a Master of Science in Applied Nutrition from Northeastern University. Following her academic work, she completed a clinical internship at Mount Auburn Hospital where she was trained in their Surgical Weight Loss Program. Lesley comes from a background in nutrition research focused on obesity and weight management. Prior to coming to Boston Medical Center, she was involved in weight loss research studies at both Tuft's University in the Energy Metabolism lab, and Boston Children's Hospital in the New Balance Foundation Obesity Prevention Center.