Pharmacy Residency Program Overview
The residency programs at BMC help pharmacy residents build the skills required for providing contemporary pharmaceutical care to a diverse patient population. Boston Medical Center currently offers 13 total positions in 7 different pharmacy residency programs. There will be 7 PGY1 residents, with the remainder of positions dedicated to PGY2 specialty programs in Ambulatory Care, Critical Care, Emergency Medicine, Infectious Diseases, Internal Medicine and Oncology.
The Annual New England Regional Residency/Fellowship Showcase
Boston Medical Center is attending the Annual Residency/Fellowship showcase on Tuesday, October 15th, 2019 from 12-2 PM. The event will be held on the 6th floor of the Griffin Academic Center at MCPHS University-Boston Campus.
Pharmacy Residency Program Application Information
The BMC residency programs are designed around the ASHP program requirements. We are proud to have been involved in pharmacy residency training for over 30 years. Our graduating residents are well-prepared to pursue specialty residencies, advanced patient care positions, and clinical faculty positions.
For general residency inquiries, please email [email protected]
Annual Report
The BMC residency programs invite you to review our annual report for further insight into our program. Inside we detail the residency programs quality work, strong relationships, and diverse opportunities that present themselves to our residents yearly.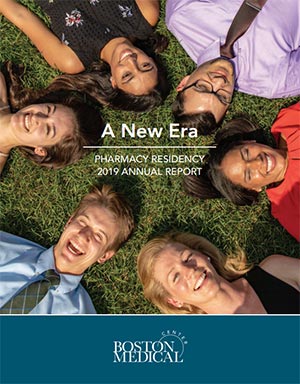 2019-2020 Boston Medical Center Pharmacy Residency Annual Report
2018-2019 Boston Medical Center Pharmacy Residency Annual Report
2017-2018 Boston Medical Center Pharmacy Residency Annual Report
Upcoming BMC Pharmacy Residency Events
ASHP Midyear Clinical Meeting Residency Showcase

Monday, December 9th, 2019 from 1:00pm - 4:00pm
Mandalay Bay Convention Center in Las Vegas, Nevada, Booths 4547 and 4543
Application Deadline for all BMC Residency Programs: January 2, 2020