PGY2 Residency - Infectious Diseases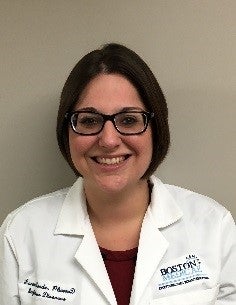 Karrine Brade, PharmD, BCPS
Clinical Specialist Lead, Infectious Diseases and Antimicrobial Stewardship
Director, PGY2 Infectious Diseases
617.638.5862
For general residency questions, please email karrine.brade@bmc.org.
Program Description
The PGY2 infectious diseases residency program at Boston Medical Center (BMC) provides a structured education and training experience for pharmacists looking to develop clinical expertise in infectious disease pharmacotherapy and antibiotic management.
After orientation to the department, the resident begins a series of rotations and longitudinal activities designed to meet the goals and objectives of the program. The residency is a tailored, comprehensive program that emphasizes the development of advanced pharmaceutical care skills in the area of infectious diseases.
Upon completion of the specialty residency program at Boston Medical Center, the resident will have achieved a level of expertise in infectious disease pharmacotherapy to function as an independent clinical specialist or educator in the area of infectious diseases pharmacotherapy.
BMC's Infectious Diseases Services
Section of Infectious Disease/BUSM and BMC
Required Core Rotations (5 weeks unless otherwise specified)
Orientation - 4 weeks
Introduction to Infectious Diseases, Antibiotic Stewardship, and Microbiology
ID Consult I (Fall)
ID Consult II (Spring) - 6 weeks
Internal Medicine Infectious Diseases Service
Antimicrobial Stewardship I (AST I) - 12 month longitudinal experience
Antimicrobial Stewardship II (AST II) - 6 weeks
Elective Rotations (5 weeks, choice of 3)
Emergency Medicine
Medical Intensive Care Unit (MICU)
Surgical Intensive Care Unit (SICU)
Trauma/SICU (TSICU)
Hematology/Oncology
HIV Outpatient Clinic
Repeat a required rotation
Teaching (didactic lecture(s) at Northeastern University) - 12 month longitudinal
Longitudinal Responsibilities
On-Call Program
Quality improvement project
Development and presentation of infectious diseases related treatment guidelines
Longitudinal AST experiences
Participation and leadership on antibiotic subcommittee meetings and weekly AST director meetings
Participation in a BMC residency committee
Teaching Responsibilities
2 case conferences (30 minutes each)
2 continuing education lectures (60 minutes each)
Discretionary Activities
By preceptor request

Journal club/patient-oriented evidence that matters (POEMs) presentations
Precepting PGY1 residents on an ID rotation
Precepting students on an ID rotation

By pharmacy or physician request

Completion and presentation of medication use evaluations and drug monographs for formulary review
Pharmacy Practice (Staffing) Responsibilities
Weekends

One weekend every 3 weeks

Holiday assignments

1 major (Thanksgiving Day, Christmas Eve, Christmas Day, New Year's Eve, New Year's Day)
1 minor (Memorial Day, Labor Day, Martin Luther King Day)
Benefits
Estimated Stipend: $53,000
Insurance Benefits: Health, dental, vision, disability, accidental death and dismemberment, life insurance
Vacation time: 12 days
Office space with computer
Travel/CE allowance ($2,200/year): ASHP Midyear Meeting, opportunities for additional national specialty meetings
Requirements for Acceptance
Doctor of Pharmacy degree from an ACPE-accredited college of pharmacy
Certificate from PGY1 program (or equivalent)
Eligible for licensure in the Commonwealth of Massachusetts on July 1st
U.S. citizenship or carry a U.S. permanent resident visa ("green card")
Personal on-site interview
Applications
BMC Pharmacy Residency candidates should complete an electronic residency application using the ASHP PhORCAS centralized application system. The following materials must be received through PhORCAS by January 2nd, at 11:59 PM EST.

Completed residency application
Verified PharmD transcripts
Letter of intent (including goals)
Curriculum Vitae (CV)
Three completed standardized reference forms

All applicants to ASHP-accredited pharmacy residencies must participate in the Match process sponsored by the National Matching Service (NMS). Applicants to our programs must register with NMS to obtain a match number. Information about applications and deadlines for the Match can be found on the NMS website.