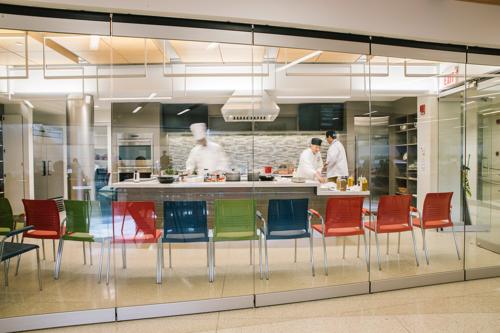 Welcome!
Take a FREE, virtual cooking class and learn how to make simple, cost-effective and delicious recipes that will help you live a healthier life and/or manage your disease or condition. Visit our calendar and click on the class you want to take to find a description, the recipe link and the sign up link! Featured community classes are below.
BMC SUMMER CHALLENGE is back!
This summer, the BMC Summer Challenge will give patients, staff, and our community the opportunity to get outside, move, and enjoy farm-fresh recipes. And, by participating, you can earn points to WIN fresh produce from our Rooftop Farm!

How it works:
Attend classes (live, Zoom, and or recorded) to earn 1 point
Earn 10 points to win a box of produce from the Rooftop Farm! (1 box per household, no delivery available - pickup of produce from BMC is required.)

Classes include:
Farm to Table Cooking Class (on Zoom)
Planting and Growing on the Farm (on Zoom)
Move Your Body! with Kenya (on Zoom)
Yoga on the Farm (in person, staff only)
To sign up for our email list click HERE (Please ignore the date and time - this is just to sign up for an email list, it is not a class.)
Look for classes weekly on our CALENDAR.
Upcoming Community Classes
The following classes are open to everyone including patients and BMC staff. We hope you will join us!
310
Free Culinary Classes Taught
1,950
Patients and Staff Participated
425
Children Participated
Take a Class
Recipes Classes Teaching Kitchen Newsletter