Obstetrics and Gynecology
Request an appointment
Request an appointment
New Patients
We're glad you've chosen BMC for your care! Please call the department you wish to make an appointment with to get started. learn more about coming to BMC
If you are a new patient and need an appointment, please contact us at the phone number below.
617.414.2000
Refer a patient
Refer a patient
Call our department to schedule a referral appointment
617.414.2000
617.414.2000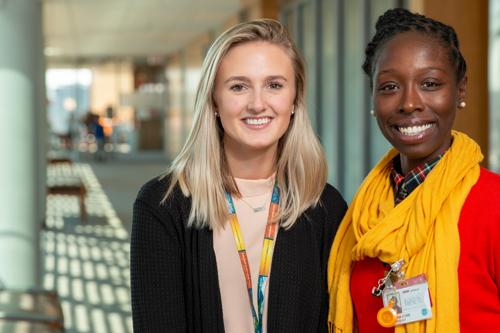 The Department of Obstetrics and Gynecology at Boston Medical Center is a leader in women's health. Caretakers contribute to the long-term health and well-being of the women served by consistently providing the highest quality medical care to each and every patient.
Obstetrics
Gynecology
BMC's extraordinary range of support services are available including a full-time medical interpreter staff that provides more than 30 languages on site, 24/7.
Specialty Clinics
When it is time to decide where baby will be born, BMC is an excellent choice. Comprehensive obstetric care is provided at BMC and at affiliated Community Health Centers. Prenatal care is provided by a variety of fully trained practitioners including OB/GYN physicians, family medicine specialists and certified nurse midwives.
Boston Medical Center is proud to be a nationally recognized leader in women's health. Those who seek care with the Department of Gynecology are provided with comprehensive gynecologic healthcare.
Our mission is to provide comprehensive and culturally sensitive women's health services to refugee, asylum seeking, and recent immigrant communities in the Greater Boston area.
Patient Resources
Doulas and Childbirth, Peer Support And Breastfeeding and more.
Everything you want to know about HPV, Pap tests, and HPV vaccination, plus an interactive tool to help you understand your abnormal results.
Provider Resources
This course focuses on four common obstetric emergencies and includes evidence-based didactics and hands-on simulation stations that emphasize technical, teamwork, and communication skills for the following topics.
Department News
Black women, infants face highest risk during and after pregnancy
Residency and Fellowship Information
The Obstetrics and Gynecology Department offers clerkship, fellowship and residency programs for medical students and recent graduates interested in specializing in obstetrics and gynecology. Because Boston Medical Center is New England's largest safety-net hospital serving a diverse patient population, medical educational opportunities here are especially rewarding and challenging.
The Obstetrics and Gynecology Department at Boston Medical Center is affiliated with the Boston University School of Medicine (BUSM). Learn more about our programs here: