We are delighted that you have chosen to allow us to help you keep your children healthy. Our team of pediatricians at Boston Medical Center will work with you to provide the best possible care for your child. We provide comprehensive medical care for children. This includes routine check-ups and childhood immunizations, as well as care when your child is sick or has a chronic medical problem.
Our pediatrics go the extra mile to help families raising children in Boston. Here are a few of our programs and features of our practice which we are extremely proud of:
Thanks to the Reach Out and Read Program, every child gets a book at every check-up from ages 6 months to 6 years old. We often have volunteers in our waiting room to read to your children.
Our Health Leads Family Help Desk volunteers help families find out what's available in their neighborhoods, including after school programs, child care and youth recreation.
Through Medical-Legal Partnership | Boston, lawyers are available for families with more complicated problems (including problems with school or housing).
Staff and interpreters are available who speak your language – no matter what it is.
Pain-free pediatrics and child life specialists help take the sting and the fear out of visiting the doctor's office.
We have expanded hours, including evenings and Saturdays to meet our patients' needs.
The Boston Baby Cafés are FREE drop-in sessions offering breastfeeding support from trained lactation professionals and information for new and soon-to-be mothers in the community. Join us in a relaxed, informal, and safe group environment. Boston Baby Cafés are presented in partnership with the Vital Village Breastfeeding Coalition.
Finally, in conjunction with primary care services, The Department of Pediatrics offers a full range of pediatric specialty care clinics and timely referrals to keep children healthy.
We intend to provide your family with the best, most innovative primary care anywhere. Raising children is both a lot of work and a joy; all of us here at BMC primary care pediatrics love helping children and families through the hard work – and sharing the joy!
Key Principles and Values
Family-Centered Care: We are partners with children's families to raise healthy, well-adjusted children with good habits for lifelong health.
Quality medical services emphasizing prevention: we are committed to bringing our patients and families the very best medical care available anywhere.
We celebrate cultural diversity: We have a multi-lingual and multi-cultural staff, and easy access to BMC Interpreter Services to enable families to participate in the care of their children delivered within the program.
Choosing a Pediatrician for your Child
Listen as Eileen Costello, MD, discusses how at Boston Medical Center we provide a variety of clinicians to help deliver the best pediatrics possible. Our team of physicians and nurses has been recognized by a number of independent organizations for overall excellence.
Contact Us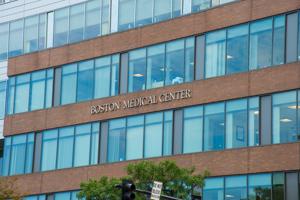 Department News
BOSTON – New research from Boston Medical Center found that increasing the use of underutilized asset building programs could be part of the solution to help build wealth for low income families…
Research Overview
The Department of Pediatrics at Boston Medical Center conducts a range of health services, clinical, translational, and basic science research. Learn more about the work we do. 
Residency and Fellowship Information
The Pediatric Fellowship Program is based in the Department of General Pediatrics at Boston University Chobanian & Avedisian School of Medicine and Boston Medical Center. The mission of the fellowship is to train highly motivated investigators with a focus on topics relevant to medically under-served communities.  We have an exciting mix of educational curricular choices in epidemiology and health services research, and experiential learning opportunities in public health. BMC has over a 100-year history of caring for children from traditionally underserved populations. Much of our research and many of our programs focus on improving the lives of these children. The clinical service has approximately 2,000 admissions and 75,000 ambulatory visits each year. The residency is combined with Boston Children's Hospital.
The Health Service Research Division is home to the General Academic Pediatrics Fellowship. This fellowship part of the larger Academic Primary Care Fellowship at BMC/BU in collaboration with the Division of General Internal Medicine (including Addiction Medicine), Department of Family Medicine, Department of Surgery, the Preventive Medicine Training program, and the BU School of Public Health. Our trainees have gone on to hold leadership positions in academia and government.