Request an appointment
Request an appointment
New Patients
We're glad you've chosen BMC for your care! Please call the department you wish to make an appointment with to get started. Learn more about coming to BMC.
If you are a new patient and need an appointment, please contact us at the phone number below.
617.638.6525
Refer a patient
Refer a patient
Call our department to schedule a referral appointment
617.638.6525
617.638.6525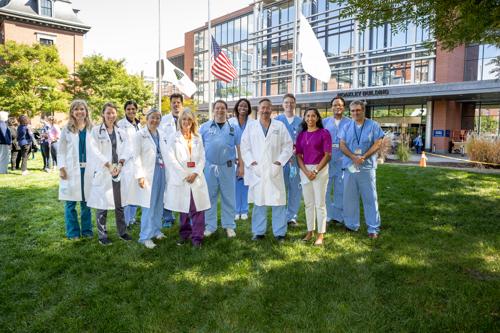 At Boston Medical Center, our Gastroenterology services include diagnosis and treatment of all kinds of digestive disorders, from peptic ulcers and reflux to Crohn's disease and cancer. In addition, we care for patients with motility disturbances, neuroendocrine tumors, and hepatobiliary disorders such as cirrhosis, hepatitis, pancreatic disease, and biliary obstruction. As our patient in the Dempsey Center for Digestive Disorders (CDD), you'll receive a comprehensive, interdisciplinary approach to care that not only includes medical and surgical doctors, but also experts in nutrition, nursing, psychiatry, radiology, urology, and more.
Contact Us
Gastroenterology
Specialty Clinics
The colorectal surgery team at Boston Medical Center is highly skilled in treating common and complex conditions that affect the colon, rectum, and anus. Through multidisciplinary collaboration with the Division of Gastroenterology, and other specialists, our colorectal surgeons develop an integrated treatment plan to ensure that each patient receives the most appropriate care. We offer cutting-edge treatments, including robotic surgery, transanal endoscopic microsurgery (TEMS), and other minimally invasive approaches to ensure patients recover as quickly as possible and achieve the best possible outcome.  
Treatments & Services
Colonoscopy
An exam where your doctor looks at your large intestine (colon) and rectum using a long, flexible tube with a camera on it. This allows your doctor to find any changes or issues in your colon or rectum, and remove abnormal tissue if necessary.
Endoscopic retrograde cholangiopancreatography (ERCP)
A procedure used to look at your gallbladder, biliary system, pancreas, and liver. It involves an examination with an endoscope (a long, flexible tube with a light and camera) and X-rays with contrast of your bile ducts, gallbladder, and pancreatic duct.
Endoscopic ultrasound (EUS)
A procedure that helps your doctor find the cause of abdominal or chest pain, or other symptoms of potential digestive tract and lung issues. It uses an endoscope with high-frequency sound waves that create a detailed image of the inside of your digestive tract and chest, as well as organs such as the liver and your lymph nodes.
Flexible sigmoidoscopy
An exam where your doctor looks inside your rectum and lower colon using a narrow tube with a light and camera, called a sigmoidoscope. It helps your doctor find the cause of symptoms like changes in bowel activity, abdominal pain, and anal bleeding. It can also be used to screen for colon and rectal cancer.
Upper GI endoscopy
A procedure that helps your doctor diagnose and treat problems in your upper gastrointestinal (GI) tract, which includes your esophagus, stomach, and beginning of your small intestine. Your doctor will use an endoscope inserted through your mouth to look at these areas, and take tissue samples, remove anything stuck in the upper GI track, or do procedures like endoscope surgery if necessary.
Capsule endoscopy
A type of endoscopy that uses a pill-sized camera to take images of the middle of your gastrointestinal tract. You swallow the capsule, and the camera inside takes pictures as it goes through your small intestine. A capsule endoscopy can be used to help your doctor diagnose or rule out certain conditions like gastrointestinal cancer, Crohn's disease, celiac disease, and ulcers.
Our Team
Surgery
Chief of Colorectal Surgery<BR>Associate Professor of Surgery, Boston University School of Medicine
Special Interests
Colorectal Cancer, Crohn's Disease and Ulcerative Colitis, Laparoscopic, Robotic and Minimally Invasive Surgery, Complex Abdominal Wall Reconstruction, Anorectal and Sphincter Sparing Surgery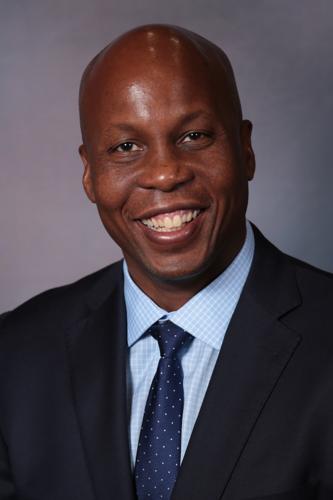 Colorectal Surgeon<BR>Assistant Professor of Surgery, Boston University School of Medicine
Special Interests
Colon and Rectal cancer, Diverticulitis, Inflammatory Bowel disease, Minimally invasive surgery, Pelvic floor disorders, Hemorrhoids, Anal fistulas, Anal fissures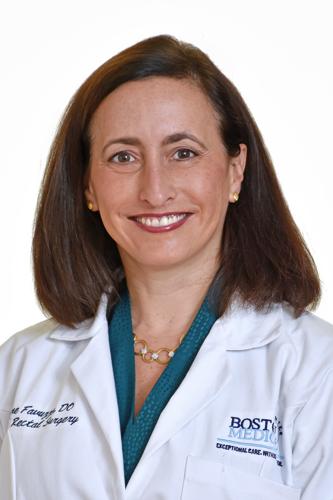 Department News
According to The American Cancer Society, excluding skin cancers, colorectal cancer is the third most common cancer diagnosed in both men and women in the United States. People may fear a screening…
Research Overview
The Gastroenterology Department at BMC has a long history of clinical research discovery, including the development of the Boston Bowel Preparation Scale, and multidisciplinary research programs, including in the BMC Nonalcoholic Fatty Livery Disease Research Center and Crohn's and Colitis Research Center. Research is an integral part of our academic program, and we provide trainees with the opportunity for advanced training in this area.
Learn more about gastroenterology research at BMC.
Residency and Fellowship Information
The Department of Gastroenterology at Boston Medical Center offers residency training programs, graduate training programs, and fellowships aimed at helping you become a future GI leader, For more information, click here.