Welcome to BMC's Graduate Medical Education Department
BMC's Graduate Medical Education Department (GME) educates and prepares physicians for board eligibility in a variety of medical disciplines through curricula which reflect an appropriate balance of patient care, education, and research.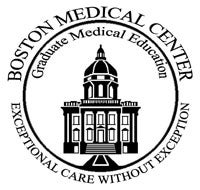 Boston Medical Center is the sponsoring institution for forty-five (45) ACGME-accredited specialty and sub-specialty programs, participates in four (4) pediatric programs sponsored by Boston Children's Hospital, one (1) neurosurgery program sponsored by BIDMC, two (2) ADA accredited programs and one (1) podiatric program accredited by the Council for Podiatric Medical Education. BMC is currently affiliated with thirty-three (33) participating institutions. In addition, BMC supports twenty-six (26) active nonstandard programs, programs for which there is no accreditation available.
The Office of Minority Physician Recruitment within Graduate Medical Education is committed to the recruitment and advancement of underrepresented minority (URM) physicians within our residency and fellowship ranks. Please see link for details www.bmc.org/minority
Contact Us
Boston Medical Center
Graduate Medical Education
960 Massachusetts Avenue, 2nd Floor
Boston, MA 02118
Call: 617.414.5423
E-mail: gme@bmc.org
Staff
Brian Boyko
Finance Manager
Brandon Gordon, MBA
Senior Administrative Coordinator
Sara Lynch, MBA, C-TAGME
Administrative Director
Corde Miller
Systems Manager
Adrian Novak
Administrative Assistant
Katie O'Brien
Systems Manager
Jeffrey Schneider, MD
Designated Institutional Official
Carin Taylor, M.Ed.
Accreditation Manager
Megan Valenza, MPH
Senior Project Manager
Shawnda Walker
URM Program Manager
Latest from HealthCity
A novel approach in delivering trainee healthcare is the latest in the effort to ameliorate physician burnout.