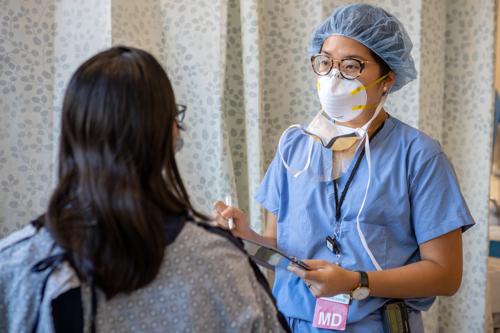 Existing Patients
Make an appointment by phone
617.414.5951
Make an appointment with MyChart
Book with MyChart
Hours of Operation: Monday, Wednesday 8:00 AM - 8:00 PM Tuesday, Thursday Friday - 8:00 AM - 5:00 PM
Refer a Patient
Refer a patient
Call for assistance with the referral process
617.414.5951
Hours of Operation: Monday, Wednesday 8:00 AM - 8:00 PM Tuesday, Thursday Friday - 8:00 AM - 5:00 PM
617.414.5951
Our office has moved to the 5th floor of the Crosstown Building located at 801 Massachusetts Avenue. We are no longer located in the Shapiro Building.
Established in 1985, it was one of the first in the nation to focus exclusively on the unique healthcare needs of women, with women caring for women, and actively seeking a doctor-patient relationship based on respect, trust, and understanding.
In 1997, the US Department of Health and Human Services recognized the practice as a national Center of Excellence in Women's Health, a model for best practices in caring for women. BMC's practice is one of only 21 in the nation, and among the first to be so recognized.
The Women's Health Group uses a multidisciplinary team approach emphasizing preventive care and emotional wellbeing. While the Group serves women of all ethnic and socioeconomic backgrounds, it is focused especially on the needs of women in Boston's underserved communities.
Each patient selects a primary care provider from the internists and nurse practitioners on site. These primary care providers all have demonstrated training beyond their traditional field of expertise, ensuring the incorporation of ambulatory, gynecologic care, mental health screening, and assessment for interpersonal violence, for example, into routine healthcare.
Each primary care provider is supported by specialists in other relevant clinical fields. Mental health needs are addressed by two licensed clinical psychologists who practice in the same locale and provide consultation and promote ready coordination of mental and medical healthcare services. Similarly, gynecology consultation is available on a same day basis from members of the department of obstetrics and gynecology, either from within the Women's Health Group practice site or from the Gynecology department of BMC.