The Department of Pathology & Laboratory Medicine at Boston Medical Center and Boston University Chobanian & Avedisian School of Medicine strongly believes that the cultural and social diversity of our faculty, staff, residents, and students is vitally important to the distinction and excellence of our clinical, research and academic programs. As a department and institution, we embrace and champion justice, equity, diversity, and inclusion. While our organization has a rich history of inclusion and diversity, we recognize that there is much work to be done to create a fair and just society.
Anatomic Pathology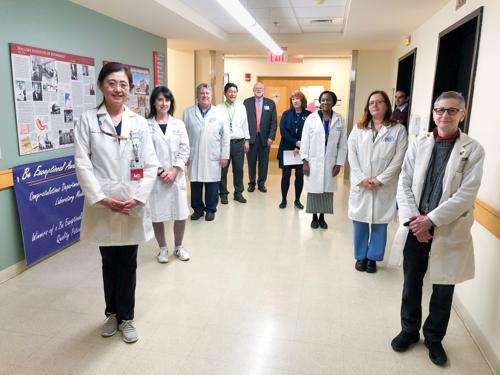 The Anatomic Pathology department serves all patients who undergo surgery or a procedure, regardless of age or medical insurance status, which results in the removal of tissue. All physicians and services that generate these specimens are also considered the department's customers. The department also manages the hospital's Decedent Affairs Office which cares for deceased patients, and their families and serves area funeral directors and related governmental agencies.
Office Hours
Monday-Friday: 7:30 AM - 5:00 PM
Please call 617.638.6990 or the Pathology Laboratory at 617.638.6994
Administrative leadership is always available on call at pager 617.638.5795 #1027 or #3550
Frozen or Intraoperative Pathology Consultation (Including NEOB Tissue Procurement)
8am - 5pm: call x45310 (path Admins) 
*If there is no answer, page the AP Resident On-Call/Frozen (p3800)
After 5pm: 1st CALL - page the AP Resident On-Call (p3800)
                                    BACK UP CALL - page the AP Attending On-Call (p0784)
Frozen pathologist is available 24/7 - lead time is required
Monday - Friday, 8a - 6pm: 15 minutes lead time
After 6pm: 30 minutes to 1 hour lead time
Services Provided
Surgical Pathology
Intraoperative Consultation
Cytology
Aspiration biopsy
Immunohistochemical assays
Ultrastructural studies
Image Analysis
Morphometry
Telepathology consultation
Molecular Pathology
Decedent Affairs
Autopsy
Research CoRe
Sub-Specialty Expertise
Cytopathology
Dermatopathology (associated with BU Skin Pathology)
ENT
GI & Liver
GU
Hematopathology
Muscle & Peripheral Nerve Pathology
Neuropathology
OB-GYN Pathology
Oral Pathology
Renal Pathology
Soft Tissue
Thoracic
Consent Form for Genetic Testing
Chobanian & Avedisian School of Medicine Pathology Department
Laboratory Medicine
Main Laboratory
24/7/365 staffing
Please call 617-414-4054
Office Hours
8:00 AM - 5:00 PM
Please call 617-638-7800
Administrative leadership is always available on call at pager 617-638-5795 #1027 or #6650
Laboratory Medicine resident on call 617-638-5795 #4564
The Department of Laboratory Medicine at BMC is part of the Division of Pathology and Laboratory Medicine. The Department is responsible for:
all clinical laboratory testing throughout BMC
assuring appropriate test reliability
specimen collection
reference laboratory referrals
result reporting
laboratory information systems
oversight for point-of-care testing
The Department is divided into multiple sections each with its own medical director and technical supervisor. Check each section for specific information on testing, policies, and reference information.
Consultation: Laboratory Medicine Resident on call pager: 4564
Abbreviated Phone List (see Phone Directory for full list)
| Lab | Phone Number |
| --- | --- |
| Main Lab, 670 Albany Lab | 4-4060 |
| Main Lab Blood Bank | 8-7844 |
| Microbiology | 8-7890 |
| Menino Blood Bank | 4-4141 |
| Menino Blood Gas Lab | 4-4067 |
Hours of Operation
STAT Testing: 24/7
STAT turnaround time is one hour or less from time of receipt in the Laboratory.
Non-Stat Testing:
The schedule varies with the complexity and frequency of non-STAT testing. Routine turnaround time is six hours or less from time of receipt in the Laboratory.
Patient Fact Sheets for Laboratory EUA Testing