The Department of Orthopedic Surgery at Boston Medical Center, one of the most outstanding in New England, provides comprehensive, exceptional orthopedic care to every patient, without exception. From accurate diagnosis, to development of a personalized treatment plan and thorough post-operative follow-up, we work hard to ensure you have the best possible outcome. Our orthopedic surgeons have extensive training, experience and expertise in the treatment of diseases, abnormalities and deformities of the musculoskeletal system.
"I experienced a severe tibia plateau fracture several years ago and my local orthopedic surgeon took a pass on performing the necessary surgery. Dr. Tornetta took me as a patient on a moment's notice and performed the surgery to repair my exploded tibia the next day! He is a gifted surgeon and a really nice guy. I hold him in the highest regard.
~ Dave
"Dr. Li performed 2 surgeries on my body in the past two years, a pectoralis major repair (shoulder) and a meniscus repair/ body part removal (knee). As a professional athlete I was pessimistic about my chances of maintaining my athleticism and being able to play at a high level again, but after Dr. Li successfully conducted these surgeries and got me back to exactly where I was before getting injured, I am not only grateful for the job he did but I am also ecstatic about continuing my career!"
~ Ousmane
My back pain is gone!
I've seen many surgeons before finally seeing Dr Tannoury. No one believed or understood the reason of my back pain. Dr Tannoury did lumbar fusion on 2 discs and now my pain is gone!
~ Anonymous
Previous
Next
We designed this website to familiarize current and prospective patients, and referring physicians, about our practice, and to answer frequently asked questions. We also link you to helpful information about a variety of orthopedic conditions and their treatments because an informed patient can be more proactive about their care and can act to prevent the occurrence, or reduce the severity, of many common orthopedic problems. We see our engagement with each patient as a partnership with your well-being our highest priority.
BMC Department of Orthopedic Surgery Statement on Diversity
The Department of Orthopedic Surgery is committed to the principles of excellence, fairness, and respect for all people. As part of this commitment, we actively value diversity in our workplace and learning environments, as well as purposefully cultivate a community that is inclusive of all backgrounds, traditions, life experiences and individual differences. We believe that by understanding and celebrating these differences, we enhance our ability to creatively problem solve, address shared goals, promote valuable research, provide a rich academic experience and ultimately provide exceptional care without exception to all of our patients.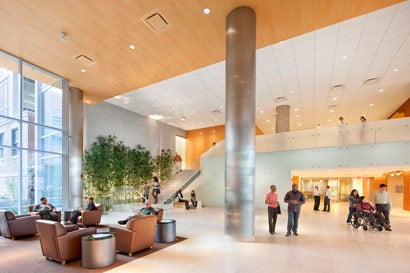 Address
725 Albany Street
Boston, MA 02118
Shapiro Ambulatory Care Center
4th Floor, Suite 4B
Hours
Monday - Friday: 7:30 AM - 4:30PM