The Department of Orthopedic Surgery at Boston Medical Center, one of the most outstanding in New England, provides comprehensive, exceptional orthopedic care to every patient, without exception. From accurate diagnosis, to development of a personalized treatment plan and thorough post-operative follow-up, we work hard to ensure you have the best possible outcome. Our surgeons have extensive training, experience and expertise in the treatment of diseases, abnormalities and deformities of the musculoskeletal system.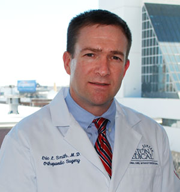 Meet the Newest Member of our Orthopedic Team
Eric L. Smith, MD specializes in primary and revision joint reconstruction of the hip and knee, as well as arthritis of the hip and knee. With more than 20 years of experience, Dr. Smith has been named among "Boston's Best Orthopedic Surgeons" by Boston Magazine. Read more
We designed this website to familiarize current and prospective patients, and referring physicians, about our practice, and to answer frequently asked questions. We also link you to helpful information about a variety of orthopedic conditions and their treatments because an informed patient can be more proactive about their care and can act to prevent the occurrence, or reduce the severity, of many common orthopedic problems. We see our engagement with each patient as a partnership with your well-being our highest priority.
We are located in Boston Medical Center's beautiful Shapiro Center in Boston's historic South End.
The following video demonstrates our surgical expertise in treating carpal tunnel syndrome.