Residency Director Contact Information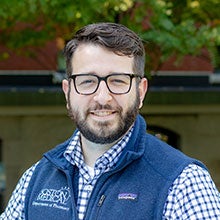 Jason Mordino, PharmD, BCCCP
Clinical Coordinator, Pharmacist Education
Director - PGY1 Pharmacy Practice Residency
For general residency questions, please email BMCPharmacyResidency@bmc.org.
Program Description
BMC offers a challenging and rewarding PGY1 residency. The resident's year is structured into a comprehensive program that emphasizes the development of advanced pharmaceutical care while cultivating resident skills in experimental education and quality improvement. After a month-long orientation to the department, the resident begins a series of 5 week rotations and other longitudinal activities designed to meet the goals and objectives of the BMC pharmacy practice residency program. BMC also offers one international PGY1 position who follows the same curriculum as the general track.
Program Purpose
The PGY1 pharmacy residency program builds on Doctor of Pharmacy (PharmD) education and outcomes to contribute to the development of clinical pharmacists responsible for medication-related care of patients with a wide range of conditions and graduate residents who are eligible for board certification and postgraduate year two (PGY2) pharmacy residency training.
The mission of BMC's PGY1 program is to provide residents comprehensive training and cultivate skills in patient care, teaching, and quality improvement as preparation to successfully practice as leaders while embracing the values of diversity, efficiency, and respect.
Program Outcomes
Patient care
Advancing practice and improving care
Leadership and management
Teaching, education, and dissemination of knowledge
Core Rotations
Orientation (5 weeks)
Medicine
Medicine II (One subspecialty - Renal, Geriatrics, Cardiology, Infectious Diseases)
Ambulatory Care (Family Medicine, Primary Care, Renal/Transplant Clinic, Anticoagulation Clinic, Infectious Diseases/HIV Clinic, Cardiology Clinic, Hepatitis C/Center for Digestive Disorders)
Critical Care (Medical ICU, Cardiac ICU)
Surgery (Surgical/Trauma ICU, Surgical Floor)
Practice Management
Elective Rotations (Choice of 3)
Infectious Diseases 
Emergency Medicine
Pediatrics
Neonatal ICU
Neurocritical/Neurology
Complex Care Ambulatory Care
Hematology/Oncology - Inpatient
Hematology/Oncology - Outpatient 
Medication Safety 
Repeat any required rotation with an alternative focus (i.e. Medicine II - Renal or Surgery ICU)
Longitudinal Responsibilities
24/7 at home clinical on-call program
IHI quality improvement project supported by the scholarship committee

Receive an IHI Basic Certificate in Quality and Safety
Final manuscript submission

P&T work products
Participation on residency subcommittees
Teaching Responsibilities
2 Resident case conferences
1 Inter-professional in-services
1 ACPE-Accredited Continuing Education (CE) lecture
1 additional longitudinal elective (e.g. case conference, CE, etc...)
2 Journal clubs/"Patient-Oriented Evidence that Matters" (POEM) presentations
Facilitate student topic discussions
Additional Opportunities
Resiliency training
Precepting pharmacy students
Northeastern University School of Pharmacy

COBTH clinical pearl
Northeastern volunteer events

Medication Use Evaluation

Guideline updates
Medication safety prevention (smart pump programming, Pyxis optimizations, etc.)

Chief Resident opportunity
Resident Teaching Certificate (Optional track)
John W. Webb Lecture
Pharmacy Practice (Staffing) Responsibilities
Weekdays

One evening shift/week in a decentralized or operational role

Weekends

One weekend every 3 weeks in a mostly operational and order verification role

Holiday assignments

Two holidays (Thanksgiving Day, Christmas Day, New Year's Eve, New Year's Day, Memorial Day, Labor Day, Martin Luther King Day)
Benefits (applies to traditional and non-traditional only)
Estimated Salary:

Traditional Track $51,000
Non-traditional Tract $79,500

The individuals will staff full time in an operational capacity every other month with resident blocks in between. Because of the increased staffing and slower pace, the salary is higher

Vacation Time: 10 days
Office space with computer
Travel/CE allowance ($2,000/year): Eastern States Resident's Conference, ASHP Midyear Meeting, MaSHP Annual Meeting
$750 cafeteria allowance per academic year
$1000 move/licensure bonus
Lease guarantee available to minimize security deposit requirements
Insurance Benefits: health (100% employer payed option), dental, vision, disability, accidental death and dismemberment, life insurance
Additional Details
Duration of program: 53 weeks, full-time residency
Number of positions available:

General track: 5
International track: 1
Non-Traditional track: 2 (105 weeks in length)

Starting date: June 21st