Residency Director Contact Information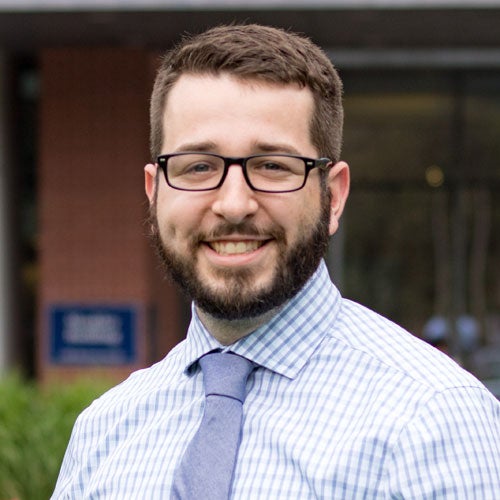 Jason Mordino, PharmD, BCCCP
Clinical Coordinator, Pharmacist Education
Director, PGY1 Pharmacy Practice Residency

For general residency questions, please email [email protected].
Program Description
BMC offers a challenging and rewarding PGY1 residency. The resident's year is structured into a comprehensive program that emphasizes the development of advanced pharmaceutical care while cultivating resident skills in experimental education and quality improvement. After a month-long orientation to the department, the resident begins a series of 5 week rotations and other longitudinal activities designed to meet the goals and objectives of the BMC pharmacy practice residency program. BMC also offers one international PGY1 position who follows the same curriculum as the general track.
Program Purpose
The PGY1 pharmacy residency program builds on Doctor of Pharmacy (PharmD) education and outcomes to contribute to the development of clinical pharmacists responsible for medication-related care of patients with a wide range of conditions and graduate residents who are eligible for board certification and postgraduate year two (PGY2) pharmacy residency training.
The mission of BMC's PGY1 program is to provide residents comprehensive training and cultivate skills in patient care, teaching, and quality improvement as preparation to successfully practice as leaders while embracing the values of diversity, efficiency, and respect.
Program Outcomes
Patient care
Advancing practice and improving care
Leadership and management
Teaching, education, and dissemination of knowledge
Required Core Rotations
Orientation - 5 weeks
Medicine
Medicine II (One subspecialty - Renal, Geriatrics, Cardiology, Infectious Disease)
Ambulatory Care (Family Medicine, Primary Care, Renal/Transplant Clinic, Anticoagulation Clinic, Infectious Diseases/HIV Clinic, Cardiology Clinic, Hepatitis C/Center for Digestive Disorders)
Critical Care (Medical ICU, Cardiac ICU)
Surgery (Surgical/Trauma ICU, Surgical Floor)
Practice Management
Elective Rotations (3)
Infectious Diseases
Emergency Medicine
Pediatrics
Neonatal ICU
Neurocritical/Neurology
Complex Care Ambulatory Care
Hematology/Oncology - Inpatient
Hematology/Oncology - Outpatient
Medication Safety
Repeat any required rotation with an alternative focus (i.e. Medicine II - Renal or Surgery ICU)
Longitudinal Responsibilities
24/7 at home clinical on-call program
Resident IHI quality sciences project supported by the scholarship committee

Receive an IHI Basic Certificate in Quality and Safety

P&T work products
Participation on residency subcommittees
Teaching Responsibilities
2 Resident case conferences
1 Inter-professional in-services
2 MA Board Certified Continuing Education (CE) lectures
2 Journal clubs/POEM assessments
Facilitate student topic discussions
Additional Opportunities
Resiliency training
Precepting pharmacy students
Northeastern University School of Pharmacy

COBTH clinical pearl
Northeastern volunteer events

Medication Use Evaluation

Guideline updates
Medication safety prevention (smart pump programming, Pyxis optimizations, etc.)

Chief Resident opportunity
Resident Teaching Certificate (Optional track)
John W. Webb Lecture
Pharmacy Practice (Staffing) Responsibilities
Weekdays

One evening shift/week in a decentralized or dispensing role

Weekends

One weekend every 3 weeks in a mostly operational and order verification role

Holiday assignments

1 major (Thanksgiving Day, Christmas Eve, Christmas Day, New Year's Eve, New Year's Day)
1 minor (Memorial Day, Labor Day, Martin Luther King Day)
Benefits (applies to traditional and non-traditional only)
Estimated Salary:

Traditional Track $49,000
Non-traditional Tract $78,500

The individuals will staff full time in an operational capacity every other month with resident blocks in between. Because of the increased staffing and slower pace, the salary is higher

Insurance Benefits: health, dental, vision, disability, accidental death and dismemberment, life insurance
Vacation Time: 10 days
Personal desk space with computer and other professional materials
Travel/CE allowance ($2,000/year): Eastern States Resident's Conference, ASHP Midyear Meeting, MaSHP Annual Meeting
Requirements for Acceptance
Graduate of an ACPE-accredited college of pharmacy or pass the FPGEC exam
Eligible for licensure in the Commonwealth of Massachusetts on July 1st
General track & Non-Traditional: U.S. citizenship or carry a U.S. permanent resident visa ("green card")
International track: Must be enrolled in the Saudi Arabia Culture Missions Scholarships (SACM) or Kuwait scholarship for residency.
Applications
Application Deadline: January 2, 2021
BMC Pharmacy Residency candidates should complete an electronic residency application using ASHP PhORCAS by January 2nd, at 11:59 PM EST.

Completed residency application
Verified PharmD transcripts
Personal Statement/Letter of Intent
Curriculum Vitae (CV)
Three completed standardized reference forms

At least one reference form must be from a clinical rotation preceptor. In addition, candidates should encourage their references to provide as much commentary as possible, as this will weigh heavily in our decision to offer an on-site interview.

Mandatory writing sample: writing sample should be uploaded as a part of the application in PhORCAS in the supplemental sections. Please answer one of the questions below (word limit of 500 words or less):

Reflect on a work experience that enabled you to better handle a difficult question/situation that arose while on rotation OR
Reflect on a challenging situation that required you to question your values or assumptions. How did you handle it? What did you learn?

Candidates will be contacted if your application is found to be incomplete after submission
All applicants to ASHP-accredited pharmacy residencies must participate in the Match process sponsored by the National Matching Service (NMS). Applicants to our programs must register with NMS to obtain a match number. Information about applications and deadlines for the Match can be found on the NMS website.

NMS Code General Track: 178313
NMS Code International Track: 178321
NMS Code Non-Traditional Track: 178322
Additional Details
Duration of Program: 53 weeks, full-time residency
Number of Positions Available:
General track: 5
International track: 1
Non-Traditional track: 2 (105 weeks in length)
Starting Date: June 21st