Program Director Contact Information
Jessica Corio, PharmD, BCPS, BCEMP
Clinical Specialist – Emergency Medicine
Director – PGY2 Emergency Medicine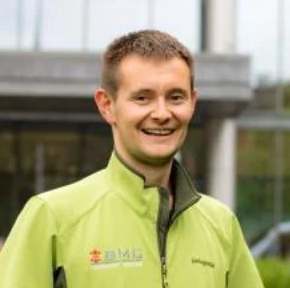 Bryan Gendron, PharmD, BCPS, BCEMP
Clinical Coordinator - Emergency Medicine
Coordinator – PGY2 Emergency Medicine
The PGY2 Emergency Medicine Residency Program at BMC has early committed for the 2023-2024 residency year. We appreciate your interest and understanding.
Program Description
The Boston Medical Center PGY2 Emergency Medicine pharmacy residency is among the oldest programs accredited through ASHP. This program offers specialized training in emergency medicine pharmacotherapy in one of the busiest emergency departments in the United States and largest level 1 trauma center in the Northeast region. After orientation to the department, the resident begins a series of rotations and other activities designed to meet the goals and objectives of the PGY2 residency in emergency medicine. Rotation options include emergency medicine, emergency department administration, pediatric emergency medicine & pediatric intensive care, medical intensive care, trauma intensive care, and cardiac intensive care. Longitudinal activities include completion of a research/quality improvement project, drug policy development and teaching opportunities. In addition, the resident meets the objectives for hospital practice by participating in the on-call program and independent practice in the Emergency Department.
Learn more about Boston Medical Center's Emergency Medicine Services
Learn more about Boston Medical Center's Critical Care Medicine Services
Program Purpose
PGY2 pharmacy residency programs build on Doctor of Pharmacy (PharmD) education and PGY1 pharmacy residency programs to contribute to the development of clinical pharmacists in specialized areas of practice. PGY2 residencies provide residents with opportunities to function independently as practitioners by conceptualizing and integrating accumulated experience and knowledge and incorporating both into the provision of patient care or other advanced practice settings. Residents who successfully complete an accredited PGY2 pharmacy residency are prepared for advanced patient care, academic, or other specialized positions, along with board certification.
Program Outcomes
Patient care
Advancing practice and improving patient care
Leadership and management
Teaching, education, and dissemination of knowledge
Management of medical emergencies
Management of toxicology patients
Core Rotations (4 weeks unless otherwise specified)
Orientation
Emergency Medicine I 

May include co-precepting an APPE student

Emergency Medicine II

May include co-precepting an APPE student and/or PGY1 resident

Emergency Medicine III- Evenings

May include co-precepting an APPE student and/or PGY1 resident

Emergency Medicine IV- Precepting

Co-precepting a PGY1 resident

Emergency Medicine- Overnight (1 week x2)
Pediatric Emergency Medicine & Pediatric ICU 
Toxicology 
Emergency Department Administration 
Emergency Medical Services (1 week)
Trauma ICU 
Medical ICU 
Elective Rotations (4 Weeks - Choice of 1)
Infectious Diseases-Consult Service
Infectious Diseases-Antimicrobial Stewardship
Cardiac ICU
Addiction Medicine Consult Service
Longitudinal Responsibilities
24/7 at home clinical on-call program
Longitudinal research or IHI quality improvement project supported by the scholarship committee

Receive an IHI Basic Certificate in Quality and Safety
Final manuscript submission

Medication guideline development or revisions
Information systems support (e.g. CPOE, smartpump, ADC, Lexi-Comp) improvements
Medication Use Evaluations (MUE)
Pharmacy and Therapeutics committee participation
Completion of the Institute for Healthcare Improvement basic certificate in quality and safety
Participation in emergency responses (e.g. code blue, code stroke, rapid response, and trauma room care)
Emergency Department Policies and Procedures Committee participation
Code Committee participation
Emergency Department Executive Committee participation
Participation in a BMC residency committee
Teaching Responsibilities
1 resident case conference or pharmacy M&M conference
1 case conference as preceptor to PGY1 resident
1 ACPE-Accredited Continuing Education (CE) lecture
3 In-services to nurses, physicians, and/or pharmacists
1 Emergency Medical Services lecture
1 Emergency Medicine conference lecture (Grand Rounds)
1 clinical pearl presentation at the New England Critical Care Symposium (5 minutes)
Code blue simulation participation
Co-precepting APPE students on rotation
Additional Opportunities
Resident Teaching Certificate
Resiliency Training
Development or revisions of monographs, policies, or guidelines
Code blue simulation participation 
Emergency preparedness training at the Center for Domestic Preparedness
American Academy of Clinical Toxicology journal club webinar (30 minutes, if selected)
American Academy of Clinical Pharmacy ED PRN online journal club (30 minutes, if selected)
Journal Club presentations 
Chief Resident opportunity
Pharmacy Practice (Staffing) Responsibilities
Weekly staffing of an evening shift in the ED for the first quarter, followed by every other week staffing thereafter
Staffing a weekend shift in the ED every third weekend
Holiday assignments

1 major (Thanksgiving Day, Christmas Eve, Christmas Day, New Year's Eve, New Year's Day)
1 minor (Memorial Day, Labor Day, Martin Luther King Day)
Benefits
Estimated Salary: $55,000
Vacation time: 12 days
Office space with computer
Travel/CE allowance (~$2,300/year): ASHP Midyear Meeting, SCCM, or other opportunities for additional national specialty meetings (e.g. North American Congress of Clinical Toxicology, American College of Emergency Physicians, Society of Academic Emergency Medicine, or American College of Medical Toxicology)
$750 cafeteria allowance per academic year
$1000 move/licensure bonus
Lease guarantee available to minimize security deposit requirements
Insurance Benefits: health (100% employer-paid option), dental, vision, disability, accidental death and dismemberment, life insurance