PGY2 Pharmacy Residency - Critical Care
Program Director Contact Information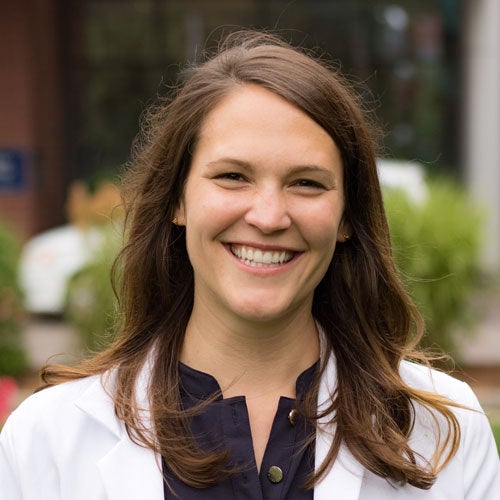 Kimberly Ackerbauer, PharmD, BCCCP
Clinical Coordinator, Critical Care
Director, PGY2 Critical Care Residency
For general residency questions, please email kimberly.a[email protected].
Program Description
Boston Medical Center's PGY2 critical care pharmacy residency was the first in the Commonwealth of Massachusetts to gain ASHP accreditation in 2004. During that time, critical care pharmacy services have expanded to include dedicated specialists in medical, trauma, cardiac, and surgical critical care, and emergency medicine. Additionally, the resident staffs New England's busiest emergency department, which has grown to be the only ED in the Commonwealth to provide 24/7 de-centralized pharmacy services. Our program offers a challenging, fast-paced rotation environment desired by candidates interested in pursuing a future in critical care and provides opportunities to complete a research or quality improvement project and medication use evaluation, serve on the Anti-thrombotic Task Force, lead continuing education seminars, pharmacy case conferences, and therapeutics seminars, and precept APPE pharmacy students from local colleges of pharmacy. The unique combination of our strong history, high quality specialist preceptors and learning experiences, quality improvement focus, and exemplary commitment to our diverse patients, makes BMC one of the best places for critical care pharmacy residency training in the Northeast.
Our PGY-2 critical care residents work closely with physician training programs in:
Program Purpose
PGY2 pharmacy residency programs build on Doctor of Pharmacy (PharmD) education and PGY1 pharmacy residency programs to contribute to the development of clinical pharmacists in specialized areas of practice. PGY2 residencies provide residents with opportunities to function independently as practitioners by conceptualizing and integrating accumulated experience and knowledge and incorporating both into the provision of patient care or other advanced practice settings. Residents who successfully complete an accredited PGY2 pharmacy residency are prepared for advanced patient care, academic, or other specialized positions, along with board certification, if available.
Competency Areas (2016)
Patient care (required)
Advancing practice and improving care (required)
Leadership and management (required)
Teaching, education, and dissemination of knowledge (required)
Added leadership and practice management skills (elective)
Mass casualty (elective)
Required Core Rotations (5 weeks)
Orientation - 2-4 weeks
Medical ICU I
Medical ICU II - may include co-precepting a PGY1 resident
Trauma/Surgical ICU
Neurocritical Care
Cardiac ICU
Emergency Medicine I
Infectious Diseases
Elective Rotations (5 weeks unless otherwise specified)
Pediatric & Neonatal ICU - 2.5 weeks
Nutrition Support Team - 2.5 weeks
Palliative Care - 2.5 weeks
Toxicology
Critical Care Administration/Medication Safety
Trauma/Surgery ICU II
Cardiac ICU II
Emergency Medicine II
Longitudinal Responsibilities
24/7 at home clinical on-call program
Quality improvement project with final manuscript submission according to the SQUIRE 2 guidelines
Medication guideline development
Information systems support (e.g. CPOE, smartpump, ADC, Lexi-Comp) improvements
Formulary Management Committee participation
Anti-thrombotic Task Force participation
Executive Critical Care Committee participation
Completion of the Institute for Healthcare Improvement basic certificate in quality and safety
Participation in emergency responses (i.e. code blue, code stroke, and trauma room care)
Participation in a BMC residency committee
Teaching Responsibilities
1 Resident case conference
1 Multidisciplinary lecture (Grand Rounds)
1 MA Board Certified Continuing Education (CE) lecture
1 Clinical pearl presentation at the Annual New England Critical Care Symposium (5 minutes)
Additional Opportunities
Resident Teaching Certificate
Resiliency Training
Monograph
Policy development or revisions
Society of Critical Care Medicine Clinical Pharmacy & Pharmacology Section online journal club (20 minutes, if selected)
Journal Club/"Patient-Oriented Evidence that Matters" (POEM) presentations
Emergency department teaching
Code blue simulation participation
Chief Resident opportunity
Pharmacy Practice (Staffing) Responsibilities
Weekly staffing of an evening shift in the ED or ICUs for the first quarter, followed by every other week staffing thereafter
Every third weekend staffing of a decentralized ED or ICU shift
Holiday assignments

1 major (Thanksgiving Day, Christmas Eve, Christmas Day, New Year's Eve, New Year's Day)
1 minor (Memorial Day, Labor Day, Martin Luther King Day)
Benefits
Estimated Salary: $53,000
Insurance Benefits: health, dental, vision, disability, accidental death and dismemberment, life insurance
Vacation time: 12 days
Office space with computer
Travel/CE allowance (~$2,300/year): ASHP Midyear Meeting, SCCM, or other opportunities for additional national specialty meetings
Requirements for Acceptance
Doctor of Pharmacy degree from an ACPE-accredited college of pharmacy
Certificate from PGY1 program (or equivalent)
Eligible for licensure in the Commonwealth of Massachusetts on July 1st
U.S. citizenship or carry a U.S. permanent resident visa ("green card")
Personal on-site interview
Applications
BMC Pharmacy Residency candidates should complete an electronic residency application using the ASHP PhORCAS centralized application system. The following materials must be received through PhORCAS by January 2, 2021 at 11:59 PM EST.

Completed residency application
Verified PharmD transcripts
Letter of intent (including goals)
Curriculum Vitae (CV)
Three completed standardized reference forms

All applicants to ASHP-accredited pharmacy residencies must participate in the Match process sponsored by the National Matching Service (NMS). Applicants to our programs must register with NMS to obtain a match number. Information about applications and deadlines for the Match can be found on the NMS website.