Boston Medical Center serves a diverse patient population, including people from every race, gender, ethnicity, sexuality and religion. Therefore, in order to provide exceptional care to all of our patients, it is vital that their workforce resembles the patients they serve. The All-In committee works to promote BMC's core value of "Many Faces Create Our Greatness" within the Pharmacy Department. The committee's mission is to develop, mentor, and educate the next generation of culturally competent pharmacists and promote excellence through leadership and training.
To advance this mission, the All-In committee:
Offers an annual scholarship to pharmacy students who identify as an underrepresented minority in pharmacy. The scholarship affords the opportunity to complete unique rotational experiences that foster growth, inclusivity, and healthcare excellence at Boston Medical Center
Coordinates continuing education sessions to incorporate diversity, equity, and inclusion in healthcare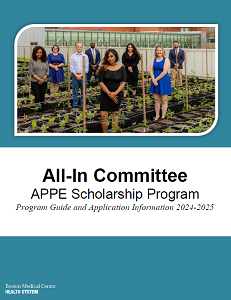 Download the All-In APPE Scholarship Program Report
The All-In committee seeks to ensure diversity in all beliefs, perspectives, and backgrounds within pharmacy in order to provide optimal care for all patients.
PGY1 Resident Members
Health-System Pharmacy Administration and Leadership (HSPAL)
Britteny Cherestal, PharmD
Health-System Pharmacy Administration and Leadership (HSPAL)
Education

Doctor of Pharmacy, Florida A&M University (2023)
Christine Hancock, PharmD
Education

Doctor of Pharmacy, University of California, San Francisco (2023)
Sienna Wurl, PharmD, MBA
Education

Doctor of Pharmacy, MBA, Western New England University (2023)
PGY2 Resident Members
Sandra Schipelliti, PharmD
Education

Doctor of Pharmacy, University of New England (2022)

Residencies

PGY1, Veterans Affairs Washington DC (2023)
Emergency Medicine, Chief Resident
Temi Sofeso, PharmD
Emergency Medicine, Chief Resident
Education

Doctor of Pharmacy, University of California, San Francisco (2022)

Residencies

PGY1, Boston Medical Center (2023)