PGY2 - Infectious Diseases
Program Director Contact Information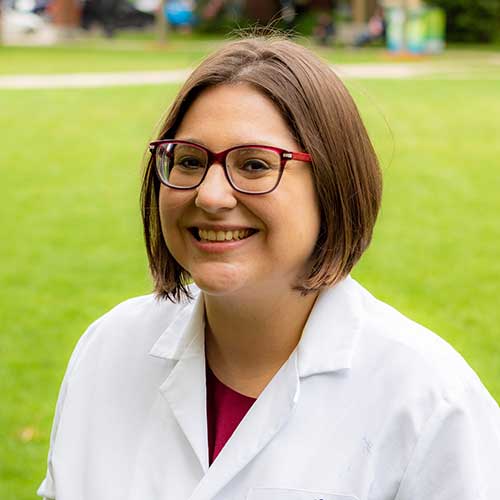 Karrine Brade, PharmD, BCPS AQ-ID, BCIDP
Clinical Coordinator - Infectious Diseases
Director - PGY2 Infectious Diseases
Program Description
The PGY2 Infectious Diseases residency program at Boston Medical Center (BMC) provides a structured education and training experience for pharmacists looking to develop clinical expertise in infectious disease pharmacotherapy and antibiotic management.
After orientation to the department, the resident begins a series of rotations and longitudinal activities designed to meet the goals and objectives of the program. The residency is a tailored, comprehensive program that emphasizes the development of advanced pharmaceutical care skills in the area of infectious diseases.
Upon completion of the specialty residency program at Boston Medical Center, the resident will have achieved a level of expertise in infectious disease pharmacotherapy to function as an independent clinical specialist or educator in the area of infectious diseases pharmacotherapy.
BMC's Infectious Diseases Services
Section of Infectious Disease/BUSM and BMC
Program Purpose
PGY2 pharmacy residency programs build on Doctor of Pharmacy (PharmD) education and PGY1 pharmacy residency programs to contribute to the development of clinical pharmacists in specialized areas of practice. PGY2 residencies provide residents with opportunities to function independently as practitioners by conceptualizing and integrating accumulated experience and knowledge and incorporating both into the provision of patient care that improves medication therapy. Residents who successfully complete an accredited PGY2 pharmacy residency should possess competencies that qualify them for clinical pharmacist and/or faculty positions and position them to be eligible for attainment of board certification in the specialized practice area (when board certification for the practice area exists).
Program Outcomes
Promote health improvement, wellness, and the prevention of infectious diseases
Optimize the outcomes of individuals with an infectious disease by providing evidence-based, patient-centered medication therapy as an integral member of an interdisciplinary team or as an independent clinician
Manage and improve anti-infective-use processes through implementing antimicrobial stewardship strategies and by being an active member of the Antimicrobial Stewardship Subcommittee
Demonstrate excellence in the provision of educational activities for health care professionals focusing on optimizing anti-infective pharmacotherapy
Serve as an authoritative resource on the optimal use of medications used to treat individuals with infectious diseases
Demonstrate leadership and practice management skills
Conduct infectious disease pharmacy quality improvement projects and/or research
Core Rotations (5 weeks)
Orientation (4 weeks)
Introduction to Infectious Diseases, Antibiotic Stewardship, and Microbiology
HIV Outpatient Clinic
Antimicrobial Stewardship (AST)
ID Consult
Internal Medicine ID
ID Consult Advanced
Pediatric ID Consult
Elective Rotations (5 weeks - Choice of 2)
AST Administration
Internal Medicine
Internal Medicine/Transitions of Care
Emergency Medicine
Medical Intensive Care Unit (MICU)
Surgical Intensive Care Unit (SICU)
Repeat a required rotation
Teaching (didactic lecture(s) at Northeastern University) - 12 month longitudinal (in addition to two 5 week electives)
Longitudinal Responsibilities
IHI quality improvement project supported by the scholarship committee

Receive an IHI Basic Certificate in Quality and Safety
Final manuscript submission

Longitudinal AST experiences (AST shift coverage once-weekly, development of AST guidelines, formulary review of anti-infectives, etc.)
Participation and leadership on quarterly antibiotic subcommittee meetings and monthly AST director meetings
Participation in a BMC residency committee (scholarship, preceptor development, residency emotional support team, recruitment, or professional development)
Teaching Responsibilities
1 Resident case conference
1 Multidisciplinary lecture (PA lecture)
1 ACPE-Accredited Continuing Education (CE) lecture
Additional Opportunities
Journal club/"Patient-Oriented Evidence that Matters" (POEM) presentations
Precepting PGY1 residents on an ID rotation
Precepting students on an ID rotation
Completion and presentation of Medication Use Evaluations (MUE) and drug monographs for formulary review
Resiliency Training
Pharmacy Practice (Staffing) Responsibilities
Weekends & evenings

One weekend every 3 weeks
One week of evenings (11:00 AM-7:30 PM) seven times per year (off rotation during this week)

Holiday assignments

1 major (Thanksgiving Day or Christmas) 
1 minor (Memorial Day, Labor Day, or Martin Luther King Day)
Benefits
Estimated Salary: $55,000
Vacation time: 12 days
Office space with computer
Travel/CE allowance (~$2,300/year): Making a Difference in Infectious Disease (MAD-ID), ASHP Midyear Meeting, opportunities for additional national specialty meetings
$750 cafeteria allowance per academic year
$1000 move/licensure bonus
Lease guarantee available to minimize security deposit requirements
Insurance Benefits: health (100% employer-paid option), dental, vision, disability, accidental death and dismemberment, life insurance
Application Requirements 
Please see How To Apply page for basic application information
Mandatory writing sample: writing sample should be uploaded as a part of the application in PhORCAS in the supplemental sections. Please answer the following question (word limit of 500 words or less):

Describe your past, present, and future contributions to promoting equity, inclusion, and diversity in your professional career.