Boston Medical Center is pleased to once again offer a Junior Summer Volunteer Program (JSVP) for rising juniors and seniors in high school! This program will allow students to gain valuable knowledge and insight into the patient's care experience at BMC through interactive engagement and consultation with the hospital and clinical professionals.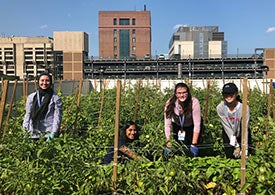 Eligible participants of this program must be entering their junior or senior year of high school and are able to commit to the full 8 weeks of the program. Dates for the program will be released in early spring. Strong applicants for the program will be reliable, committed, and eager to learn about the hospital and healthcare setting. Must have a positive attitude and be open to learning from new experiences.
All inquiries about the Summer Program and correspondence with Volunteer Services in regards to application status should be made by the candidate themselves.
Program Overview
Participants in the 2023 JSVP will start at BMC on Monday, June 26th with a volunteer orientation. From there on, each participant will commit to at least one recurring 3-hour shift of volunteering on-campus for the duration of the summer.
In addition to volunteering, there will also be a weekly lecture series, delivered by various Boston Medical Center Health Systems professionals. Past lecturers have included surgeons, physicians, nurses, social workers, and healthcare administrators.
Both the volunteering and the lectures are designed to help participants learn the inner workings of a hospital and to further explore career options within the field of healthcare. The program concludes at the end of the 8 weeks on Friday, August 18th, with a final celebration of the program's completion.
This year, JSVP is accepting 40 students. Preference is given to Boston residents.
Application Process
The JSVP application will go live on Friday, February 17th, 2023. A complete application includes a 200-word essay on why you want to participate in this year's program, as well as two letters of recommendation. Letters may come from former/current teachers, employers, or guidance counselors. Letters may not come from relatives. Both letters should be no longer than a paragraph in length and should speak to the applicant's character and their intent to join the program. You must include the essay and the letters of recommendation in order to be considered for the program.
Applications are due by Monday, May 15th. Group interviews will follow within the first two weeks of June. Interviews are typically 30 minutes in length and are designed to learn more about you and your interest in volunteering with Boston Medical Center.
If selected for the 2023 program, participants will be required to report their immunizations to BMC's Occupational Health clinic. Participants must be considered "cleared" by our Occupational Health clinic by Monday, June 12th to participate in the summer program.
All program communications must take place with the applicant/participant themselves; our office will not communicate individual application or program progress with family members or educators.
The application window for the 2023 Junior Summer Volunteer Program is now closed.
Important Dates
February 17: 2023 JSVP application goes live
May 15: Application due
June 12: Occupational Health clearance deadline
June 26: 2023 Kick-off celebration and volunteer orientation 
August 18: Celebration of completion for the 2023 Junior Summer Volunteers 
FAQ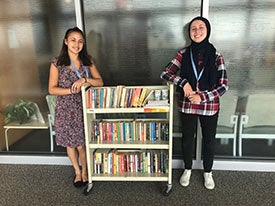 Can I participate in the Junior Volunteer Summer Program if I am not entering my junior or senior year of high school?
JSVP is designed for high school volunteers entering their junior or senior year. Please go to our Volunteer Opportunities section to view placements open for those in college and beyond.
What kinds of volunteering opportunities will be available to program participants?
Some sample roles for our Junior Summer Volunteers include roles within the ambassador program, food pantry, or pediatric playspace, although this list is not extensive. Specific volunteer roles are determined based on applicant interest and availability. While we encourage you to note on your application an interest in a particular role, volunteer placement is based on the needs of the hospital. Please note that all Junior Summer Volunteer opportunities are only in outpatient areas.
I'm going to be away for part of the summer, can I still participate in the program?
We ask that applicants are available for one, three-hour shift a week for the total eight weeks of the program. If a vacation or trip is planned within the program's duration, you must note on your application the dates and times you will be away.
What kind of time commitment is the Junior Summer Volunteer Program?
Each program participant will be required to complete a recurring, three-hour volunteer shift each week during the eight weeks of the program. In addition, participants are required to attend a weekly webinar with a current medical professional at Boston Medical Center. Webinars are recorded for those unable to attend live; however, volunteers unable to attend will be required to provide a 100-word reflection on the webinar.
Is there a remote option?
The 2023 JSVP requires in-person participation and is unable to accommodate remote volunteering.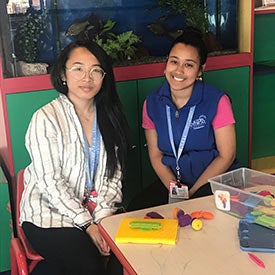 At the end of the program, will I receive documentation of my hours?
All students will receive credit for the hours they participate in the program as well as a certificate upon completion of the program. Documentation of hours served may be reported on a resume for future internships, employment, or college applications.
I have a question that was not answered here, who should I reach out to?
Any additional questions students have about the program can be emailed to volunteer.services@bmc.org. All questions should come from the interested applicants themselves.