Junior Summer Volunteer Program
Boston Medical Center is pleased to once again offer a Junior Summer Volunteer Program (JSVP) for rising juniors and seniors in high school! This program will allow students to gain valuable knowledge and insight into the patient's care experience at BMC through interactive engagement and consultation with the hospital and clinical professionals.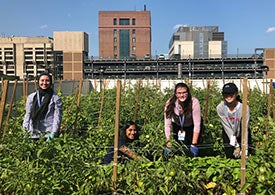 Eligible participants of this program must be entering their junior or senior year of high school and are able to commit to the full 8 weeks of the program. Dates for the program will be released in early spring. Strong applicants for the program will be reliable, committed, and eager to learn about the hospital and healthcare setting. Must have a positive attitude and be open to learning from new experiences.
All inquiries about the Summer Program and correspondence with Volunteer Services in regards to application status should be made by the candidate themselves.
Program Overview
This year Boston Medical Center will be offering two tracks for the program: volunteering and an educational intensive.
The first track, volunteering, will begin on July 1st. You will have the opportunity to volunteer on BMC's campus for all of July and August. In July and August, you will be expected to commit to one, three-hour volunteer shift each week.
The second track is a fully remote educational intensive beginning on August 1st. The educational intensive will consist of two to three one-hour lectures each week spanning the month of August. You will follow an assigned patient scenario and learn firsthand from BMC professionals.
Students with strong applications may apply to participate in both programs.
Application Process
We are no longer accepting applications. Please check back in the Spring of 2023. 
Important Dates
June 9th: Educational Intensive Informational Zoom (mandatory) 
August 1st: Remote Orientation for Educational Intensive Group (mandatory) 
August 12th: Student Career Panel 
August 5th, 12th, & 19th: Rooftop Farm Volunteer Days 
August 26th: Final Day Celebration and Presentations (mandatory)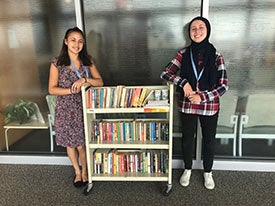 FAQ
Can I participate in the Junior Volunteer Summer Program if I am not entering my junior or senior year of high school?
JSVP is designed for high school volunteers entering their junior or senior year. Please go to our Volunteer Opportunities section to view placements open for those in college and beyond.
Can I still participate in the program if I am going to be away for part of the summer?
Yes, as long as you have a stable internet connection and are able to sign into Zoom throughout the summer you can participate in the virtual summer program. If there are planned dates you would be unable to participate in a Zoom meeting you must note on your application the dates and times you will be unavailable.
Individuals applying for the Volunteer Group must be available for the majority of the summer as they are expected to be on campus. Some flexibility may be granted, but dates must be shared with Volunteer Services in advance of starting the program.
What days will the JSVP be held?
We will ask all JSVP participants to be available during the work week.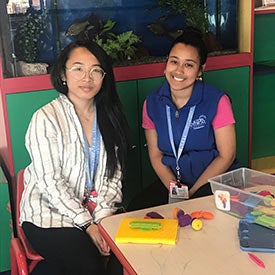 At the end of the program, do I receive documentation of my hours?
All students will receive credit for the hours they participate in the program as well as a certificate upon completion of the program. 
I have a question that was not answered here, who should I reach out to?
Any additional questions students have about the program can be emailed to volunteer.services@bmc.org. All questions should come from the interested applicants themselves.