Junior Summer Volunteer Program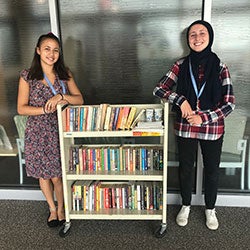 Boston Medical Center is excited to be offering a Junior Summer Volunteer Program for the summer of 2019.
Summer Volunteers must commit to a minimum of 8 weeks. Volunteer shifts are three hours in length once a week. To allow everyone an opportunity to participate in the program volunteers cannot assist in more than two shifts a week.
The Junior Summer Volunteer Program is a great opportunity for volunteers who are 16 or 17 years of age and unable to volunteer during the year due to school scheduling conflicts. The program offers our Summer Volunteers exposure to the healthcare field and opportunities to build patient experience skills.
All inquiries about the Summer Program and correspondence with Volunteer Services in regards to application status should be made by the candidate themselves.
The 2019 Junior Summer Volunteer Program is full and Volunteer Services is no longer accepting applications. Please check back in spring of 2020 for information regarding the 2020 junior summer program.