Junior Summer Volunteer Program
Boston Medical Center's Junior Summer Volunteer Program for the summer of 2020 has been cancelled. Please know that this decision was not made lightly but with an abundance of thought and care for the well-being of our patients, our staff, and our larger community. The Volunteer Services team will continue to work at making this program a rewarding experience for high school students for next year and beyond. We look forward to a great summer in 2021!
The Summer Volunteer Program is a great opportunity for volunteers entering their junior or senior year of high school to gain exposure to the healthcare field. In their role at BMC, volunteers will interact with patients and assist with patient experience initiatives.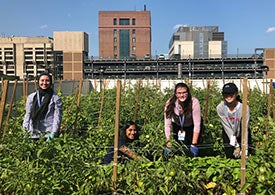 Strong applicants for the program will be reliable, committed and eager to learn about the hospital and healthcare setting. Must have a positive attitude and be open to learning from new experiences.
Summer volunteers must be available for a minimum of 8 weeks between June 29th and August 28th. Volunteers are required to commit to the same three hour shift every week.
As a part of the program volunteers must attend a set-number of speaker series which will showcase different careers in the hospital and allow networking with healthcare professionals.
All inquiries about the Summer Program and correspondence with Volunteer Services in regards to application status should be made by the candidate themselves.