The Autism Program at Boston Medical Center (BMC) offers unique and tailored trainings that provide valuable and practical insight designed to allow participants to implement knowledge into practice. Dedicated to improving the knowledge and sensitive culture that surrounds Autism Spectrum Disorder (ASD), our staff values working closely with caregivers and medical professionals to strengthen their services and interactions with the autism community.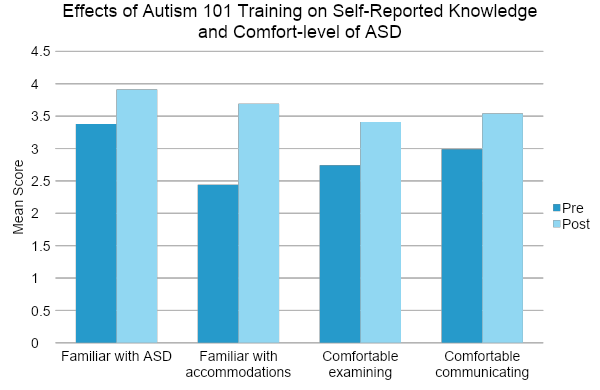 In 2019, 750+ people were trained via 35 lectures delivered within Boston University Medical Campus (BUMC) and the broader community
BMC Dept. of Security (bi-monthly/all security new-hires)
Boston University Chobanian & Avedisian School of Medicine (training for all 3rd year medical students during psych rotation)
Goldman School of Dental Medicine (weekly resident training and annual training for dental students)
Our versatile trainings can be presented through lectures, parent and community panels, didactic teaching, etc. We will tailor your training to your group's unique needs. 
Medical Student Testimonials
"I immediately feel more competent than I was an hour ago in caring for patients with ASD. Critical presentation for my development as a doctor."
"I greatly appreciate the increased perspective and knowledge in caring for this large group of patients."
"The training reinforced the importance of listening to both the patient and the parents, and treating the person and not their disability."
Booking a Training
If you would like to purchase any of our trainings, found below, for your organization, please contact us at autismprogram@bmc.org.
Training Descriptions
Autism 101
What: This 1-hour+ workshop-style lecture is offered to inform participants about
ASD diagnosis criteria and symptoms
ASD facts and figures 
Educational and therapeutic support
Applied strategies for working specifically with individuals and families (tailored to the audience)
First-hand experiences of navigating the diagnosis from parents in collaboration with our Parent Leadership in Autism Network (PLAN)   
Case Studies   
Why: For patients and their families, navigating autism can be very challenging as there are many complexities that come with providing individualized care. Autism 101 offers effective education to better prepare participants in their understanding about how to properly support families and their needs. 
Making Your Practice Autism Friendly 
What: In this workshop, medical providers learn strategies about how to adapt an 'Autism Friendly' practice when serving patients with ASD. This session includes information about:
The evolution of our Autism Friendly Initiative as we continue to develop tailored interventions related to environmental adaptation, provider education, and individualized patient care
How to measure the need for Autism Friendly interventions and the degree to which a healthcare practice is considered Autism Friendly
How to assess and sustain the impact that such interventions may make towards improving clinical encounters with patients
Possible challenges that may arise when developing an Autism Friendly practice
Why: Launched in 2017, our Autism Friendly Initiative is a multi-faceted approach that seeks to address the lack of research and implementation of hospital-wide Autism Friendly practices. Through system-level interventions and insight from ethnographic studies, focus groups, and stakeholders, we provide practitioners with tools to create an Autism Friendly medical practice in their respective sites, ultimately making a difference in improving hospital experiences and overall medical satisfaction for patients and their families.
Click here to learn more about our Autism Friendly Initiative.
Resource Training and Case Consultants 
What: Our Autism Resource Specialists work with parents and professionals to educate around supports and resources for those affected by ASD. These resource trainings can include:
Public benefits enrollment (DDS and SSI)
Insurance Benefits (ARICA coverage, Mass Health and covered services)
Therapeutic Interventions (ABA, SLT, OT, etc.)
Special Education and the Individualized Education Plan
Community Support Agencies
Why: Hearing that a child is being diagnosed with autism spectrum disorder can be a life changing event. Those that are present to support the family during that time can have an enormous influence on the long-term trajectory of that child and family. Our resource trainings provide concrete supports and detailed steps in navigating the while teaching how to empower families throughout their journey.
Click here to learn more about our Resources.
Contact Information
Phone: 617.414.3842
Email: autismprogram@bmc.org
850 Harrison Ave. Yawkey 6
Boston, MA 02118