Please note: The Autism Program at Boston Medical Center is a family resource and support program. If you are looking for an evaluation for autism, or other information about clinical care including making an appointment with one of our clinicians, wait times, or referrals, please contact Developmental and Behavioral Pediatrics at 617.414.4841.
---
Direct Patient Care and Support
The Autism Program is an extension of care for patients and families seen in Developmental and Behavioral Pediatrics at Boston Medical Center. Our team is committed to assisting and empowering patient and their families to meet their goals through:
Autism Resource Support
Family Navigation
Transition-to-Adulthood Planning Support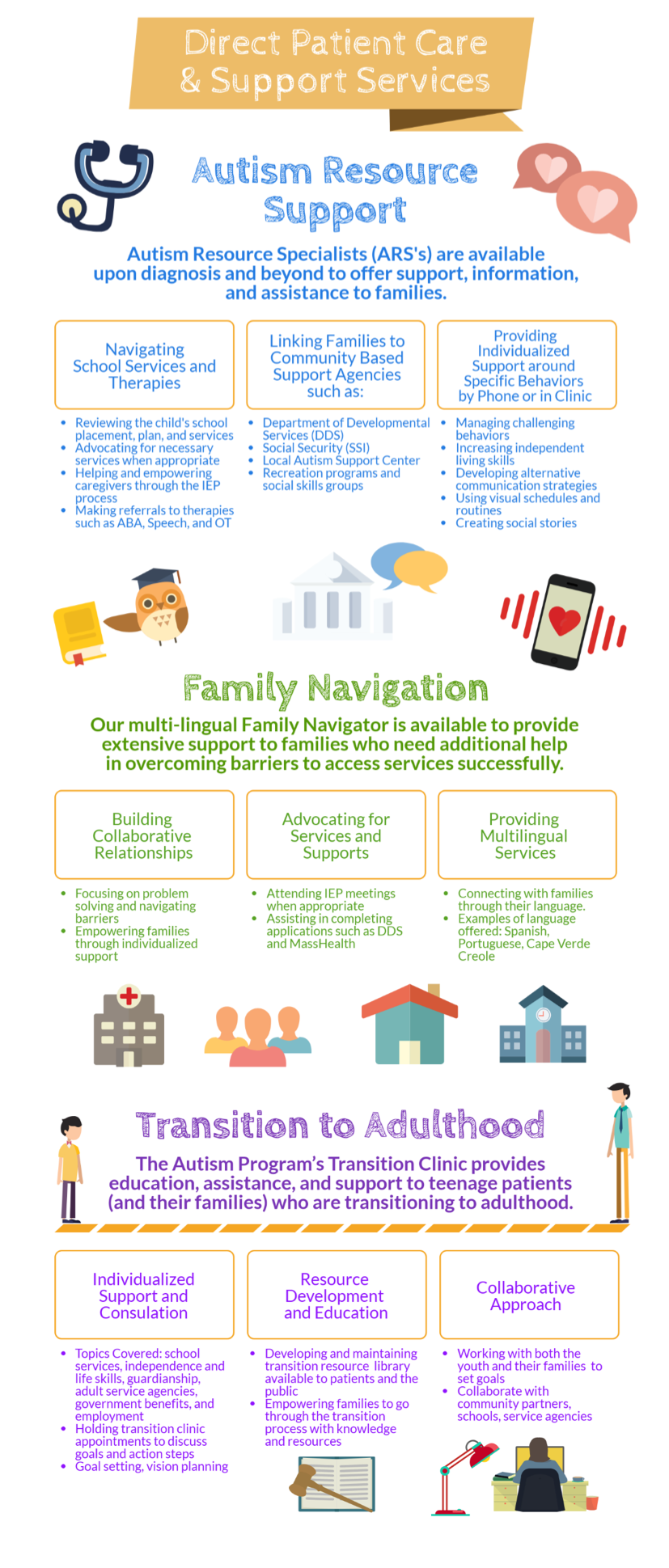 ---
Trainings
The Autism Program at Boston Medical Center routinely offers trainings on topics for both parent and professional audiences. Trainings can always be developed and tailored to meet the specific needs of your audience. Our current training offerings include:
Autism 101
Making your Practice Autism Friendly
Transition to Adulthood Planning
Age of Majority & Guardianship
Resource Training and Case Consultants
View our trainings for a more comprehensive description of these topics, as well as a link to our booking request form. For questions about pricing or discussion of your group's specific needs, please contact us at [email protected].
---
Community Initiatives

A diverse and multilingual group of trained parent leaders who offer peer support to caregivers who have children or adolescents of any age with an autism diagnosis.
Monthly meeting for parent leaders with training opportunities.
Free and open to anyone in the community.

A unique mentoring model that pairs teens with and without autism to co-mentor a younger child on the autism spectrum.
A school year program of supervised monthly hangouts.
Free and open to anyone in the community.
Monthly events include a mix of social-recreational and community service activities, with 2 yearly trainings for mentors.