Violence Intervention Advocacy Program
Changing Lives by Guiding Victims Through Recovery with a Trauma Informed Approach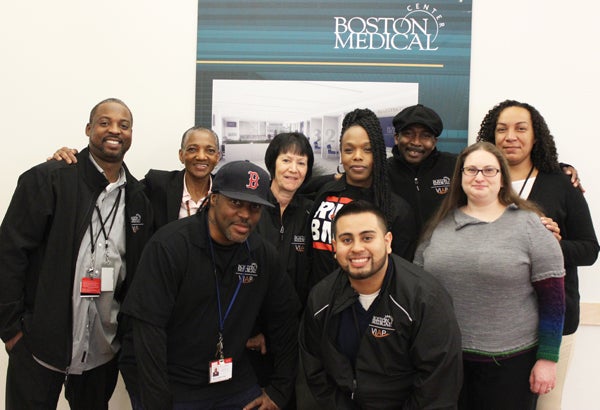 Boston Medical Center's VIAP Program helps guide victims of community violence through recovery from physical and emotional trauma. Using a trauma informed model of care, VIAP empowers clients and families, facilitates recovery by providing services and opportunities. VIAP presents options for families that bring hope and healing to their lives. In turn, this guidance helps strengthen others who are affected by violence and contributes to building safer and healthier communities.
The road to healing can be challenging for the victim and their family members no matter how the injury occurred. VIAP is here to help with information and resources to navigate systems to assist families as they are healing.
VIAP Updates

The VIAP Program is a founding member of the National Network of Hospital-based Violence Intervention Programs (NNHVIP). The NNHVIP works to strengthen existing hospital-based violence intervention programs in communities across the country.
NNHVIP had its annual conference at the end of August 2012 with a focus on addressing trauma, its impact on recovering victims, and their progress.
VIAP assigns victims of community violence and their family member(s) a Violence Intervention Advocate and a Family Support Coordinator to assist in providing comprehensive, trauma-informed, 360-degree care.
Violence Intervention Advocates (VIAs)
A (VIA) is an advocate who can be with you during your journey to recovery. Your advocate can:
Be a liaison between you/your family and BMC staff to ensure your medical needs are met.
Visit you daily and be someone to talk with who understands your experience.
Help you make changes in desired areas of your life.
Create a safety plan as you return to your community so you can recover.
Help secure transportation and/or go with you to appointments.
Crisis Intervention, Support, and Advocacy
Safety Planning
Mental Health services
Substance Abuse services
Access to Family Support services
Case Management and Community Resources
Ongoing case management and connections to community resources will continue for up to one year including:
Medical Insurance
Primary Care Physicians
Financial Assistance (food stamps, victim's compensation, and SSDI)
Housing Application Assistance
Legal Support
Education and Job Training Programs
Life Skills Training (financial literacy and effective communication)
Recreational and Wellness Programs
Family Support Services
Support at school meetings (Individual Education Plan (IEP) and tutoring)
Support with legal issues
Systems support and navigation (hospital, legal, housing)
Mental Health support
Anger, Depression, and/or Anxiety
Nightmares
Change in eating and sleeping patterns
Wanting to hurt the person who hurt you
Physical signs of stress: headache/stomachache
Difficulty concentrating
Being shocked or afraid
Feeling guilty because you could not prevent the violent act
Feeling embarrassed to tell your friends or family
Loss of control or powerlessness
Isolating yourself from friends or shutting down
Feelings of hopelessness and helplessness
Mood swings
Things That Can Help
Talk about your experience with someone non-judgmental and who is positive and understanding.
Share your feelings – It is very natural to want to talk to someone when you're feeling down or a crisis has occurred. There are professionals who are trained to help you deal with stress and life changes. These professionals are experienced in working with people who have survived trauma and can assist you in recovering and healing.
Build Resources – this includes staying connected to positive family members, friends, teachers, coaches, siblings, faith-based resources, and other supportive community members.
Family Members
Take care of yourselves by eating, drinking plenty of fluids, and getting some rest.
Remain calm in front of your loved one; remember s/he may be affected by your reactions.
Listen to your loved one vent and do not try to have answers for everything.
Validate the event and your loved one's feelings about it.
We thank you for your interest in contributing to the Boston Medical Center VIAP Program. Donations help the VIAP Program maintain its dedication to recovery for victims and further the reach and impact of this important program by providing crisis intervention, case management, and family support. Your philanthropic support is critical to the success of the VIAP Program.
How to Donate to the VIAP Program
If you wish to donate to the VIAP Program, please click the following link to search for the VIAP Program Fund on the "Giving Search" page, on our Development website that hosts our Donation page. Search for "VIAP" in the fund search field to identify and select the VIAP Program fund.
All contributions assist Boston Medical Center in providing our community with the very best in medical care, regardless of their ability to pay.
You can also mail donations to:
Boston Medical Center
Office of Development
801 Massachusetts Avenue, First Floor
Boston, MA 02118-2393
Please make your check payable to: Boston Medical Center and write 'VIAP Program' in the memo area.
If you have any questions about giving, please call Our Development Office at 617.638.8990 or email us at philanthropy@bmc.org.
Boston Medical Center is a 501(c)(3) nonprofit organization. All donations are tax-deductible to the full extent of the law.
Call: 617.414.4926
Boston Medical Center
Department of Emergency Medicine
Menino Pavilion
Dowling Building Ground Floor
850 Harrison Ave (Follow signs for Dowling)
Boston, MA 02118
 
Office locations
G306 – VIAP Family Support Services
G402 – VIAP 
G403 – Employment and Job Training
G404 - Workforce Development
G410 – Data Coordinator and Research Coordinator
G411 – VIAP Advocate/Community Outreach and Training Supervisor
G412 – VIAP Advocate/Hospital Outreach Coordinator/Hospital Trauma Response Team
Department News
BOSTON – Results from new research suggest that protective measures to mitigate the spread of COVID-19 in Massachusetts were associated with an increase in firearm injuries during the first year of…