Family Medicine Residency Diversity, Equity, and Inclusion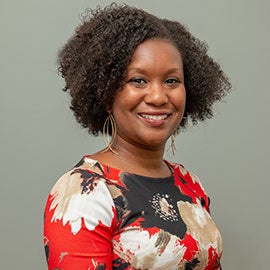 Nicole Jackson, MD Director of
Diversity Programs
The Family Medicine Department at Boston Medical Center values the promotion of diversity, as we believe it contributes to intellectual discourse, academic development, and leads to excellence in patient care, education, and research. We also understand that equity and inclusion remain essential for our department's success beyond recruitment.
A committee in 2016 with joint membership including faculty, administration, educators, and residents was established to implement and sustain diversity, inclusion, and retention efforts. Some of the committee's work has included:
Supporting the establishment of a faculty position with protected time to oversee diversity recruitment and retention efforts
Establishing guidelines for a holistic review of incoming resident applicants, as well as incorporating blinded interviews that allow for a focus on applicant values and not just metrics
Organizing quarterly gatherings among URM (underrepresented in medicine) residents and faculty that promote a sense of community and build mentorship
Developing a resident curriculum with a focus on structural and institutional racism
For more information, please contact Nicole Jackson, Director of Diversity Programs, at [email protected]
For over 30 years, Boston Medical Center's Office of Minority Physician Recruitment has partnered with training programs and clinical departments to help attract, recruit, and retain talented under-represented minorities in medicine within the residency, fellowship, and faculty ranks for Boston Medical Center and Boston University School of Medicine.
For additional information, please view this PowerPoint and pdf document.
www.bmc.org/minority or http://www.bmc.org/minorityphysician
Boston is a diverse urban community representing the many faces of the patients we serve. Our institution has put together the following list of resources to showcase some of the Boston gems.
Working at BMC
LGBTQIA+
There is a current faculty/resident focus group making efforts into creating a longitudinal curriculum that increases residents comfort level in caring for LGBTQIA+ patients. One of our additional goals is to create an elective rotation that gives residents time with local experts/stakeholder who care for LGBTQIA+ persons. 
There is also an LGBTQIA+ residency committee to help residents work with the community through volunteering, advocacy, and finding mentors.
Nicole Jackson, MD
Director of Diversity Programs