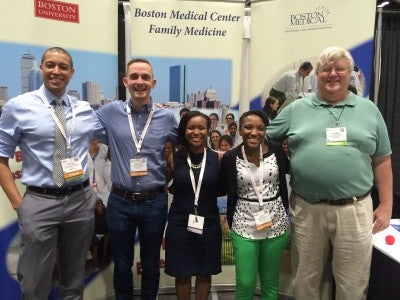 We accept applications for PGY1 positions through ERAS (the Electronic Residency Application Service). We will be interviewing from November through January. Our Application Deadline is December 1st.
Interview Offering Timeline: We will be reviewing applications once we have received the MSPE and we anticipate offering interviews at the end of the second week of October.
The Following Materials are Required in Order to Complete Your Application:
ERAS application
Medical school transcript
Dean's letter
Three letters of recommendation from medical school faculty (one must be from a primary care physician).
Personal Statement
Photograph (optional)
USMLE Step I and Step II (CK and CS) OR COMLEX Part I and Part II (CE and PE) are required. The Step II scores – both parts must be available by the end of January.
The Following Eligibility Criteria Also Apply:
For applicants from LCME accredited Medical Schools we require an anticipated graduation that is prior to the start of residency. For all other applicants we require evidence of current ECFMG certification prior to initial screening of applications, in addition to anticipated completion of 1 year of U.S. clinical experience prior to the start of residency.
PLEASE NOTE THAT NO APPLICATION WILL BE REVIEWED UNTIL DOCUMENTATION OF CURRENT ECFMG CERTIFICATION IS AVAILABLE IN ERAS.
Graduation from medical school within the past 5 years.
Passing grade on any USMLE or COMLEX Step Exam taken by the second attempt.
*The BUMC Family Medicine Residency Program does not sponsor H1-B visas but will consider sponsoring J1 visas.
*The BUMC Family Medicine Residency Program does not sponsor Observerships or Externships.
Family Medicine Residency Program
Department of Family Medicine
Boston Medical Center Dowling 5
One Boston Medical Center Place
Boston, MA 02118
If you are interested in receiving information about our program or have any questions, please contact us:
Katie Whitley
Residency Coordinator
Tel: (617) 414-6239
Fax: (617) 414-3345
Email: [email protected]
Stella Rupia
Residency Assistant
Tel: (617) 414-6236
Fax: (617) 414-3345
Email: [email protected]