Dear Family Medicine Residents, Faculty, and Applicants,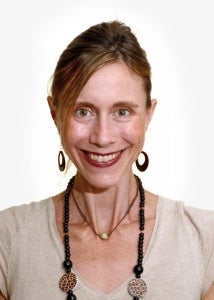 Welcome to the Boston Medical Center Department of Family Medicine Residency! From the day we welcomed our first group of Family Medicine residents to Boston Medical Center in the summer of 1998, the BMC Family Medicine Residency Program has focused on providing its physicians-in-training with the skills and expertise needed to thrive in a variety of clinical settings, with a special emphasis on urban underserved care in Community Health Centers.
Over the last twenty years, our success and growth have been remarkable. While the original residency program trained six residents per year in our three-year residency, the residency program has successfully grown to 12 residents per year as of 2015. The federal and national funding for expansion speaks to the value of our program and allows us to train and serve in multi-lingual and multi-ethnic Community Health Centers around the city of Boston, including Codman Square Health Center, South Boston Community Health Center, East Boston Neighborhood Health Center and Greater Roslindale Medical and Dental Center.
Our applicants hail from all over the country and our application pool has over doubled in the last five years, making our program one of the most competitive Family Medicine residencies in the country. Additionally, through the department's Committee on Equity and Inclusion, the admissions process for the residency has been revamped in order to incorporate ways to reduce bias and result in a more equitable assessment of under-represented minorities. This new system has moved us forward towards the goal of recruiting trainees who more accurately reflect the diversity of the population BMC serves and serving our health equity and social justice mission.
Our current residents are committed to training in a rigorous, urban academic program in an environment that values community health, diversity, and social justice. In their three years of training, residents receive a strong emphasis on community-based care, excellence in training in hospital medicine, high quality and collaborative maternal and infant care, strong research training, wellness and resiliency care, and access to some of the finest experiences in areas such as global health, integrative medicine, and sports medicine. This past year, we also welcomed our inaugural class of Family Medicine / Psychiatry joint residents who train alongside our family medicine residents. This innovative program is one of the first of its kind in the country and allows us to continue to define and train the next generation of physicians who will be taking care of the most complex biomedical and psychosocial needs of our patients and communities. Each of these strong program elements have allowed our residency to develop a truly national reputation, and resulted in graduates of the highest caliber.
Indeed, perhaps the most important marker of the impact of our program on health care in the city of Boston and beyond can be seen in an analysis of what are graduates are doing and where. A breakdown of our graduate's practice settings is shown in the figure below.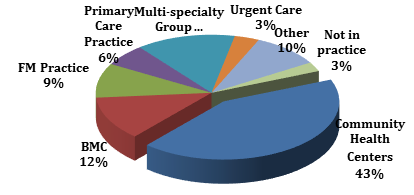 As you can see, the majority of graduates (55%) go on to practice in Community Health Centers, many of which are Federally Qualified Health Centers. Additionally, the majority of our residents remain in urban underserved settings. Finally, there are a handful of residents every year who graduate to a broad range of competitive fellowships including Sports Medicine, Emergency Medicine, Maternal Child Health, Geriatrics, Palliative Care and Research. These fellows come back to serve in their communities, many of them returning to work at Boston Medical Center or greater Boston.
We are deeply proud to be training the next generation of clinician leaders and researchers and fulfilling our mission to meet the health care needs of the people of the City of Boston and beyond.
Yours in health,

Katherine Gergen Barnett, MD
Vice Chair of Primary Care Innovation and Transformation
Program Director Family Medicine Residency
Boston Medical Center
Boston University Medical School