Family Medicine Residents Intern Class of 2022-2023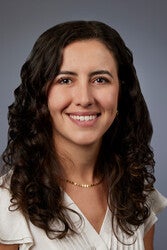 Mariela Cabrera, MD
Medical School: Icahn School of Medicine at Mount Sinai
Mariela was born in Guatemala and grew up in Brooksville, Florida. She attended the University of Florida where she earned a degree in Anthropology and Biology and a minor in Health Disparities.  At the Icahn School of Medicine at Mount Sinai, she was accepted into the Primary Care Scholars Program, an immersive four-year curriculum for students committed to pursuing a career in primary care. During her time in medical school, she was involved in the Latin Medical Student Association, volunteered as a Spanish interpreter for Sinai's student-run clinic EHHOP, and was involved with the Human Rights and Social Justice Program. She is excited to train at Boston Medical Center where she can pursue her passion for primary care, reproductive health, and social justice work. Outside of medicine, Mariela enjoys spending time outdoors either riding horses, kayaking, or hiking, and enjoys all things involving food and coffee. She loves spending time with friends and family and loves to travel.
---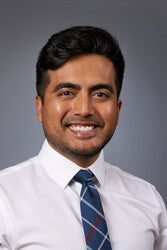 Prith Das, MD
Medical School: SUNY Downstate
Prith grew up in New York City and attended Cornell University, where he studied biology and global health.  After graduation, Prith joined the Teach For America Corps, working with immigrant and low-income families as a kindergarten teacher in the Bronx while earning his Master's in Early Childhood Special Education from Hunter College. His experiences educating students with disabilities inspired him to pursue an internship at the Cohen Children's Medical Center, where he published papers on various developmental and behavioral health issues affecting children and their families. Prith went on to champion advocacy efforts throughout medical school, serving as the chief of outreach and education of the Brooklyn Free Clinic, organizing local health and literacy initiatives, and co-founding a national volunteer-based tutoring program at the height of the COVID-19 pandemic that provided academic support for children of frontline healthcare workers. Prith is thrilled to be a part of the BMC family and to continue exploring his interests in patient education, health equity, and community-oriented primary care. In his free time, he enjoys writing songs, studying films, and exploring Boston with his partner and their puppy, Hazelnut.
---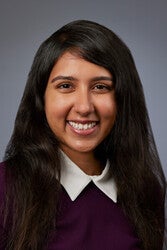 Ashrita Hanmiah, DO
Medical School: Nova Southeastern University Dr. Kiran C. Patel College of Osteopathic Medicine
Ashrita is originally from Buffalo, New York. She received her undergraduate degree at Canisius College majoring in French and minoring in Biology and Gender Studies. During this time, she extensively worked with immigrant communities and volunteered with a local refugee resettlement agency. This inspired her to pursue a summer global health program with the University of Geneva centered on a human-rights based approach to healthcare principles and global health policy. She then pursued her Master's in Global Health and Development at University College London, United Kingdom. In medical school, Ashrita continued to explore the nuances of health equity and sustainable health initiatives.  Ashrita completed her MBA in Healthcare Management alongside her medical degree and believes strongly in family medicine physicians being agents of change in paving the way for a more equitable healthcare system. Outside of medicine, Ashrita enjoys exploring different ethnic cuisines, finding new bakeries, spending time outdoors, and building her travel bucket list.
---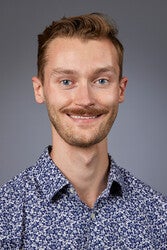 Jon Hanson, MD
Medical School: Keck School of Medicine of the University of Southern California
Jonathan grew up in a small town in Minnesota. He moved to Minneapolis for undergrad at the University of Minnesota where he obtained a Bachelor of Science in Biology with a minor in Spanish Studies.  Throughout college, Jon volunteered as a guest safety escort at Planned Parenthood. He continued working with Planned Parenthood during his gap year before medical school as an insurance navigator, assisting patients and community members in applying for and using state-sponsored health insurance plans. Jon then moved to Los Angeles for medical school at the Keck School of Medicine of USC where he co-led his school's LGBTQ+ medical student group. He took an extra year at USC to pursue a Master of Public Health, which involved an internship in community-focused interventions for prevention of college campus sexual violence. Jonathan is passionate about LGBTQ+ health, family planning and abortion care, and the sociopolitical determinants of health. In his spare time, Jon enjoys going to music and comedy shows, collecting and propagating houseplants, mixology, practicing Spanish and Danish, and spending quality time with his cat.
---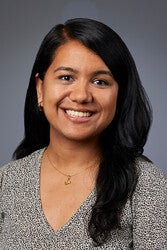 Mahima Karki, MD
Medical School: Michigan State University College of Human Medicine - Flint
Mahima was born in Kathmandu, Nepal, and moved to Somerville, Massachusetts, when she was 14. As a recipient of the POSSE Foundation Scholarship, she attended Hamilton College and majored in Neuroscience. While in college, she traveled to Nepal, where she worked on a reproductive health project that challenged the cultural stigma surrounding menstruation. She also volunteered with Mayan Medical Aid in Guatemala to understand the challenges of providing care in a rural indigenous Mayan community. Upon graduating from college, she worked as a Research Assistant at the Boston Children's Hospital and as a Patient Benefits Coordinator at the Boston Healthcare for the Homeless Program. As the RESULTS Real Change Organizing and Advocacy fellow, she lobbied for the REACH Every Mother and Child Act at Capitol Hill. She then pursued her medical degree at Michigan State University College of Human Medicine, where she completed the Leadership in Medicine for the Underserved Program in Flint, Michigan. While in medical school, she was actively involved in the needle exchange program, COVID 19 vaccine clinic, youth mentoring, and helping organize the Do No Harm 5k. She was also the recipient of the Student National Medical Association Health Policy Fellowship. Growing up as an immigrant in Boston, she understands the barriers many immigrant families face navigating the complex healthcare system.  Outside medicine, she enjoys dancing, spoken word poetry, singing Nepalese and Hindi songs, cooking, running, traveling, listening to podcasts, improving Spanish language skills, meeting people, and building community.
---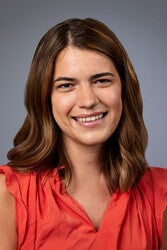 Katelyn Kennedy, DO
Medical School: A.T. Still University of Health Sciences School of Osteopathic Medicine in Arizona
Katelyn grew up in Ormond Beach, Florida where she was first introduced to the medical field working as a Receptionist and Research Assistant for an endocrinology office. She later attended the University of Florida, where she worked in their Mobile Outreach Clinic. There she worked with underserved communities to connect them with longitudinal medical care and community resources. During her time at the mobile clinic, she explored barriers to receiving medical care and decided to become an advocate for marginalized patients as a primary care physician. This led her to A.T. Still University in Arizona, where she had the opportunity to work at Federally Qualified Health Centers for three years during her medical training. During medical school, she explored her interests of gender affirming care - volunteering at a LGBTQ+ care clinic for immigrant populations; and in community medicine - volunteering with Maricopa County Medical Society, administering COVID-19 vaccines and providing personal protective equipment to medical offices and patients. When Katelyn is not working, you can find her running a local 5K, cycling, or playing with her feisty cat, Cheese.
---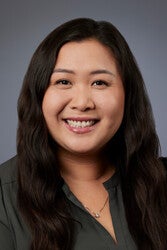 Shannon Lee, MD
Medical School: Albany Medical College
Shannon grew up in the suburbs of Los Angeles, California, and received her BA in Psychology from University of California, Berkeley. While in college, Shannon worked in a clinical psychophysiology lab and volunteered at local homeless shelters and middle schools, which sparked her passion for addressing social determinants of health and socioeconomic barriers to care. After college, she worked as an Emergency Department Scribe before attending medical school at Albany Medical College in New York. As a medical student, she engaged with the local community through service programs, such as one that provided young adolescent mothers with community resources, classes, and mentorship. She fell in love with family medicine because of the longitudinal relationships she could build with patients and the broad scope of care that tend to both individual patients and the communities. She is very excited to train at BMC, where she could continue to pursue her passions of bioethics, reproductive justice, health equity, and community health. Outside of medicine, Shannon loves exploring new food and restaurants, spending time outside, traveling, golfing, going to coffee shops, watching TV, and spending time with friends and family.
---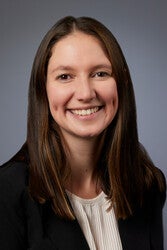 Victoria Oliva Rapoport, MD
Medical School: The Warren Alpert Medical School of Brown University
Victoria grew up in western Massachusetts, where her Guatemalan-born father and Boston-raised mother cultivated a bilingual and multicultural home. After completing her undergraduate degree in anthropology and community health at Tufts University, Victoria worked on public health initiatives focused on families: first in a child development project with Partners in Health in Lima, Peru, and then at Children's Health Watch at Boston Medical Center, where she provided support for families experiencing housing insecurity. Her interest in the intersection of public health and healthcare led her to Brown University, where she combined a medical degree with a master's degree in primary care and population medicine. In medical school, Victoria carried out community-based qualitative research on the effects of isolation on adolescents, expanded mental healthcare services at a community clinic, and worked on a team that offered outreach-based care to people facing homelessness.  Outside of medicine, she enjoys exploring new beaches, baking, and sharing meals with family and friends.
---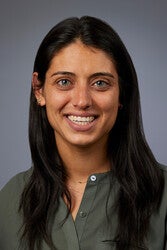 Tara Patel, MD
Medical School: University of Massachusetts T.H. Chan School of Medicine
Tara was born in Santa Cruz, California and moved to Lexington, Massachusetts as a child. She attended Bates College where she studied Biology and French. Outside of school, she volunteered in a free clinic and fell in love with medicine and primary care. After college, she worked in Boston doing research in immunotherapy for breast and skin cancer. She then moved to Ollantaytambo, Peru where she worked for Sacred Valley Health, a community health worker organization to create a women's health curriculum. She attended UMass Chan for medical school where she worked in one of the Worcester free clinics and saw the importance of equitable and accessible primary care. She was drawn to BMC because of the strong community health mission and equity initiatives. In her free time, she enjoys running, hiking, skiing, reading and sewing.
---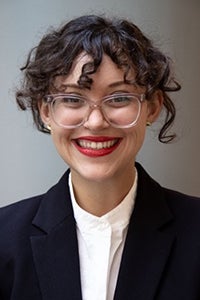 Nicole Salfi, MD
Medical School: Tulane University School of Medicine
Nicole grew up in Lansdale, Pennsylvania and received her undergraduate degree at La Salle University in North Philadelphia majoring in Biology and minoring in Leadership & Global Understanding. In college, she studied in South Africa where she took a medical anthropology class that inspired an interest in medical pluralism and how different cultures approach health. From Philly, she moved to Providence, Rhode Island to work as an AmeriCorps VISTA at the Rhode Island Free Clinic. She attended medical school in New Orleans at Tulane University, where she concurrently pursued her Masters of Public Health. She also volunteered as an HIV/Hep C tester and was the Student Clinic Leader for Ozanam Inn, the largest homeless shelter in New Orleans. She also worked with VOTE, a local legal nonprofit focused on alleviating criminal injustices where she compiled data on the lack of preventative care, medical staffing, mental health in Louisiana's nine prisons. Her passions include mental health, women's health, LGBTQ+ health, and adolescent health. In her spare time, she is an avid ceramicist and dog sitter. She appreciates birds, a good book, cooking for friends, and living life slowly and meaningfully.
---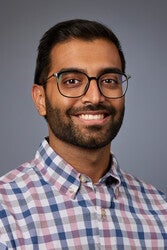 Neev Shah, MD
Medical School: Drexel University College of Medicine
Neev was born in Mumbai, India, and moved to the United States when he was 3 years old. He grew up in central New Jersey and moved to Philadelphia for college. He was a biology major at Drexel University as part of the combined BS/MD program and continued to Drexel University College of Medicine for his medical degree. In medical school, he was frequently involved in student-run health clinics and community health programs. He also coordinated the Stress Reduction program, a student project at DePaul House, a home for men experiencing homelessness. Through this program, he worked with participants to teach stress management techniques such as yoga, meditation, and art therapy. He is excited to get started at Boston Medical Center where he can pursue his passion for family medicine and primary care, as well as continue to get involved in patient advocacy, community health, and health equity. In his free time, he enjoys trying new foods, cooking, watching soccer, playing with his dog, photography, exploring his surroundings, and traveling.