COVID-19 Information for Transplant Patients
For 45 years, the Kidney Transplant Program at Boston Medical Center (BMC) has provided compassionate, expert care. Our experienced transplant surgeons are supported by a multidisciplinary clinical team, devoted to improving our patients' quality of life through organ transplantation. The transplant team carefully guides patients and loved ones every step of the way throughout the process. 
 
Why Choose BMC's Kidney Transplant Program?
Expertise
Unlike other transplant programs, we focus only on kidney transplantation. This means all of our team members are trained to provide you with highly specialized care.
With more than 55 years of combined transplant experience, our accomplished kidney transplant surgeons have performed more than 1,000 kidney transplant surgeries—a number that continues to grow every year. 
Our living kidney donor program has successfully performed more than 350 living donor transplants and actively works to reduce racial disparities in living donor kidney donation. 
Support
Our transplant nurse coordinators have a combined 40 years of experience. They will be with you every step of the way to guide you through any clinical or social situation.
In addition to your transplant surgeon and transplant nurse coordinator, your care team includes a transplant pharmacist, a transplant social worker, and a transplant dietician. Your team will give you all the tools and education you need to manage the transplant process, both before and after transplant surgery.
Our financial services team works closely with you and your family to maximize insurance coverage for your kidney transplant and to make sure you fully understand the financial aspects of the transplant process.
Our patients come from a wide range of backgrounds. Our diverse, multilingual staff is on hand to support all of them.
The BMC Kidney Transplant Program follows all transplanted patients for life–with frequent blood draws, testing, and follow-up visits.
Commitment
BMC maintains strong relationships with local dialysis centers and nephrologists to ensure we receive all of the necessary information to provide the best possible outcomes for our patients.
Our team is fully committed to providing every patient with exceptional care, without exception.
As the #1 most racially inclusive hospital in Massachusetts, we are proud to be recognized for our commitment to serving the people of color in our community.
---
Interested in becoming a kidney donor?
Take the first step by filling out the Living Kidney Donor Questionnaire. 
---
Contact Us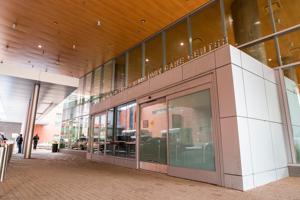 Patient Education & Resources
Organ Transplant Patient Stories
Department News
Two local cops who once worked together became a team again when Peter Petrides donated his kidney to Mark Kalinowski. They share their incredible story of organ donation with The Boston Globe. 
August is National Minority Donor Awareness Month, a time dedicated to promoting organ and tissue donation and bridging the gaps between donations and need in minority populations.
Latest from HealthCity
Black Americans make up the largest group in need of organ transplants but only 8% of living kidney donors.
How BMC is addressing the gap of living donor kidney transplantation amongst Black Americans.