The Department of Rheumatology provides care for various types of arthritis and systemic rheumatic autoimmune diseases, with expertise in scleroderma, lupus, inflammatory arthritis, spondyloarthritis, osteoarthritis, and gout, among others.
We provide a full range of services for patients, including joint injections, musculoskeletal ultrasound, and infusion therapies. We have the largest scleroderma program in New England. Our lupus program offers multidisciplinary care in conjunction with kidney and skin specialists, as well as obstetrics and gynecology. Our rheumatologists work closely with providers in other departments, including: Nephrology, Pulmonology, Ophthalmology, Gastroenterology, Dermatology, Physical Therapy and others.
Our rheumatologists are actively engaged in research, with opportunities for patients to participate in clinical trials, and have led development of national treatment guidelines in osteoarthritis, gout, and spondyloarthritis.
BMC's rheumatology patient population is diverse. We have experience caring for patients from all over the world and offer interpreter services if needed. We strive to provide exceptional care to all patients- without exception. Call for an appointment 617.638.7460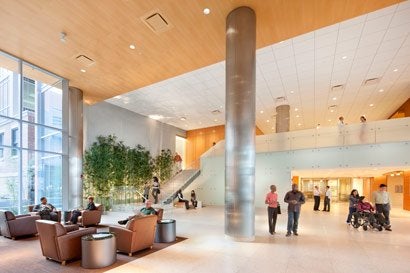 Address
725 Albany Street
Boston, MA 02118
Shapiro Center
6th Foor, Suite 6B
Hours
Monday-Friday 8:00 AM - 5:00 PM