Kidney Disease Care
For patients with kidney disease, the team at Boston Medical Center offers expert, personalized care for all forms of acute and chronic kidney diseases and specializes in complex clinical problems ranging from consultative nephrology to management of end-stage renal disease (ESRD). Care provided includes:
Chronic kidney disease collaborative management with development of a personalized clinical plan for patients with progressive renal failure
Hematuria and proteinuria consultations by faculty recognized internationally for expertise in glomerular disease, autoimmune diseases, amyloidosis and vasculitis
Diabetic nephropathy diagnostic and therapeutic services to detect incipient renal disease in diabetic patients and identify those who would benefit from early therapy
Complete evaluation and treatment of renal stone disease consisting of a thorough metabolic evaluation, anatomic and surgical evaluations when appropriate, and development of a case-specific report of risk factors and therapeutic options
Evaluations of renovascular hypertension and other secondary causes of hypertension making use of magnetic resonance angiography and other state-of-the-art diagnostic imaging and biochemical techniques
Evaluation and management of patients with hypertension that is difficult to control or is associated with renal insufficiency
Contact Us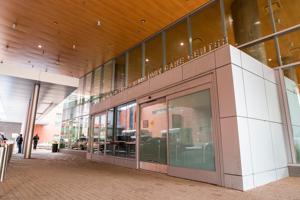 Treatments & Services
Dialysis Care
Patients who need dialysis can receive it through one of many centers in the region. A list of centers is available at http://www.medicare.gov/dialysisfacilitycompare/. Some of these centers also offer a peritoneoal dialysis program which is performed by patients at home, enabling them to remain independent and continue working. The BMC team can assist patients in finding a center that meets their unique needs and can coordinate with primary care physicians and dialysis centers to meet ongoing needs.
Transplant Care
Should it become necessary, Boston Medical Center provides patients with kidney transplantation. In fact, in the last decade, BMC has performed more than 450 cadaver and living-related-donor kidney transplants. Physicians provide medical support from the initial evaluation, through peri- and post-operative management and long-term transplant follow-up.
Our Team
Renal Medicine Doctors
Lindsay A. Farrer, PhD
Robert J. Hamburger, MD
Weining Lu, MD
Michael Sherman, PhD
Department News
BOSTON – New research from Boston Medical Center found that national guidelines recommending twice-yearly screening for the Hepatitis C virus (HCV) in patients with kidney…
Research Overview
Kidney Disease Research
The Renal Department at BMC is a nationally recognized research and training program in nephrology for more than five decades. Basic science research in the division focuses on the immunopathogenesis of glomerular diseases, structural biology of the glomerulus, mechanisms of autoimmunity, renal cystic disease and cancer, kidney development and mechanisms of cell injury in acute renal failure.
Clinical research includes trials evaluating new interventions in end-stage renal disease, novel treatments for renal amyloidosis, immunosuppressive medications in renal transplantation, investigation of the mechanisms underlying hemodialysis vascular access failure and studies of cardiovascular disease associated with chronic kidney disease.
Physicians work with patients to discuss their individual candidacy for clinical trials.
Residency and Fellowship Information
Kidney Disease Education
The physicians and staff of the Renal Medicine Practice at Boston Medical Center are affiliated with the Boston University Chobanian & Avedisian School of Medicine. To learn about our education and fellowship programs, please visit the Renal Section of our Boston University Chobanian & Avedisian School of Medicine website.