Julianne Riley is a vibrant kindergarten teacher who enjoys hiking with her husband, traveling, and walking her dog, Marty. Activities she took for granted, Julianne's health was put to the test when she was diagnosed with ulcerative colitis, an inflammatory bowel disease in 2011. The diagnosis called for some major lifestyle changes.
Ulcerative colitis (UC) is defined as a chronic inflammatory bowel disease (IBD) that causes redness, swelling, and pain in the large intestine (rectum and colon). The innermost lining of the large intestine becomes inflamed and ulcers may form.
When she was initially diagnosed in January 2011 by her gastroenterologist, Julianne didn't quite grasp the magnitude of UC. She thought that the symptoms, similar to a viral infection, would improve over time and go away with the proper treatment. This was not the case, unfortunately. "I was working at a preschool at the time, and being so sick made my work schedule pretty sporadic," explains Julianne. "I wasn't sleeping or eating and my energy level was extremely low." In July, she experienced her first major flare-up. She was so ill, in fact, that she lost 25 pounds in 2 weeks, which meant she was weighed just 105lbs. Her situation was emergent and when a loved one recommend BMC's gastroenterology department for her care, she called and was seen the following morning by Ansu Noronha, MD.
Medication, steroids, and frequent check-ins with Dr. Noronha helped Julianne begin to feel better. For several years, she was doing very well and then in the winter of 2015 she developed bronchitis. She was prescribed antibiotics but began experiencing worrisome symptoms again from her UC. Pain and stomach upset led to not eating enough or sleeping well at night. Try as she might to hide her discomfort from her young students, one day, one of her kindergarteners worriedly looked at her and said, "You don't look okay," to which Julianne replied, "I have a stomach ache."
That was a Wednesday. By Saturday Julianne was so ill that she went to BMC's emergency department and was admitted to the hospital for a week. After that, she was unable to work for three months. Dr. Noronha explained that while Julianne's medication that had worked for three years, it was no longer helping her UC as the disease had progressed passed the point of being responsive to oral medications.
The next step was infusion therapy. "This was upsetting for me, because I felt like I had been doing everything correct and my UC progressed anyway. Dr. Noronha was very good and supportive in assuring me that she had my best interest in mind and that this was the best decision," says Julianne.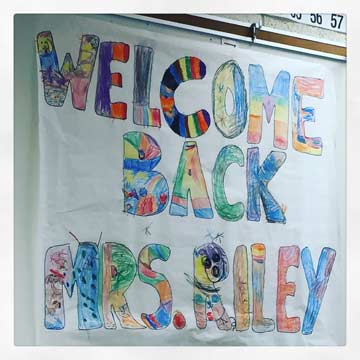 So began a new course of treatment with infusion therapy and steroids. Julianne felt well enough to return to school for half days in May 2015 "I felt like I needed to show the kids that I was okay, because I was there one day and gone the next." Bloodwork revealed, however, that this infusion drug was not working for Julianne and Dr. Noronha explained that she would need to try another. That one worked. "Now I feel better than I did taking oral medications," explains Julianne "and I need to remember that even though the first option did not work for me, these options did not exist when I was first diagnosed in 2011. Dr. Noronha has been very realistic and optimistic about my new course of treatment."
Julianne visits BMC every eight weeks to have her blood tested and to make sure that she is still responding well to the infusion therapy. She has had to make some major lifestyle changes. She sees a nutritionist, goes to acupuncture, and sticks to a special diet which includes no alcohol or caffeine. She returned to teaching kindergarten full time in September 2016. She still enjoys traveling, hiking, and walking Marty with her new lease on life thanks to Dr. Noronha and her care team at BMC.