If your child often complains of pain in their joints, muscles, or bones, they could be suffering from a rheumatologic condition. These symptoms can be puzzling, but a pediatric rheumatologist can help. When seeing patients, our goal is to evaluate the problem and then provide care as needed. From infancy to 26, we treat those suffering from a variety of rheumatologic and inflammatory conditions.
Conditions We Treat
Fibromyalgia
Fibromyalgia is a chronic pain condition which causes symptoms like joint stiffness, aching, fatigue, and disrupted sleep, among others. Most common in females, fibromyalgia is commonly diagnosed during adolescence.
Juvenile dermatomyositis
Juvenile dermatomyositis is an inflammatory skin disease. Common symptoms include muscle weakness and a rash around the eyelids and knuckles.
Juvenile idiopathic arthritis
Juvenile idiopathic arthritis is the most common form of arthritis. Children with this condition often complain of pain and stiffness in the morning. Subtypes include: oligoarthritis, polyarthritis, systemic, enthesitis-related, juvenile psoriatic arthritis, and undifferentiated.
Juvenile lupus
Lupus, a disease of the immune system, can affect all different parts of the body including the joints, skin, kidneys, and blood. Systemic lupus erythematosus is the most common form.
Juvenile scleroderma
Juvenile scleroderma describes a group of conditions that causes the skin to harden and become tight.
Lyme arthritis
If left untreated, Lyme disease may cause significant swelling, usually in a single joint such as the knee.
Vasculitis
Vasculitis is an umbrella term for a number of conditions which cause inflammation of the blood vessels.
Other Pediatric Rheumatology Conditions We Treat
Painful or swollen joints
Arm or leg pain
Unexplained or periodic fevers
Treatments for Pediatric Rheumatology
Complementary and alternative treatments for pain and fatigue
Medications and infusions to treat arthritis, lupus and other autoimmune conditions
Trigger point injections for neck, shoulder and back pain: Trigger point injections are a safe and very effective remedy for painful muscles around the neck, shoulders, and back. A small needle is inserted into the muscle and releases the "knot," an action which usually leads to lasting relief for up to 2 months. It can be thought of as a very strong massage.
Ultrasound-guided steroid injections for painful or swollen joints: For conditions such as arthritis, sometimes steroid injections are required to relief pain and swelling in a joint. Dr. Cohen is formally certified in musculoskeletal ultrasound, which reduces the pain of joint injections and increases their safety and effectiveness.
Holistic care and complementary therapies to improve function and a child's sense of well-being: We take a great interest in the overall wellbeing of our patients, and Dr. Cohen has special training in mindfulness meditation. In addition, he emphasizes the importance of diet and nutritional supplements.
Rheumatologist - Dr. Ezra Cohen
Dr. Cohen is a Harvard Medical School graduate who specializes in Juvenile Arthritis, Lupus, Arm and Leg Pain, Fevers, and Dermatomyositis. He completed his residency in Pediatrics at both Massachusetts General Hospital and Boston Children's Hospital; both located in Boston, Massachusetts. Dr. Cohen is certified within the American Board of Pediatrics and fluent in both English and Spanish. In addition, he also conducts clinical trials in order to further his research. Read more about Dr. Ezra Cohen.
Pediatric Rheumatology Now Available at BMC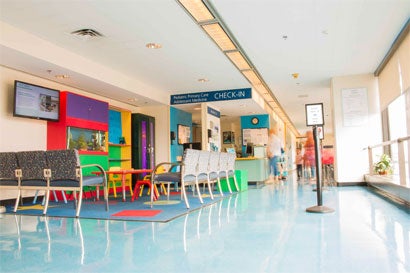 Address
850 Harrison Ave
Boston, MA 02118
Yawkey Ambulatory Care Center
6th Floor
Hours
Monday - Friday: 8:00 AM - 8:30PM