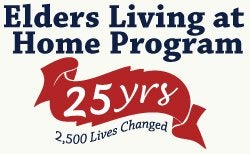 For more than a quarter century the Elders Living At Home Program has been at the forefront of ending elder homelessness in Boston. Over the last two and a half decades, ELAHP has touched the lives of 2,500 people, not only clients, but their families, care providers, policy makers, public and private funders and students from a variety of disciplines.
Housing instability has become even more of a crisis for ELAHP's target population
The crisis in the economy that started in 2008 resulted in unprecedented cuts to local, state and federal programs. Those cuts in turn led to steep reductions to many community based services for very vulnerable individuals, including older adults. The loss of these services led to greater housing instability for many individuals. Over time, this put more elders at-risk of losing their homes and becoming homeless.
ELAHP is being asked to help more people with increasingly acute and emergent needs
In Massachusetts, and especially in Greater Boston, the recovery from the economic crisis has created additional risk for very low-income individuals. The housing market is currently in a "bubble." With fewer people able to purchase homes, there is a tremendous demand for rentals. This has caused rents to skyrocket. This has also contributed to scarcity in the availability of subsidies, even in housing developments for the elderly and disabled where turnover is greater.
ELAHP Meets Changing Needs
In a collaborative effort with the Medical-Legal Partnership | Boston, ELAHP initiated Aging Right in Community in May of 2012, to provide intensive case management services, enhanced by legal support and expertise, to older adults who are at imminent risk of losing their housing and becoming homeless.
When we conceived this collaboration with MLP | Boston, supported by grants from the Oak Foundation and other funders, we anticipated serving individuals who were having some difficulty accessing or maintaining housing but who were not necessarily in crisis. However, the referrals that came in and continue coming in are for seniors who may become homeless within weeks or sometimes even days.
90% of the clients we have worked to have maintained their housing in the face of imminent homelessness, making this program one of the key "go-to" agencies for Boston area attorneys representing elders facing eviction, for housing management companies seeking solutions to avoid beginning the eviction process and even for the courts themselves looking for solutions to the growing problem of seniors losing their homes. Our growing network of connections increases our clout within the system and our ability to work for positive outcomes for our clients.
Mission Statement
The mission of the Elders Living At Home Program is to support elders in making the transition out of homeless, to provide supportive services that build on the individual abilities of elders and to help them overcome the barriers to permanent housing.
We make every effort to reach out to those most in need, including non-English-speaking elders and other marginalized individuals. We are committed to providing high-quality services in a respectful manner that will help each client reach his or her highest potential.
Elders Living at Home Program strives to be a model for service, advocacy, research and education on the causes of and solutions to elder homelessness.
As we mark our 25th anniversary, we'd like give a special thanks to all of you who have supported this program. The most vulnerable men and women among us are safer, healthier and happier because of your support.


Sailors Snug Harbor of Boston
(Founding Funder)
Charles H. Farnsworth Trust
(Founding Funder)
Sanders Fund
Bushrod H. Campbell and Adah F. Hall Charity Fund
Employees of Boston Medical Center
Saint Cecilia Parish, Boston
Our History
In the mid-1980's, as Boston's housing market was undergoing a boom and rents soared, the staff of Boston University Medical Center's Home Medical Service (Currently known as Boston University's Geriatric Services) encountered a disturbing trend: Boston's frail, elderly men and women were being displaced from their apartments. Many of them, with no place to go, ended up in area homeless shelters or on the streets.
Increasing numbers of Boston's frail, elderly men and women were ending up in homeless shelters or on the streets. A solution needed to be found. So in 1986, with a three-year demonstration grant from a consortium of national and local foundations, Elders Living At Home Program was established to help these vulnerable patients. With intensive case management and housing search services, these men and woman who previously had few places to turn to for assistance could not get help finding safe, affordable places to live and the supportive services to remain there.
Along with these services, Elders Living At Home implemented a temporary housing component in 1988, utilizing vacant units in Boston Housing Authority elderly/disabled developments. With an 80% success rate, this effort served as a model for collaborations between Boston Housing Authority and other homeless service providers.
In 2000, Elders Living At Home was awarded a contract by the Massachusetts Executive Office of Elder Affairs to establish the first-ever emergency shelter and service program for homeless elders. The result was the Elderly Residential Assessment and Placement Program (ERAPP), which provides intensive case management and assessment services in a safe residential setting. More than three-quarters of those who participate in the program move on to permanent housing.
From 2001-2003, ELAHP was a partner in a three-country comparative study on the causes and contributing factors in elder homelessness led by noted researchers from the United Kingdom. This research led to the publication of papers in a variety of scientific journals and three national conference presentations. Further publications and a book are anticipated.
For nearly a quarter of a century, this program, in collaboration with Boston Medical Center, with other social service providers and with the City of Boston, has fought to stem the tide of elder homelessness in our community. As a result of the Elders Living at Home Program more than 2,000 homeless elders have been able to find permanent housing, maintain that housing successfully and remain independent.
Contact Us
Kip Langello
Call: 617.414.1642
Kip.Langello@bmc.org

Boston Medical Center
Elders Living at Home Program
Yawkey Ambulatory Care Center
4th Floor, Room 4S-18
850 Harrison Avenue
Boston, MA 02118
Refer a Candidate
Stabilization Services
Improving Quality of Life and Preventing Homelessness
Since its inception in 1986, the Elders Living at Home Program has primarily focused on improving the quality of life of vulnerable elders and preventing homelessness. While the program has expanded into Emergency Shelter and helping homeless elders find housing, stabilization remains at the program's core.
The stabilization component of this program involves our providing wraparound supportive services to elders with a history of homelessness and those whose chronic disabilities put them at risk for losing their housing and becoming homeless.
Services We Provide Directly to Newly-housed Elders and Elders at Risk of Becoming Homeless
Intensive Case Management
Nursing Assessments
Home Monitoring
Medication Management
Crisis Intervention
We Also Make Referrals to Other Agencies for Additional Necessary Services
Physicians, Visiting Nurses and Home Health Aids
Representative Payee Services
Legal Services
Immigration Assistance
Meals on Wheels
Day Programs
And many others...
To qualify, applicants must be at least 62 years of age, formerly homeless or at risk of becoming homeless, and willing to accept stabilization services.

To apply, download a referral form.
For more information, please contact the Elders Living at Home Program at 617.638.6139.
Nutrition
HERO (Healthy Eating for At Risk Older Adults), is a comprehensive approach to addressing hunger faced by older adults, particularly those with low-incomes, who are living with chronic health conditions such as diabetes, cancer and other disabling illnesses.
Our project was developed to help formerly homeless older adults who are especially susceptible to hunger and malnutrition. Data collected by ELAHP during a 3-year research program sponsored by the U.S. Administration on Aging indicated that 86% of clients served were not getting recommended amounts of fruits and vegetables, one-third reported worrying that they would run out of food before their next social security check, and 15% had lost weight because they couldn't afford to eat.
How HERO Works
With the help of experts in the field, ELAHP developed an innovative new web-based tool to evaluate the current eating habits of older adults and to assess their optimal nutritional needs in relation to their unique health conditions and goals. Until now, this kind of assessment could not be done in a client's home. HERO is a first-of-its-kind program to take intensive nutritional services out of the clinic and bring them directly to the patient.
Now that we can eliminate barriers to older adults receiving this care, we anticipate that the result will be greater nutritional understanding and improved health outcomes for older adults. Under the HERO program, ELAHP will offer vulnerable older adults the following services:
Provide (free of charge) fresh, nutritious foods that are difficult to purchase due to expense
Home delivery of needed foods to individuals who do not have the mobility to go out and shop for themselves
Offer nutrition education to insure that older adults understand the importance of diet in managing their health
As with all ELAHP services, there is no cost to the client.
Homelessness Prevention
Aging Right in the Community
As the population ages and the number of older adults increases, it is estimated that the number of homeless older adults will double in the next 40 years.
ELAHP has a new initiative to address this.
This initiative, Aging Right in Community, is a collaborative effort between Elders Living at Home and Medical-Legal Partnership | Boston. This project, funded by grants from the Oak Foundation and other funders, provides intensive case management services, enhanced by legal support and expertise, to older adults who are at imminent risk of losing their housing and becoming homeless.
Much of our work centers on resolving tenant-management issues. Some examples of issues we assist with are:
Arrears in rent
Home safety concerns, such as hoarding or other poor living conditions.
Inappropriate behaviors
Clients usually will have received a "notice to quit" or some other legal notice from their landlords or housing court. ELAHP Prevention Case Managers meet with each client and assess all aspects of the situation. It is often the case that the client is suffering from a medical illness or disability that has made it difficult for them to comply with the terms of their lease. Much of the time, these issues can be resolved without going to court, which the Case Managers will attempt to do, by connecting clients with appropriate services and negotiating with landlords. The Case Managers consult on a regular basis with MLP | Boston Legal staff. If court appearances are necessary, the Case Managers accompany the elder tenant to court and advocate on their behalf. In more complicated cases, MLP | Boston can often arrange for an attorney to represent the client, free of charge.
Our clients have very low-income, are usually often isolated with no network of family support, and have health conditions and/or disabilities that put them at increased risk of becoming homeless.
Accomplishments of this project:
In Year 1, the project served 45 elders. In 90% of these cases, the older adults' housing was preserved, and homelessness was prevented.
In May of 2014, this project was recognized as "Best Practice" in homelessness prevention by the Massachusetts Interagency Council on Housing and Homelessness (ICHH.) Further, expansion and replication of the project was recommended by the ICHH's Older Adult Steering Committee in their report, "Blueprint for Ending Homelessness Among Older Adults," which was adopted by the Council as whole.
Requirements:
Age 55 or over
Low income
At imminent risk of losing housing
To make a referral, call Kip Langello at 617-414-1642.
Donate to Elders Living at Home Program
Please visit our development website to donate to this important program so we can continue our work. In the online donation form, under "Designation," select "Elders Living at Home Program." Thank you for your continued interest and support.

Donate online or mail donations to:
Boston Medical Center
ELAHP
Yawkey ACC 4S-18
850 Harrison Ave
Boston, MA 02118
Please make your check payable to: Elders Living at Home Program
For More Information
If you are interested in obtaining more information or making a referral please contact Kip Langello, Program Manager, at 617.414.1642.