For more than a quarter century the Elders Living At Home Program has been at the forefront of ending elder homelessness in Boston. Over the last two and a half decades, ELAHP has touched the lives of 2,500 people, not only clients, but their families, care providers, policy makers, public and private funders and students from a variety of disciplines. Housing instability has become even more of a crisis for ELAHP's target population
The crisis in the economy that started in 2008 resulted in unprecedented cuts to local, state and federal programs. Those cuts in turn led to steep reductions to many community based services for very vulnerable individuals, including older adults. The loss of these services led to greater housing instability for many individuals. Over time, this put more elders at-risk of losing their homes and becoming homeless.
ELAHP is being asked to help more people with increasingly acute and emergent needs
In Massachusetts, and especially in Greater Boston, the recovery from the economic crisis has created additional risk for very low-income individuals. The housing market is currently in a "bubble." With fewer people able to purchase homes, there is a tremendous demand for rentals. This has caused rents to skyrocket. This has also contributed to scarcity in the availability of subsidies, even in housing developments for the elderly and disabled where turnover is greater.
ELAHP Meets Changing Needs
In a collaborative effort with the Medical-Legal Partnership | Boston, ELAHP initiated Aging Right in Community in May of 2012, to provide intensive case management services, enhanced by legal support and expertise, to older adults who are at imminent risk of losing their housing and becoming homeless.
When we conceived this collaboration with MLP | Boston, supported by grants from the Oak Foundation and other funders, we anticipated serving individuals who were having some difficulty accessing or maintaining housing but who were not necessarily in crisis. However, the referrals that came in and continue coming in are for seniors who may become homeless within weeks or sometimes even days.
90% of the clients we have worked to have maintained their housing in the face of imminent homelessness, making this program one of the key "go-to" agencies for Boston area attorneys representing elders facing eviction, for housing management companies seeking solutions to avoid beginning the eviction process and even for the courts themselves looking for solutions to the growing problem of seniors losing their homes. Our growing network of connections increases our clout within the system and our ability to work for positive outcomes for our clients.
Contact Us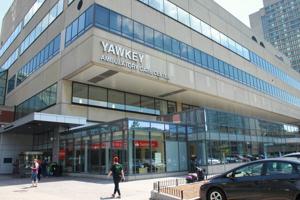 Additional Information
Donate to Elders Living at Home Program
Please visit our development website to donate to this important program so we can continue our work. In the online donation form, under "Designation," select "Elders Living at Home Program." Thank you for your continued interest and support.
Or mail donations to:
Boston Medical Center
ELAHP
Yawkey ACC 4S-18
850 Harrison Ave
Boston, MA 02118
Please make your check payable to: Elders Living at Home Program
For More Information
If you are interested in obtaining more information or making a referral please contact Kip Langello, Program Manager, at 617.414.1642.