Volunteer Experience at Boston Medical Center
 Q&A with Sayed Mahmud, Practice Assistant, Psychiatry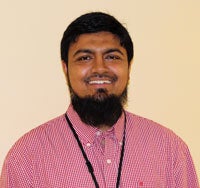 The Volunteer Services Department at Boston Medical Center (BMC) is dedicated to helping BMC fulfill its mission of providing high-quality and accessible health services to all in need of care. Volunteers provide support to BMC staff, patients and families in a variety of ways, and their compassion helps improve our patients' experience at a time when they may be at their most vulnerable. Sayed Mahmud, MBBS, a practice assistant in BMC's Department of Psychiatry, shares his experience as a volunteer at BMC.
Q. How did you come to volunteer at BMC?
A. I was working in the Food and Nutrition Department and was trying to find a way to do something related directly to patient care. Dr. Asim Mian, a neuroradiologist at BMC, advised me to start volunteering because he believed for me, as a foreign-trained physician, it would be the best first step to get experience with patient care in America.
Q. What was your role as a volunteer?
A. As a volunteer ambassador, my main goal was to welcome patients to BMC. I did this by helping patients find their way to their appointments, escorting patients to different departments, guiding them towards transportation options, and helping them prioritize their appointments, as some patients would come to the hospital with several appointment letters at once.
Q. What's the most rewarding part about volunteering at BMC?
A. One day while I was volunteering, a patient was passing by me at the front desk. It seemed to me she was looking for something, but she didn't ask anything. After a while, I noticed again the same patient passing the front desk. I approached her and asked her if she needed any help. She didn't know English well and was very shy; she only knew she had an appointment that day but had no idea where or when. After I helped her reach the right department, her cheerful expression was the best reward I could ask for.
I also loved volunteering at BMC because of the diversity of the patients, physicians, and staff who come through its doors each day. I feel as though the whole world is here, with people of different cultures and from many different countries. I really tried to immerse myself into the BMC community.
"I loved volunteering at BMC because of the diversity of the patients, physicians, and staff who come through its doors each day."
Q. What have you learned from volunteering?
A. When I started volunteering, it was my first year in America; I did not have enough experience working with people of different ages, cultures, and backgrounds. As a volunteer, I learned how to approach and help patients, and also learned a great deal about the entirely different healthcare system in America.
Q. How has that helped you in your position now?
A. "Volunteering" is always a word that makes a resume different. During my time volunteering, I met and was able to network with many doctors in different departments, and it made me confident in my abilities to work at BMC.
As a foreign medical graduate, I want to thank BMC's Volunteer Services Department for giving me the opportunity to work in a hospital with patients from all around the world and for helping me prepare for job interviews at BMC. My experiences as a volunteer enriched my knowledge and prepared me to work in the U.S. healthcare system.
Learn more about volunteering at BMC.