Join us for the 13th Annual Integrative Nursing Conference in honor of Nurses Week!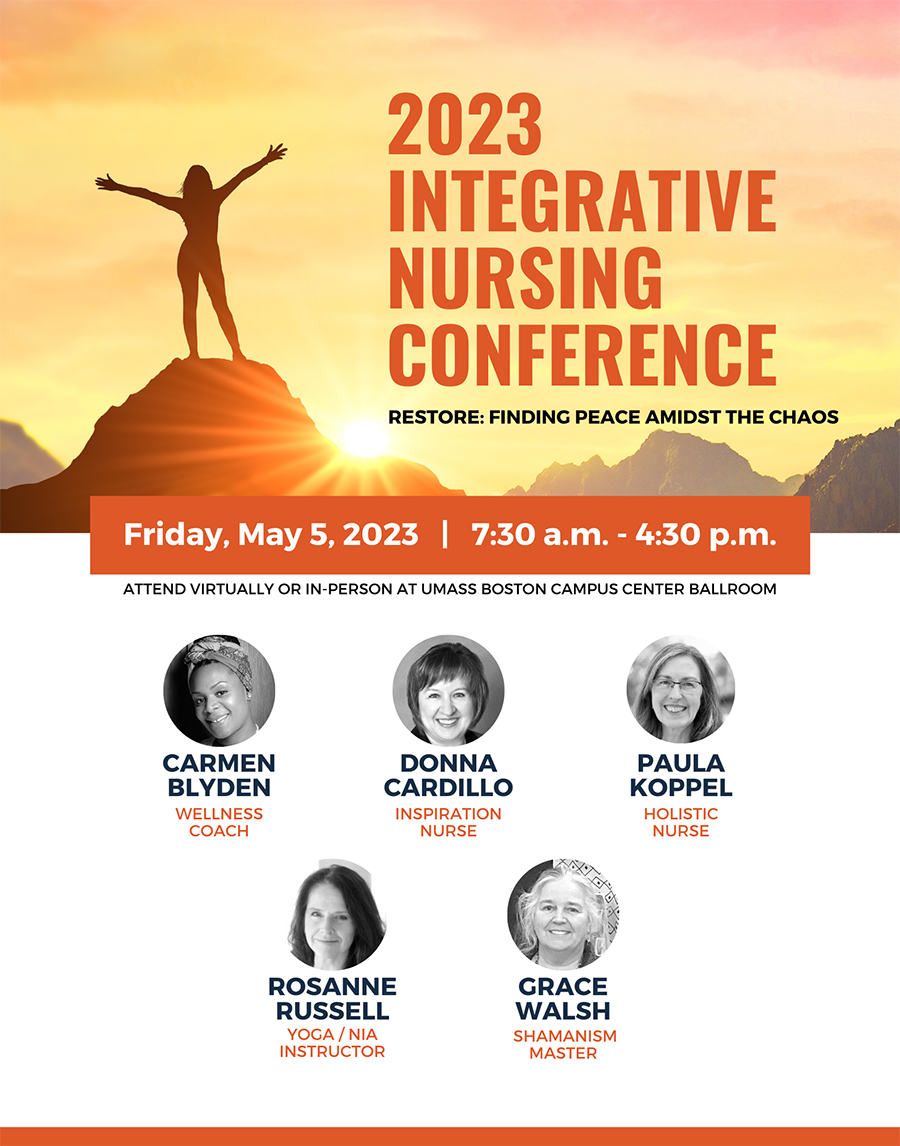 Friday, May 5, 2023
7:30 a.m. - 4:30 p.m.
UMASS Boston | Campus Center Ballroom 3rd Floor
100 William T. Morrissey Blvd, Boston, MA 02125
View parking rates and information.
Presented by:
Boston Medical Center Integrative Nursing Council
Sponsored by:
The Anna Ross Committee of the Massachusetts Memorial Hospital Nurses' Alumnae, Inc., Boston Medical Center Nursing Division, and UMASS Boston Department of Nursing
---
*** Due to popular demand, in-person seating is limited and on a first-come, first-serve basis. However, we are pleased to offer a virtual option so everyone can enjoy the conference. 
---
Conference Fee
BMC Employees: FREE
Public (in-person): $200.00 
Public (virtual): $100.00
Student: $50
4/24 Registration is now closed. 
---
Accreditation Information
The application to award 6.75 contact hours has been submitted to Boston Medical Center. Boston Medical Center is approved as a provider of nursing continuing professional development by the American Nurses Association, Massachusetts, an accredited approver by the American Nurses Credentialing Center's Commission on Accreditation.
This program is supported by the Anna Ross Committee of the Massachusetts Memorial Hospital Nurses' Alumnae, Inc.
 
---
Agenda and Speakers
7:30 am – 8:00 am
Registration / Breakfast / Vendor Tables
 
8:00 am – 8:05 am
Welcome
Janice Sullivan, BSN, RN & Timothy Murphy, BSN, RN
 
8:00 am – 8:15 am
Opening Remarks
Nancy W. Gaden, DNP, RN, NEA-BC
Senior Vice President and Chief Nursing Officer, Boston Medical Center
 
8:15 am – 9:30 am
KEYNOTE: Regaining Joy and Balance to Move Forward
Donna Cardillo, MA, RN, CSP, FAAN, The Inspiration Nurse
 
9:30 am – 10:15 am
Yoga for Inner Calm and Strength in an Outer Chaotic World
Rosanne Russell, Owner of Move2Joy Yoga
 
10:15 am – 10:30 am
Break / Vendors
 
10:30 am – 11:30 am
Cultivating Connection with Deep Listening
Paula Koppel, MS, RNC, GNP-BC, ANH-BC, Founder of Age Well Be Well
 
11:30 am – 12:30 pm
Lunch / Vendors
 
12:30 pm - 1:15 pm
The Integrative Nursing Fellowship: Our Collective Experiences & Growth
 
1:15 pm - 2:00 pm
Nia® Joy of Movement: Uplift Your Mood, Reduce Stress and Increase Vitality
Rosanne Russell, Owner of Move2Joy Yoga
 
2:00 pm - 3:00 pm
Peace is in the Release
Carmen Blyden, Wellness Coach & Owner of HEAL 
 
3:00 pm – 3:15 pm
Break / Vendors
 
3:15 pm – 4:15 pm
Re-Defining the Spiritual Toolbox
Grace Walsh, Reiki Shamanism Master & Teacher
 
4:15 pm – 4:30 pm
Wrap-up & Evaluation
 
---
Getting there
MBTA - JFK/UMass Station or Bus Service Route 8
On-campus and nearby parking are available. Click here for visitor parking rates and information.
Shuttle buses run regularly between JFK/UMASS station and several points on campus. 
Click here for more information on visitor resources.
 
---
Covid Vaccination Requirement
UMass Boston is a fully vaccinated campus. BMC Nursing and UMass Boston will check staff vaccination status in advance. In addition, UMASS Boston has a mask optional policy in all spaces except University Health Services. Check the policies page for more details.
 
---
Speakers
Carmen Blyden
As a woman of color who has experienced challenges with molestation, rape, emotional abuse, teen parenting, domestic violence, and more, she understands firsthand what it's like to live in fear and be shamed for having a child at a very young age and live with depression. She once believed that she was worthless and had no future. Passionate about helping women living with pain and challenges, Carmen aims to support women ready to HEAL, improve their relationship with themselves and the people closest to them, and access the joy that follows the release! Carmen works to accomplish this mission by offering group and individual coaching and working closely with women-serving organizations to build their capacity to deliver appropriate support and services.

Donna Cardillo
Donna Cardillo, MA, RN, CSP, FAAN is known as The Inspiration Nurse.  She is a powerhouse of energy, wisdom, and humor who has been referred to as a positive force of nature that lights a path for others to follow. She is the original "Dear Donna" columnist at Nurse.com. Her accomplished career combines over 25 years of clinical, managerial, and business experience, not to mention her stint as a professional singer. Donna is the author of four books including the award-winning Falling Together: How to Find Balance, Joy, and Meaningful Change When Your Life Seems to be Falling Apart. She is a certified meditation teacher, labyrinth facilitator, Reiki Master, and Certified Forest Therapy Guide. Donna is a lifelong Jersey Girl with attitude and chutzpah to spare!

 

Paula Koppel, MS, RNC, GNP-BC, ANH-BC, NBC-HWC
Paula Koppel, the founder of Age Well Be Well is a registered nurse and geriatric nurse practitioner with over 25 years of experience. Through an integrative health coaching process, Paula helps individuals take stock of where they are at mid-life, exploring where they want to go and determining the best ways to get there. Her  career span has focused on developing innovative healthcare models that were grounded in person-centered and holistic clinical care. She is currently a PhD candidate at the Duke University School of Nursing and is focusing on the development of rapport between nurse clinicians and patients in oncology ambulatory care. Her long-term goal is to improve the relational experience between patients and healthcare providers, promoting a sense of positivity and connection within their dyadic interactions that will foster effective communication, safe and high-quality care, and resilience in both patients and clinicians.

Rosanne Russell
Rosanne Russell is a somatic movement professional in Greater Boston. She has been sharing her passion for the Joy of Movement and her commitment to helping people feel better in their bodies and lives since 2000. Rosanne is a Nia® Technique 2nd Degree Black Belt Teacher and Trainer, a 500-hr Certified Yoga Instructor (specializing in Yoga Therapeutics) and an Integrative Nutrition Health Coach. She is also the owner of Move2joy Yoga + Nia Studio in Wakefield, MA. Through her innovative teaching style, Rosanne's offerings are fun, compassionate and filled with creativity.  She invites her participants to connect with what makes them unique, and to move in ways that feel good and connect to the wisdom and potential that exists within themselves. Discovering early in life that she preferred coloring outside the lines, Rosanne began her professional career in graphic design. For many years she ran her own design business until her passion and dedication to the belief that being healthy, fit and happy is everybody's birthright led her to opening her own movement studio in 2019. With the expansion of online programming, she is now able to help more people in her community, and beyond.

Grace Walsh
Grace "Medicine Bear" Walsh is an Independent Reiki Shamanism Master Teacher who weaves the ancient healing modality of Shamanism with Usui Reiki and offers sessions in healing, Reiki, shamanism, drum circulating, and drum making. She completed her four-year Reiki study with Pay Iyer, receiving her Reiki Master Teacher Training Degree in 2006. In 2009, she began a seven-year journey of apprenticeship with Cherokee Medicine Man Jim PathFinder Ewing where she experienced this path of knowledge firsthand in the way of everyday sacred ceremony. "Bear Medicine" adds to her Virgo nature of going within and seeking the deeper meaning as Grace believes there are no coincidences, only synchronicities. Dedicated shamanic wisdom teacher and spiritual blogger since 2009, Grace has self-published two spirit-minded books and is currently working on her third.