Integrative Nursing Conference
Join us for the 12th Annual Integrative Nursing Conference in honor of Nurses Week!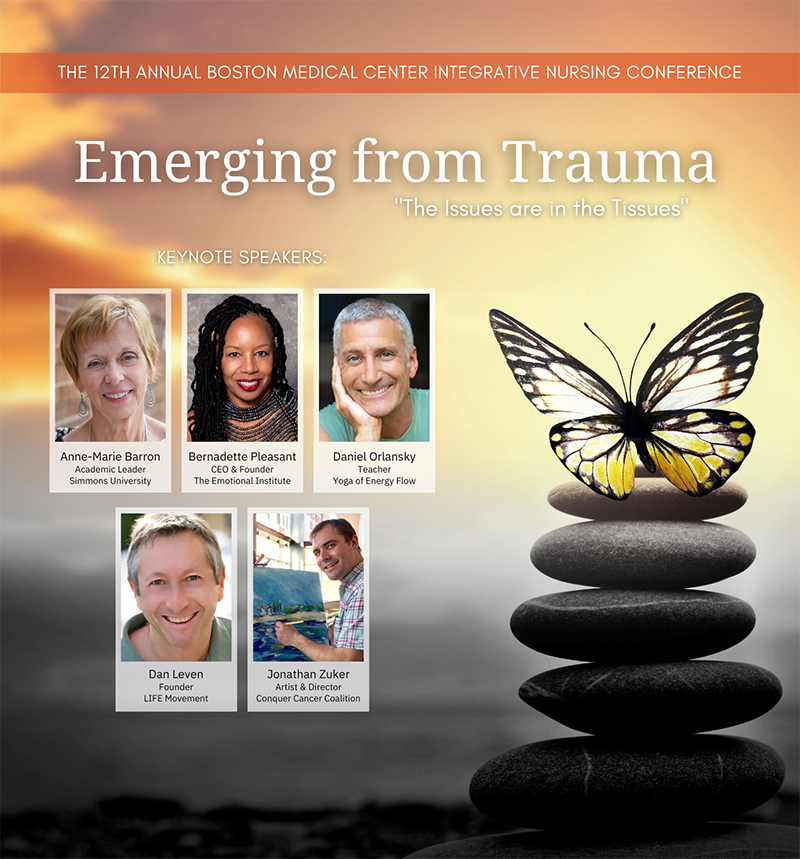 Thursday, May 12, 2022
7:30 a.m. - 4:00 p.m.
Lombardo's, 6 Billings Street, Randolph, Massachusetts
Presented by:
Boston Medical Center Integrative Nursing Council
Sponsored by:
The Anna Ross Committee of the Massachusetts Memorial Hospital Nurses' Alumnae, Inc. and the Boston Medical Center Nursing Department
---
Agenda and Speakers
7:00 am – 7:30 am
Registration
 
7:30 am – 7:40 am
Welcome Remarks
Nancy W. Gaden, DNP, RN, NEA-BC
Senior Vice President and Chief Nursing Officer, Boston Medical Center
 
7:40 am – 8:40 am
Heart Advice for Hard Times and Heartache
Dan Leven, MPC, RSMT
 
8:40 am – 9:40 am
The Power of the Breath: How Breathing Can Soothe the Nervous System, Enhance Immunity, and Clear the Mind
Daniel Orlansky, MA, E-RYT 500
 
9:40 am – 9:50 am
Break
 
9:50 am – 10:50 am
Facilitating Healing through the Universal Language of Art
Jonathan Zuker
 
10:50 am – 11:50 am
The Beauty of Integrating Therapeutic Touch into Nursing Practice
Anne-Marie Barron, PhD, RN, PMHCNS-BC, FAAN
 
11:50 am - 12:35 pm
Lunch
 
12:35 pm – 1:50 pm
Emotion in Motion! Emotional Healing through Sound and Movement with Live Percussion
Bernadette Pleasant
 
1:50 pm – 2:50 pm
Understanding Your Stress Response to Build Resilience
Beth Milaszewski, LICSW & Gabrielle Farquhar, MPH
 
2:50 pm – 3:50 pm
Health, Healing, and the Human Spirit!
Rev. Jennie Gould, PhD, BCC, ACPE Certified Educator
 
3:50 pm – 4:00 pm
Wrap-Up & Adjourn
 
---
Accreditation Information
The application to award contact hours has been submitted to Boston Medical Center. Boston Medical Center is approved as a provider of nursing continuing professional development by American Nurses Association, Massachusetts, an accredited approver by the American Nurses Credentialing Center's Commission on Accreditation.
This program is supported by the Anna Ross Committee of the Massachusetts Memorial Hospital Nurses' Alumnae, Inc.
---
Speakers
Anne-Marie Barron, Ph.D., RN, PMHCNS-BC, FAAN
Anne-Marie is an advanced practice nurse, academic leader, and nurse scientist committed to elevating the role of the nurse and other health professionals in providing compassionate care. Her focus has been on: integrating mental health and physical health; illuminating the power of nursing to transform suffering and promote healing; serious illness and palliative care; international nursing education; developing nurses' skills across cultures and academic leadership that creates communities of academic excellence and caring scholars.

Gabrielle "Gabby" Farquhar, MPH
Gabby Farquhar is the Employee Behavioral Health and Wellness Program Manager for BMCHS. Since Gabby joined BMC in 2018, she has created a mindfulness program where she has trained over 250 BMC employees and clinicians in her team's adaptation of mindfulness-based stress reduction (MBSR). Her passion for this work stems from her introduction to Mindfulness at the Center for Healthy Minds at the University of Wisconsin. Here, she learned about the neurological and psychological benefits of mindfulness and has since continued her mindfulness studies at Brown University and by becoming a certified yoga instructor through Yoga Alliance.

She graduated from Boston University School of Public Health with a Master's in Public Health in health care management in 2019 to better understand the systemic causes of healthcare worker burnout and has dedicated her career to supporting healthcare workers' resilience and wellbeing.

Most recently, Gabby has been managing the employee resilience program and is helping create a system-wide mental health and wellbeing strategy for employees and licensed independent providers.

Rev. Jennie Gould, Ph.D., BCC, ACPE Certified Educator
Jennie is an Episcopal priest and Board Certified Chaplain and has worked as one of the chaplains at Boston Medical Center since 2002. She holds a Ph.D. in Pastoral Psychology from Boston University. Her dissertation focused on the role of spiritual practices in preventing alcohol and other substance abuse in adolescents.

Her general interests include spiritual assessment tools, Motivational Interviewing, facilitating discussions on how spiritual practices enhance or impede coping with stress, how people encounter the Holy and how people experience meaning-making in life. She also runs a chaplaincy training program supervising 6-10 interns a year. She is a Certified Educator with the Association for Clinical Pastoral Education.

Before entering the ministry, Jennie worked at Ogilvy & Mather, Taiwan, translating advertising copy from Mandarin to English. She enjoys playing a variety of sports, reading, and practicing Taiji.
Dan Leven, MPC, RSMT
Dan is the founder of LIFE Movement, Leven Institute for Expressive Movement, and is the developer and lead trainer in his integrative approaches to body-mind healing and wellness. His work is the culmination of over 45 years of training and experience in movement-based therapies, somatic psychotherapy, and trauma healing. Dan has led numerous workshops and professional certification training at the Omega Institute and Kripalu Center. He holds a Master's Degree in Pastoral Counseling and has been a faculty member of Hartford Family Institute's Body-Centered Psychotherapy Training Program for over 20 years.
Beth Milaszewski, LICSW
Beth is the Clinical Director of the Boston Medical Center Employee Resilience Program. She has worked at AllOne Health Resources Employee Assistance Program for seven years as a counselor, account manager, and affiliate network manager. During that time, she focused on working with employees suffering from substance use disorders and working with their employers to manage the situation best. In 2011 she started a private practice where she focused her attention on working with people suffering from PTSD, including first responders, military personnel, and adult victims of abuse. She specializes in providing crisis clinical assessment and intervention in individual and group settings.

Beth is trained in eye movement desensitization and reprocessing (EMDR), which is considered best practice for treating PTSD by the American Psychological Association and the Department of Defense. She completed the International Critical Incident Stress Foundation's (ICISF) group crisis intervention training and assisted individuals in crisis training.

During the COVID-19 pandemic, Beth had the privilege of working with frontline workers at BMC, rounding on the COVID-19 floors and providing immediate support and psychoeducation around the human stress response, as well as individual support for those suffering from trauma-related symptoms. Her primary focus is to integrate personal trauma treatment practices into institutions' workflow where working in stressful situations is common to promote a culture of empathy, safety, and respect.

Beth is a graduate of Boston College Graduate School of Social Work. She is a licensed independent clinical social worker.
Daniel Orlansky, MA, E-RYT 500
Daniel is the Director of Boston University's Yoga Teacher Training and a member of The Association of Vision Educators. A yoga teacher since 1992, he has been certified in Jnana Yoga, Kali Ray TriYoga, and Kundalini Yoga. He is the creator of Meridian Yoga, a yoga style that combines shiatsu, yoga asana, and the meridian system for a practice that opens the body as it strengthens. He holds a master's degree in Expressive Art Therapy/Dance Therapy from Lesley University and has been a visiting lecturer in movement studies at Tufts University. He is also a graduate of the Boston Shiatsu School. Daniel regularly teaches at the Kripalu Center, the Omega Institute, and in centers across Europe, and he also directs yoga teacher training worldwide. Visit Daniel on the web at www.yogaofenergyflow.com
Bernadette Pleasant
Spirited and energetic, Bernadette Pleasant is a fiery and sensual speaker, somatic healer, Founder of The Emotional Institute, and Creator of Femme!, a mind-body wellness program and 400 Years, a somatic-based anti-racism program. She is known for channeling her journeys and radical empathy into transformative, immersive experiences that support and celebrate people of all genders, colors, ages, and sizes. She has transformed the lives of thousands of people worldwide, inspiring them to become more self-expressed and empowered as their badass selves.

With certifications in Emotions-Centered Coaching, Somatic Healing, Integrated Energy Therapy, and studies in African, Tribal, and Free Dance, Bernadette promotes emotional freedom through movement and empowerment. She also facilitates deep and refreshingly honest dialogues on emotional healing, grief rituals, and unlearning racism.

A woman of color, Bernadette comes from a long line of natural healers who have used touch and movement to help others find peace and wellness. Her online and in-person classrooms welcome participants without judgment, supporting all to experience comfort and pleasure in their skin.
Jonathan Zuker
Jonathan is an artist at Jonathan the Painter of Rockport, Mass. "I first picked up a brush when my Dad was diagnosed with cancer in 2003... and I haven't put it down since. Now I am on a mission to give back."  Jonathan is the Executive Director of Conquer Cancer Coalition of MA INC. He helped establish "The Painter Without Borders Program in 2016, a grassroots non-profit to create a pop-up studio in the heart of the cancer community at Massachusetts General Hospital. What began as a one-time spontaneous celebration of color, texture, and energy has become a weekly mainstay at two of the country's most established hospitals, Massachusetts General Hospital and Boston Medical Center. The concept is simple - Art is a universal language. It can bridge cultural boundaries and facilitate healing. By setting up an easel, this pop-up studio opens the door to meaningful interactions with patients, families, doctors, nurses, and volunteers in any setting, at any moment. Jonathan and his family designed and helped establish Massachusetts's "Conquer Cancer" license plate. As a graduate of Boston Architectural College, Johnathan and his family also worked to create the "Garden of Hope," which opened at Boston's City Hall Plaza in 2010.