Did Hollywood Get it Right in Stronger? BMC Gives it Two Thumbs Up
Most of us, no matter how much we dream of fame, will never see ourselves on a movie screen. But that's not the case for two BMC employees. Jeffrey Kalish and Odessa Boykins are featured on the big screen in Stronger, the recently released movie about Jeff Bauman, a Boston Marathon bombing survivor who lost his legs on that tragic April day in 2013. Both not only served as advisers to the movie, but even got to play themselves as Bauman's caregivers.
The BMC Brief spoke with Kalish, director of endovascular surgery, and Boykins, a SICU nurse, about their experiences taking care of Bauman and working on Stronger.
Q: What was it like to take care of Jeff Bauman?
JK: It was an intense and hectic time for everyone at Boston Medical Center. Every single person on any team in any capacity really wanted to step up and contribute in any way they could to help these people get better, help their families, and to bring the best that BMC has to returning these bombing victims back to their lives.
It was an incredible honor to be part of that team of people. It was amazing to see how so many different teams, specialties, and departments worked together to achieve the incredible results we had here at BMC and at other hospitals throughout the city.
OB: He was a good patient. Very tired and overwhelmed, and a little emotional. He had found out about his legs, but was trying to keep his spirits up more for his family than anybody. With all the family, the press, and everyone else coming in, it was a very overwhelming experience for him and all of us in the unit. He wasn't focused on the fact that he was a double amputee.
Jeff and I had a running joke. When he wanted his family to leave, he would say "my head nurse, the Rottweiler, is going to come in here and kick you out." We built our relationship through me helping him get what he needed in order to get better. Even when the movie stars came in, I made sure people stuck to what he wanted. I gave Bradley Cooper five minutes, but I didn't realize who he was until Jeff told me. I gave the Red Sox ten minutes.
I also have to mention two of my coworkers, Gerri McGee and Karen Joyce. Gerri was Jeff's admitting nurse and he told Karen that he knew who the bombers were. There were many people taking care of Jeff, and those two should be particularly acknowledged. 
Q: Is there anything you learned from the experience?
JK: It was very obvious early on that when different parts of the hospital come together, we achieve much better results as an organization. It was clear that not one person or one team could handle all of these issues, but when you sum up all of our parts and put us all together, it truly achieves the best results. That's the approach that many of us have taken as we moved forward too, one where we join with our colleagues, bring our own attributes to the table, all the while with the patients and their families as our ultimate focus.
OB: I learned how strong our BMC team is together. We really pulled together in this instance, in such a bad tragedy. Everybody had to rely on each other at that moment to get through this horrific event.
Q: What was it like working on the movie?
JK: It was an amazing and fun experience. We essentially took the tasks and situations that we deal with every single day as caregivers and put them on screen for other people to see. We had to do that with actors playing the roles of other people and fortunately they were incredible actors that were able to make us feel like we were taking care of actual patients. That made it much easier for us to 'do our job' outside of the usual place where we do our real job.
I'm in the movie as a character in two scenes, but I am off camera. I talk to Jeff's parents after his surgery and I care for Jeff in the hospital.
Hearing myself on screen is surreal. They asked me to talk as a surgeon and act like myself, as opposed to trying to fit their words and scripted lines. So for one of the long scenes in the hospital, it was a very spontaneous experience where there was no script. The director essentially asked me and Mariann, who is also one of our SICU nurses, to go change the bandages on Jake Gyllenhaal and just to do what we would normally do. They just rolled the cameras and we did the scene about three times, and each time it was slightly different and we said different things.  We just worked as if he was our patient.
OB: It was so much fun. Everyone was so nice. But it was also overwhelming to say the least.
Jeff wasn't on scene when I was there – it was Jake Gyllenhaal and Tatiana Maslany, who play Jeff and his wife. They made me feel very comfortable. I didn't have a script, so whatever I say in the movie is what I usually say. They told me and Dr. Kalish to just be very natural – to just be me – so that was easy to do.
When I saw myself on the big screen, I thought "oh my God, that is me." Most of the time I don't call my patients by their real names. I call them "buddy" or "mama" or something like that. So in the movie you hear me call him buddy instead of Jeff. It's crazy to hear yourself say what you normally say and know others will hear it too.
Q: Do you have a favorite memory from working on the movie?
JK: The actors, crew, directors, and producers were so appreciative of the medical care that BMC gave to Jeff and the surrounding care they gave to Jeff's family. To help Jeff get better, to get his family through the toughest time in their lives, to get all the other marathon survivors out of the hospital and on to the next part of their lives. They were truly appreciative and transmitted that in their portrayal of BMC in the movie.  They wanted to have this be as authentic as possible by filming here, with people from here. I was so incredibly proud to be a representative of the team at BMC that enabled all of this to happen.
OB: Jake and Tatiana made me feel very comfortable and relaxed. They helped me not be nervous. They told me they would just follow my lead and they did.
Q: What did you think of the finished product?
JK: It's a powerful, inspirational movie that does not hide the horrible things that happen in the aftermath of a tragedy. It is an amazingly realistic portrayal of what it's like to suffer a complete catastrophe and the toll it takes on you as a person, your family, and everyone in your circle of the world. And they show it in a very authentic way, which enables people watching the movie to realize that it's not always glitzy and glamorous when you go through these types of tragedies, but if you have the right spirit, the right strength, and the right resolve, you too can overcome even the most seemingly insurmountable obstacle that you've ever faced in your life. It's a true depiction of his whole story and it's a really powerful movie and message.
The producers and director did an amazing job highlighting what it's really like for caregivers in a hospital, and how so many people contribute to either the success or failure of our patients.
OB: I ended up really liking it. It's not your typical bombing movie. It's totally on a different scale than a movie like Mark Wahlberg's movie was. It's more of a love story than it is a bombing movie – like a love story with the bombing in the middle. To see what really happened in their life and their relationship before I met them was great.
The movie portrays how everyone, especially Jeff's family, really acted during that time. I love that they didn't make everyone seem like goody-two-shoes instead of how they really were.
It makes you really think about your life. Jake says in the movie that we all have struggles. Mine might be different than yours, but we all have them. And in the movie, you see Jeff finally get that. It made it really good and not too sad overall.
BMC Emergency Management is Ready for Anything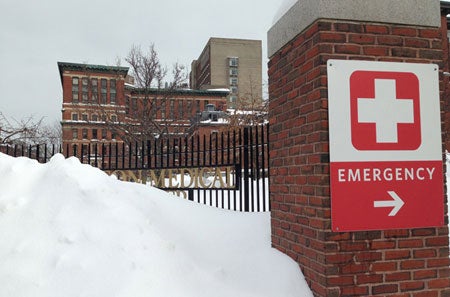 From Irma to Harvey to fires and workplace violence incidents, the national news has been full of potential threats to hospitals. While it can be scary to know you can't control what happens to the hospital, we can control how BMC responds to these threats. At BMC, the Office of Emergency Management works hard every day to help ensure that employees and patients stay safe in the face of any threat.
Maureen McMahon is director of emergency management. She says there are three main categories of threat that could impact the hospital. The first is internal threats, such as utility disruptions or other systems disruptions. In these cases, the goal is to ensure alternative sources and workflows are in place until the systems can be restored.
The second category of threats is external, mainly weather-related. BMC is most vulnerable to winter storms, but always has to be prepared for other potential weather threats, such as hurricanes coming up the East Coast.
The third category is events caused by humans. These include bombings and shootings, and are usually more likely to cause a large number of casualties. While planning for these events cannot be, and are not, ignored, they are less likely than other potential threats.
"Our top priorities are always continuity of care and the safety of patients and employees," says McMahon. "We have plans for all potential incidents, based on hospital vulnerabilities."
These plans for potential disasters also include drills based on potential vulnerabilities, which are analyzed by a hospital team each year. Recent drills have focused on active shooting incidents and mass casualty incidents, while the next two years will be focused on evacuations. BMC is also collaborating with hospitals across Boston on a regional evacuation plan, as Boston's health care density makes the process more difficult.
The main goal of emergency preparedness at BMC is to make the hospital resilient enough that people will not have to be evacuated during a natural disaster. To do this, the hospital has built redundancy into its systems, so that if one part of the system falters, another part of the system can take over. For example, the hospital has added generators throughout campus and connected them to as many systems as possible. Critical systems have also been connected across buildings, so that patient care buildings can be supported by other buildings if needed. Heating systems and medical gas systems have also been reconfigured to ensure redundancy and resiliency.
Many of these redundancies have been built into the hospital during the clinical campus redesign. For example, the cogen plant on the roof of Yawkey, which was installed in March 2017, helps make BMC significantly more resilient to natural disasters. Its unique "black start" capability means that if the electric grid goes down, the hospital can restart the cogen plant and heat and power its inpatient units on an "island" for months at a time, as long as it has a supply of natural gas. BMC is the first major teaching hospital in Massachusetts that can utilize black start, and its location on Yawkey keeps it high above any potential floodwaters.
Because BMC can likely keep operating in the event of a natural disaster, the hospital has plans and supplies to care for patients and support employees during that time. For example, the hospital has stores of food and water in case supplies can't be replenished and cots for employees who might have to sleep at the hospital. These supplies will help keep BMC running as smoothly as possible.>
While the hospital might be safe in a storm, employees should also take steps to keep themselves and their families safe, says McMahon. First, everyone should be aware of extreme weather predictions for the New England area.
Learn More about Emergency Management
Take the emergency management training on HealthStream. This training is mandatory for all employees and must be completed by October 31.
Download the emergency management app. This app provides you with information about emergency response at BMC and detailed information that you can use in response to a variety of emergencies, such as a fire or workplace violence. It also includes direct links to emergency phone numbers.
Visit the Emergency Management intranet site for emergency plans, contact numbers, preparedness reports, trainings and much more.
Sign up for BMC Alert when it launches in October. BMC Alert will send alerts to your cellphone when BMC operations are affected by major emergencies such as severe weather or workplace safety incidents.
Second, everyone should have a family plan and supplies for emergencies, including water, batteries, food for four days, and a supply of essential medications. The plan should include a communication strategy and knowing where you would go if you need to evacuate. You should also know where to call to get help if you need it – either 911 or 311, the Mayor's hotline.
If you do need to come into work, be prepared. Bring a bag with a change of clothes, necessary medications, snacks, and anything else you might need for a few days away from home.
"If you have a plan ready, then you won't have to think about what to do if a disaster hits. You can just carry out your plan to stay safe," says McMahon.
What do you do, Betsey Eltonhead?
Name: Betsey Eltonhead
Title: Executive Director of Boston Accountable Care Organization (BACO)
Time at BMC: Nine months
Q: What is BACO?
A: Boston Accountable Care Organization was founded in 2015. It is a provider network that negotiates with health plans on behalf of its providers. The BACO network includes the hospital all of BMC's physicians and clinicians, and our affiliated community health centers. Its mission is to improve the healthcare of the populations that the BACO provider network serves and provide the best care possible.
In order to provide services under the new MassHealth ACO Program, BACO joined with Boston Medical Center HealthNet Plan and expanded its network past Boston to include hospital and other community health center partners across the state. BACO supports its providers to work together to improve patient outcomes by promoting healthy behaviors, developing and expanding population health management programs, improving data exchange, and facilitating quality improvement. BACO covers MassHealth and other BACO healthcare payer contract patients who have a primary care physician at BMC or any other affiliated health care site.
Right now, we're getting BACO ready for the MassHealth ACO program soft launch January 1, 2018, and the full launch March 1, 2018.
Q: What's your role as director of BACO?
A: I am responsible for overseeing the administration, finances, programs, and managing the strategic direction of BACO.  We have a small BACO team. Our team develops and contracts with and for our provider network. We negotiate with the health plans for our providers. We educate our providers about the quality and medical expense of the services the network provides and deliver performance reports to help them identify opportunities for improvement. We serve as an important resource for our provider network and communicate regularly with them about what's happening with health plans, Medicare and Medicaid. If the state or federal governments release guidance or regulations about Medicaid or Medicare or health plans have new information about their products, we inform our providers of the change and the impact on them.
We do a lot of work to help lower health care costs while improving quality and enhancing patient experience, which is the ultimate goal of BACO. We have developed programs to support our providers' success in managing total medical expense of the services our patient receive and engaging in continuous quality improvement. At BACO, we have case managers who work with high-risk, high-cost patients, staff who are working to improve our provider network's quality measure performance, and a medical director. I support all of them to successfully manage our risk contracts and work with our providers to achieve our mission and goals.
Q: How will MassHealth's move to an ACO model affect the daily work of BMC employees?
A: BMC provides exceptional care. As with most things, there are always ways we can continue to improve. Our goal is to find ways to lower the costs of care while still providing excellent patient experience and high quality care. In health care, there are a lot of siloes and unfortunately, silos in healthcare can result in additional costs and lower patient satisfaction. It's just too expensive to continue to provide care this way. We have to do something different.
One thing we can do is try to break down the silos. For example, we can set up systems so that if someone is doing inpatient work, they can access to information to know what's happening on the outpatient side. This way, they can coordinate between the two types of care and not duplicate work. Or maybe in the Emergency Department (ED), a doctor might realize that if a patient had certain outpatient care available, they wouldn't need to be admitted.
MassHealth ACOs are also looking at how to support patients in getting their basic needs met, which impacts their health and the overall cost of their healthcare. For example, how many times do people end up in the ED because they don't have housing or money to buy their medications or transportation to get to their doctor's appointments? ACOs are more strongly incentivized to identify and address these social determinants of health.
Things might not change immediately, but in the long-term, they will change. We will look at how different parts of the hospital communicate with each other and with the community providers (and vice versa). Our network providers will work together on how we can agree on ways to treat illness and address our patients' social determinants of health needs. This shift will make us more efficient and effective as a system so we can provide the right care for the right patient at the right time in the right setting.
Q: What is your vision for the future of BACO as health reform gets implemented?
A: Up until now, only a small percentage of our network's revenue came from what's called "value-based" contracts, which shift from a fee for service reimbursement model to a model in which providers have a budget for each patient. An ACO model is one type of value-based contract. Having some payors pay us under a fee-for-service model and some pay us under a global budget model can make things complicated.
Under our ACO, we want to support all care at a practice so that the practice does one thing – provide the right care for all patients that come in, no matter who pays for it. As we increase members under the ACO model, we as a provider network will continue to become even smarter and more efficient and will be rewarded for that. The vision for the future is that we do the right thing for each patient because it's the right thing to do.
Q: What brought you to BMC?
A: Before BACO, I worked in many different parts of the health care world, including health plans, provider networks, and with state health departments and the Centers for Medicare and Medicaid.
I always admired Boston Medical Center and its affiliated community health centers and how mission-driven the organizations are. I love the fact that the hospital and the community health centers are always trying to do the right thing and meet the needs of its community. I like the fact that BMC Health System included its own health plan, BMCHP.
I was excited by the idea of working more with the Medicaid population. I was attracted to working on issues like social determinants of health and behavioral health integration and substance use disorder services (which is how I started in health care).
During my interviews, one person looked at my resume and said that it looked like my experience has all been leading up to this job. It seemed like a really good match.
Q: What do you like most about working at BMC?
A: What I thought about BMC before I came here turned out to be true. BMC, both at the hospital and at the community health centers, is a very mission-driven place. There are a lot of very talented people here who are dedicated to fulfilling the mission. I am also blessed by a wonderful team.
Q: What do you do for fun outside of work?
A: I have been married 28 years and we have an 18 year old son and are very family-oriented. I love Broadway musicals. I was a baker when I was much younger, so once in a while I'll bake something for family and friends. 
Celebrating Employees at the Annual Service Awards
BMC employees gathered on the Moakley Green on September 14 to honor colleagues who reached milestone status – from 5 to 50 years – in 2016. Kate Walsh, president and CEO, served as host for the afternoon, leading sing-alongs and reminding employees of the major BMC events, pop culture, politics, and Boston sports achievements of each celebrated year.
"No one does a better job than you do of taking care of the patients we serve," said Walsh. "Whether you are at the bedside every day or spend your time in a kitchen, an office, a lab, a pharmacy or keeping the hospital clean, wherever you work, you make it possible for us to deliver great care and provide exceptional care without exception. It's all of you here today that have built this organization and make BMC great and will continue to."
Three employees were honored for 45 years of service – Janet Crimlisk, Thurston Allen, and Eileen Borzilleri. One employee, Sheila Ryan, was honored for her 50 years of service in the Department of Pathology and Laboratory Medicine!
Crimlisk, who works as a clinical nurse educator, shared her advice for those seeking a long-term career at BMC. "My advice would be to seek a position at BMC that fulfills you and makes you happy," she said. She added that she has been "fortunate to work with some of the most incredibly talented, knowledgeable, and collaborative professionals. It's a community and a family of staff who really want to make a difference."
Borzilleri, a nurse in the Menino operating rooms, said that her mentor at BMC taught her "how to handle anything that comes through the doors," adding that "if you want some of the best people to work with, BMC is the place!" 
Awards and Accolades
BMC Named a Best Hospital for Nurses to Work in Massachusetts
A leading career site for nurses, Nurse.org, has recognized Boston Medical Center as one of the best hospitals for nurses to work for in Massachusetts. This recognition is based on a survey of nurses from 68 Massachusetts hospitals about their workplace satisfaction. Reviewers cited amazing culture, dedicated staff, and collaborative physicians as the basis for the 4.2 star rating with 100 percent of the nurses surveyed recommending the hospital as an employer.
BMC Wins Two Awards from the American College of Physicians
BMC employees have received two Richard and Hinda Rosenthal Awards from the American College of Physicians. The first award was given to Jeffrey Samet, MD, chief of general internal medicine, for "recent innovative work that is making a notable contribution to improving clinical care in the field of internal medicine." The second award was given to Project ASSERT for their "original approach in the delivery of health care that will increase clinical and/or economic effectiveness."
Julie Palmer Awarded American Association for Cancer Research Award
Julie Palmer, ScD, associate director for population sciences at the BU-BMC Cancer Center, has been award the 2017 American Association for Cancer Research Distinguished Lecture on the Science of Health Care Disparities award. The award honors Palmer for her work to reduce breast cancer mortality in young African American women through her leadership of the Black Women's Health Study and her effects to collect and use DNA from study participants. 
News of Note
Department of Emergency Medicine Awarded NIH Research Grant
The Department of Emergency Medicine has been awarded a $500,000 Small Business Innovation Phase 1 Research Grant (NIH/SBIR) to advance point of care ultrasound technology. James Feldman, MD, an Emergency Department physician, will serve as co-primary investigator of a team that includes Megan Leo, Kerrie Nelson, and other members of the Emergency Medicine ultrasound section at BMC. The group will collaborate with Biosensics, a local biotechnology company to develop a portable ultrasound system to enable a minimally trained operator to perform and accurately interpret a FAST exam.
Return to BMC News