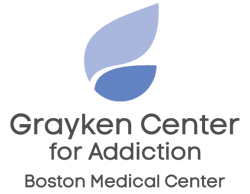 To schedule an appointment with an addiction specialist, please call 617.414.6926
Caring for People with Addiction
For nearly 25 years, BMC has been caring for patients with addiction, and recognizing that one size doesn't fit all when it comes to treatment. A national model for care, BMC has developed tailored treatment programs that meet patients where they are, be it primary care, prenatal care, psychiatry, adolescents, the Emergency Department, or as an inpatient. These interdisciplinary programs not only help patients engage in effective treatment and recover, but also reduce hospital visits and therefore the cost of care.
Addiction Services at BMC
To schedule an appointment with an addiction specialist, please call 617.414.6926 or learn more about our programs below.
---
Are you thinking about stopping or tapering the opioid dose for your chronic pain patients? Feeling stuck between a rock and a hard place? We can help. Call MCSTAP for quick, supportive evidence-based information and advice from qualified expert physician consultants. You can reach us at 1-833-PAIN-SUD (1-833-724-6783) Monday to Friday, 9 a.m. to 5 p.m.
---
Overview of BMC Programs
There are dozens of substance use programs at BMC; however, the following represent those most recognized.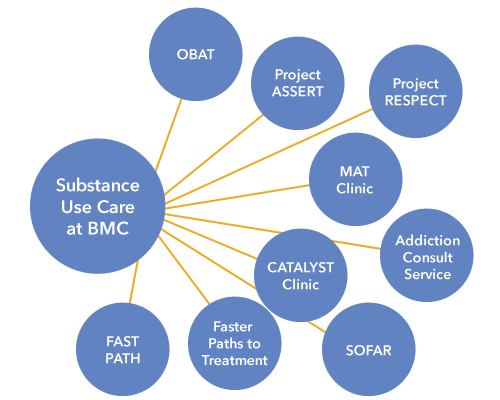 ---
The Clinical Addiction Research and Education (CARE) Unit was established more than 20 years ago with the mission to conduct research, educate health professionals, provide healthcare, and inform clinical and public health practice and policy to improve the lives of individuals with substance use issues. CARE Unit faculty have expertise in the management of diseases which are caused or exacerbated by risky substance use including HIV/AIDs, Sexually Transmitted Infections, and Hepatitis C. Faculty members from the CARE Unit are internationally recognized experts in the areas of addiction medicine, substance use prevention, and substance use education.
---
The CARE Unit established the Addiction Consult Service in 2015 to improve the quality of care for inpatients with addictions and transition them to post-hospitalization substance use treatment. The program's services include the initiation of Medication for Addiction Treatment during hospitalization and assistance transitioning to community-based addiction treatment programs.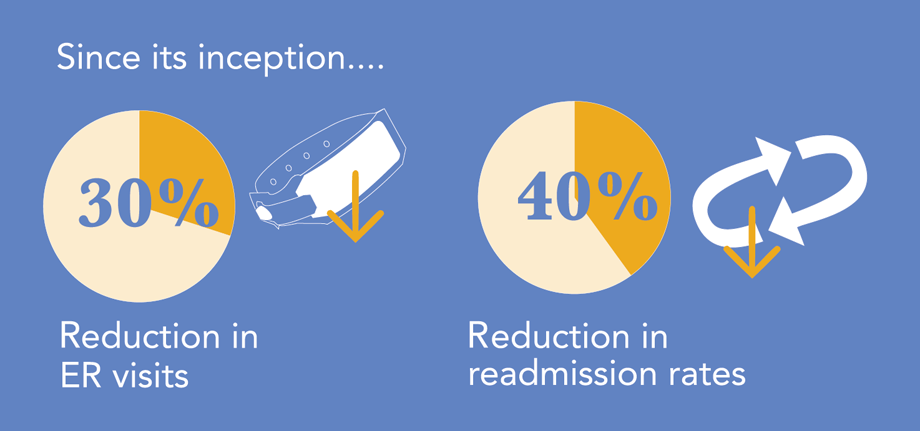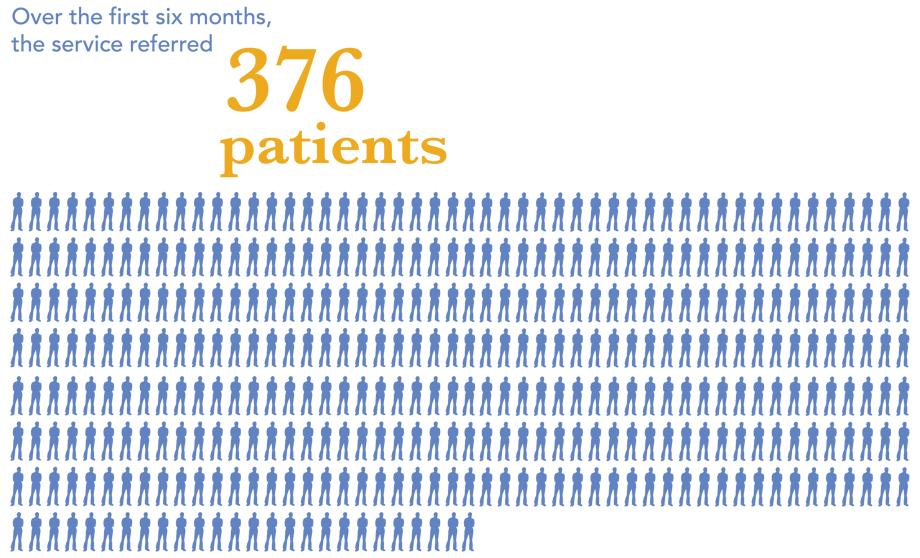 ---
In 2003, faculty from the CARE Unit created BMC's OBAT program, a nationally-recognized, and nationally-replicated, collaborative care model that relies on nurse care managers to ensure delivery of high quality addiction treatment while effectively and efficiently utilizing the time of physicians waivered to prescribe buprenorphine (Suboxone). BMC OBAT was created to address a key barrier to integration of treatment with buprenorphine identified by many office-based settings – lack of structured clinical support for physician providers. Dubbed the "Massachusetts Model," BMC's OBAT now serves as a model of service delivery for facilitating access to life-saving treatment and improving treatment outcomes in patients with opioid use disorders. OBAT is integrated into our primary care and specialty outpatient clinics, enabling patients to receive care for substance use disorders similar to the way that other chronic medical conditions are managed. OBAT currently serves over 680 patients and is the largest office-based opioid treatment program in New England. The BMC OBAT model is effective at increasing access to evidence-based treatment for addiction as well as improving the quality of care provided to patients with substance use disorders. In addition to the OBAT program in Primary Care, there are five other OBAT clinics at BMC serving special populations; these are located in Psychiatry, Infectious Diseases, Family Medicine, Obstetrics and Gynecology, and the Adolescent Center. Together, these clinics provide life-saving medication treatment for addiction to over 1,000 patients annually.
---
CATALYST is BMC's Center for Addiction Treatment for AdoLescents/Young adults who use SubsTances. Based in both the Adolescent Clinic and General Internal Medicine, CATALYST utilizes an OBAT model that is developmentally-appropriate for youth patients. Patients referred to the clinic are assessed by a qualified Addiction Medicine Specialist and licensed social worker, who develop a plan for each patient using a team-based approach that takes into account the patient's goals and the goals of the patient's guardian, when appropriate. A nurse care manager provides on going medication management and integral care coordination, and a recovery coach supports patients through their recovery. Depending on the patient, treatment plans may include current evidence-based medications for addiction and co-occurring psychiatric disorders, psychotherapy with a Social Worker, Hepatitis C treatment, pre-exposure prophylaxis for HIV, monitoring with urine drug testing, contingency management, and assistance with recovery needs such as transitional assistance, food security, employment and residential programs.
---
The National Institute on Drug Addiction (NIDA)-funded Research in Addiction Medicine Scholars (RAMS) program [link: http://www.bumc.bu.edu/care/education-and-training-programs/research-in-addiction-medicine-scholars-rams-program/] develops skills in addiction medicine research among physicians from ABAM Foundation-accredited addiction medicine fellowship programs or addiction psychiatry fellowship programs across the United States. The RAMS program makes important contributions to the development of the next generation of addiction physician researchers.
---
BMC's Opioid Urgent Care Center. Faster Paths rapidly evaluates, motivates, and refers patients with substance use disorders to a comprehensive care network of inpatient and outpatient detoxification, treatment, and aftercare services integrated with mental health and medical care. The goal of Faster Paths is to incorporate and build upon the existing substance use services provided by BMC, filling the gaps in care to create a seamless continuum.
Backed by 24/7 access via the BMC Emergency Department (ED), Faster Paths enhances existing capacity to: triage patients into medical care; provide medical and psychiatric examinations to match patients with the right level of care; and ensure access to medications therapy. Licensed Alcohol and Drug Counselors from BMC's Project ASSERT from 8 am to 12 am daily provide intake psycho-social assessments, referrals to an array of addiction treatment services and shelters, overdose prevention education and naloxone, harm reduction services, and transportation. A key feature of the center is week day access to Medication for Addiction Treatment (MAT) in the Faster Paths Outpatient Clinic. The patient intake involves an assessment with the LADC, a meeting with the Addiction RN and a physician who gathers a history, conducts a physical exam, orders drug and HIV, Hepatitis Screening and STI testing, and prescribes MAT and naloxone rescue kits, as indicated. Addiction Nurses oversee the office initiation of MAT, including buprenorphine/naloxone induction and injectable naltrexone, with Monday-Friday buprenorphine/naloxone administration available for patients who need MAT and are awaiting placement in an OBAT or a methadone maintenance program. Boston Public Health Commission's (BPHC's) PAATHS (Providing Access to Addiction Treatment, Hope, and Support) recovery navigator assist with linkages to external MAT programs and other community services.
During the program's first year of operation, Faster Paths treated 1,275 patients who recorded a total of 4,635 visits, during which they were provided with an array of services. Four hundred and seven patients were initiated on medications/ MAT and of these 177 were transferred to maintenance programs, and 663 were placed and transported to acute treatment programs/detox.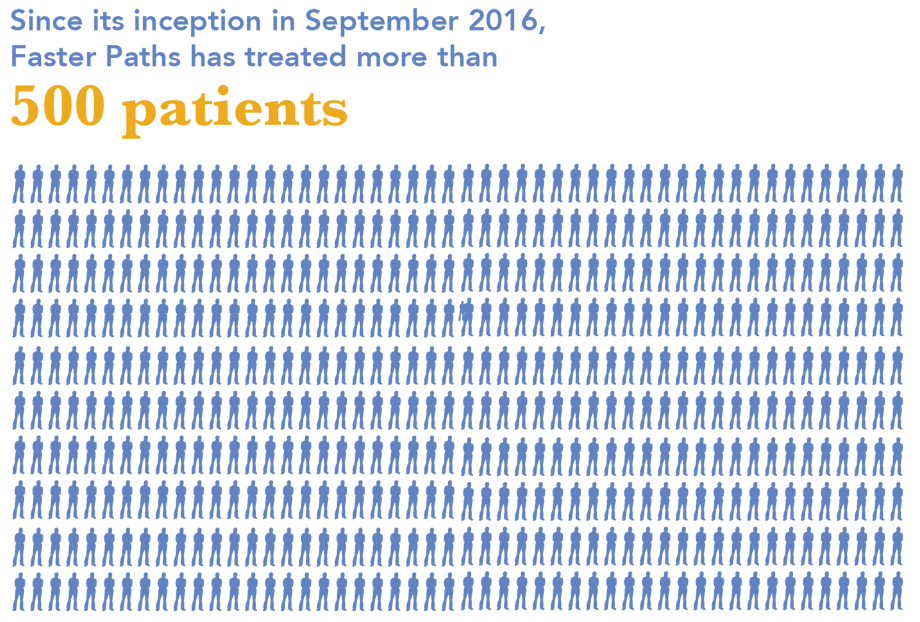 Learn more about Faster Paths
---
Project ASSERT was established to provide greater access to substance use treatment in the Emergency Department (ED) setting and has expanded to include a variety of social and community healthcare support services. Based in the ED, Project ASSERT counsels patients whose alcohol and/or drug use was directly and indirectly implicated in their need for emergency services. This nationally recognized, evidence-based program uses motivational interviewing to encourage patients and family members to seek care for risky use of substances. It also helps patients access primary care, clinical preventive services, and the drug and alcohol treatment network. Project ASSERT staffed by seven MA. Licensed Alcohol and Drug Counselors (LADCs) was the first nationally cited Emergency Department program to deploy peer counselors/educators as motivators and navigators to identify and intervene with patients with substance use disorders. These peer professionals, recruited from communities served by BMC, play a vital role in bringing their expertise, life experience, service network contacts and a nonjudgmental, respectful approach to patients struggling with addiction and those who lack the basics of adequate housing, food security and a living wage. Project ASSERT has
influenced the culture of the ED at BMC by setting the tone on how to better understand the complexities of our patients' lives. To promote this, Project ASSERT organizes a yearly community tour for incoming emergency medicine residents.
In addition to their extensive interactions with patients, Project ASSERT has worked tirelessly to stem the opioid overdose epidemic at its source. Since 2009, the program has collaborated with the city and state to educate patients on the risks and signs of an opioid overdose, and the appropriate response measures including providing patients with the life-saving naloxone rescue kits. Project ASSERT staff carry naloxone rescue kits on their person and have saved a number of lives. They also participate in staff and house officers' naloxone and opioid overdose training. Daily, we learn of family members utilizing rescue kits to revive loved ones, and daily, Project ASSERT intervenes to help vulnerable patients' access treatment and resources.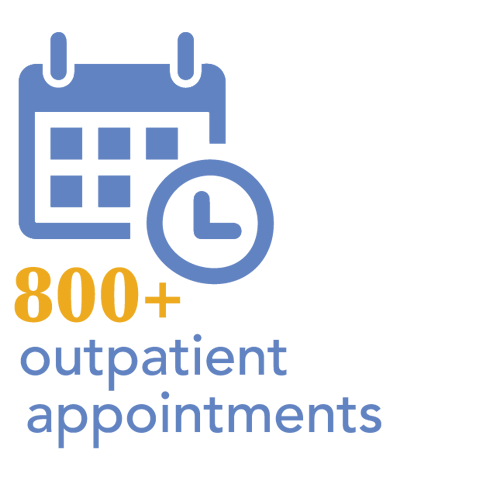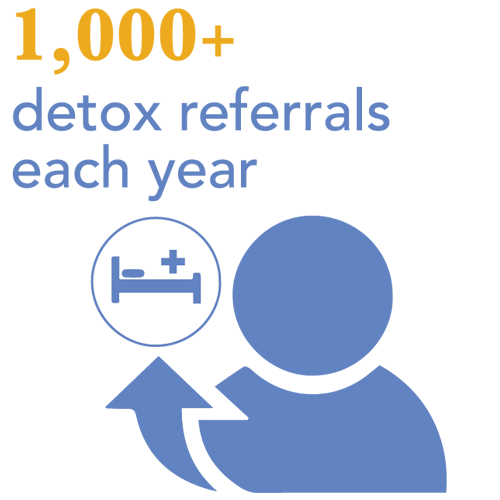 ---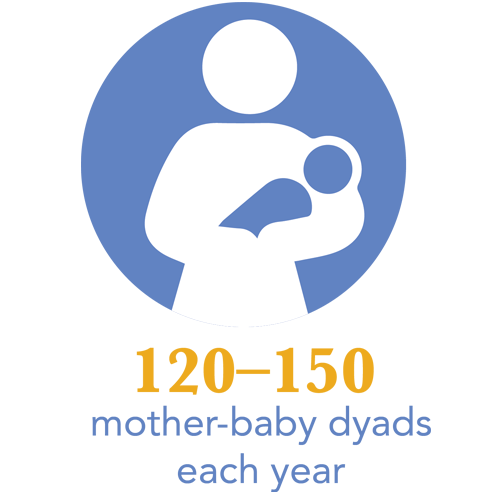 Based in the Department of Obstetrics and Gynecology, Project RESPECT (Recovery, Empowerment, Social Services, Prenatal Care, Education, Community, and Treatment) is a regional referral center for pregnant women with opioid use disorders. The program focuses on the treatment of substance use disorders in pregnancy. Project RESPECT provides innovative, multidisciplinary prenatal care by combining obstetric, substance use recovery services, peer recovery support, and behavioral health within a specialized prenatal care clinic. The program treats approximately 130 women with opioid use disorders each year.
---
Each year more than 120 babies are born at BMC to women with opioid use disorders. Researchers in the Departments of Pediatrics and Obstetrics and Gynecology are busy discovering new and better treatments for these vulnerable infants, many of whom go on to develop Neonatal Abstinence Syndrome (NAS). All babies born with in-utero opioid exposure are monitored as inpatients for 5-7 days for symptoms of opioid withdrawal. The most recent available data suggest that twelve percent of all NAS babies in the state are cared for by BMC. The RESPECT Research Group is learning about the short-term medical and long-term developmental outcomes of treating these newborns with different pharmacologic regimens. The groundbreaking studies conducted by the RESPECT Research Group are resulting in many publications, leading the way to higher quality, more personalized care for babies exposed to opioids during pregnancy. Recent studies and publications have focused on the impact of genetic variants on NAS outcomes, the influence of clinical factors such as prematurity and breastfeeding on NAS outcomes, and the importance of non-pharmacologic care on NAS outcomes.
---
Based in Pediatric Primary Care, the SO FAR (Supporting Our Families through Addiction and Recovery) clinic is a comprehensive outpatient program for families impacted by substance use disorders. The clinic provides primary care for substance exposed newborns and children, as well as subspecialty care including developmental and ophthalmologic assessments, and routine follow-up for Hepatitis C perinatal exposure. The clinic also provides addiction support services for the mothers, as well as social work services and peer recovery support. The SO FAR clinic is supported by the Center for the Urban Child and Healthy Family.
---
The FAST PATH program in Infectious Disease provides integrated addiction care in conjunction with HIV primary care. The program includes a multi-disciplinary physician, nurse care manager, counseling, and case management team. FAST PATH provides diagnosis and management by addiction specialists who also provide HIV primary care, office-based medication for addiction treatment, clinic-based counseling, and case management.
---
There is evidence to suggest that a good number of individuals suffering from opioid use disorders become addicted after having been legally prescribed opioids by a physician as a treatment for chronic pain. In all-too-many cases, prescription opioid use escalates to a heroin addiction, as heroin is cheaper and easier to access than prescription opioids. The purpose of TOPCARE (Transforming Opioid Prescribing in Primary Care) is to bring change in the way primary care services are delivered and decrease misuse of, and addiction to, prescription opioids. With federal research funding, BMC physicians and nurse researchers have examined the impact of a multicomponent interview (nurse care management, a registry, academic detailing, and use of electronic tools) on adherence to opioid prescribing guidelines for chronic pain.
TOPCARE is serving about 600 patients on chronic opioid therapies. It is spearheaded by dedicated Nurse Care Managers collaborating with physicians within Primary Care and other interdisciplinary members in population management for patients on chronic opioid therapies. Nurse Care Managers ensure that opioids are prescribed safely by physicians and that patients adhere to treatment plans. The TOPCARE program conducts initial and continuous tailored biopsychosocial assessments of enrolled patients through chart audits and visits to evaluate any development of substance use disorder. Nurse Care Managers follow-up closely with patients being treated with opioids for chronic pain and refer patients who may have developed substance use disorder from chronic use of opioids for treatment. The TOPCARE program also conducts a monthly case review conference with Primary Care physicians to discuss complex cases, share knowledge, train and educate them on any new policies, recommendations, medication, or treatment options. TOPCARE applies multicomponent interventions to improve and standardize guideline-concordant care for our opioid prescribing practices within the Boston Medical Center Primary Care department. We anticipate that TOPCARE will improve patient care, prevent addiction, and reduce healthcare costs.
---
Several years ago, BMC's Integrative Medicine providers developed the Integrative Medicine Group Visit (MGV) in response to their patients' and clinical colleagues' requests for a new model of care to address chronic pain. This innovative, patient-centered model of care brings together medical care, alternative therapies such as acupuncture and massage, and Mindful Based Stress Reduction (MBSR) in a group setting. IMGV aims to address patient needs in a comprehensive manner by incorporating patient-centered strategies to reduce pain, thereby improving adherence to chronic care management and improving health and coping among patients with chronic health conditions, such as depression. The IMGV protocol was developed after a systematic review of studies on integrative medicine for chronic health conditions and group visits. It was then refined through discussion and consensus after extensive use in the outpatient clinic at BMC.
---
Under the Substance Use Program in Psychiatry, Psychiatry provides robust outpatient services for patients with co-occurring substance use and mental health needs. The clinic has significant expertise in treating patients with co-occurring disorders. The clinic's staff includes addiction-trained Psychiatrists and therapists who specialize in relapse prevention and addiction counseling. Psychiatrists and therapists partner together to provide psychopharmacology and psychotherapy to meet the individual needs of each patient. In addition, the clinic offers different group options to provide peer-to-peer support in recovery.
---
Based in the Department of Psychiatry, the ABOVE program provides treatment for individuals with opioid use disorder and co-occurring mental health disorders. The program's primary goal is to ensure that patients with opioid use disorder have access to medication treatment for opioid use disorder. Aside from medications for opioid use disorder, we offer medications for mental health disorders, group and individual counseling, and peer support in order to help patients achieve their treatment goals.