END STIGMA.
SUSPEND JUDGMENT.
LEND A HAND.
As employers, you can help.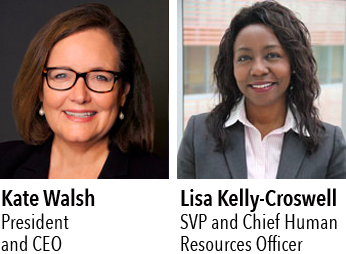 The Grayken Center for Addiction at Boston Medical Center (BMC) has designed a set of tools and resources to support your organization in understanding and addressing substance use disorders (SUDs). These tools are free to use, regardless of where or how your organization receives its medical care.
The library is organized in five sections, including tips on engaging your entire organization, ways to educate managers, and sample policies and practices. There are 25 downloadable tools to support making your strategy actionable. Workplaces have varying needs and capacity to institute changes, and not all 25 templates may be right for your organization. However, it's important that all employers begin to think about what they can do to make an impact and support their employees.
Resources and information in the Grayken Employer Resource Library are periodically updated and may not always be up-to-date. If you have any questions or concerns about this information, please reach out to Grayken.Center@bmc.org
Join Our Community
We welcome your comments, ideas, or sample practices and invite you to email them or let us know what you think to Grayken.Center@bmc.org.
What Should You Do First?
There are so many actions employers can take that it can seem overwhelming. But we suggest two simple ways to get started:
Develop a cross-functional advisory team to determine what steps they can take within your organization.
Review the mental health and substance use benefits coverage your company offers and ensure that it is comprehensive and affordable.
What's New?
Assessing and Engaging the Organization
Substance use disorders (SUDs) are the most pressing public health crisis of our time and sadly, remain highly stigmatized. This section of the Resource Library will provide information and tools to help assess and engage your organization.
Empowering and Educating Managers
Managers are critical to communicating that your organization cares, and to facilitating access to SUDs information and resources. One way to help your managers is to clarify their role and provide training, tools and resources for them to assist their employees. This way, managers can help create a safe, confidential and stigma-free work environment.
Supporting and Encouraging Employees
Your SUDs program for employees should help them better understand the SUDs epidemic, tools and resources that are available to them and their family members. It may be helpful to take advantage of annual organizational events like wellness week or a national effort like National Recovery Month, which takes place in September.
Supporting Employees' Family Members
Employees may have family members struggling with a substance use disorder. There are several ways you can support these employees:
Make sure they are educated about what benefits they and their family members may be entitled to, and are able to access evidence-based care. Resources to help families navigate the system are available here, and more information about treatment options is available here.
Connect them with family support hotlines, including the Grayken Center's free helpline for parents and families. See more information here.
Consider setting up a family support group for employees, or connecting these employees with a family support group in your area.
Make naloxone easily available, and encourage family members to pick up a kit just in case.
See more resources available for families at SAMHSA.
Developing Policies and Practices
As you look to ramp up your SUDs support programs, this section will help you navigate through top-level thinking regarding policies, reviewing and enhancing company resources, and additional possible actions. This will also help you raise awareness of existing resources in your organization, work on reducing benefit spending, and create a more productive and engaged workforce.
National and Local Resources
Employee Support
In addition to being healthcare providers for the general public, Boston and Cambridge hospitals employ thousands of people, many of whom may need their own support with substance use. We propose that all hospitals commit to doing at least three of the following activities onsite, to encourage campus-wide discussion around substance use and increased uptake of needed health care support. Providing this support will impact thousands of employees, as well as their families and the broader community. 
What Are Other Employers Doing?