Fluffy Coconut Flour Pancakes
Breakfast
Contributed by:
Catherine Barry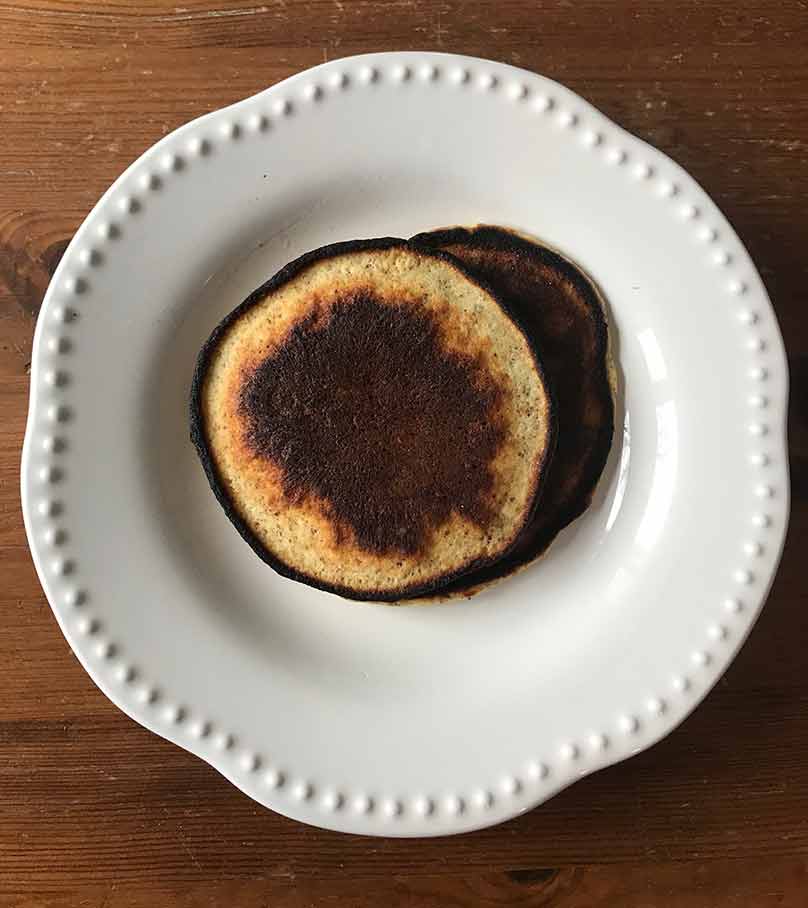 Finally, a keto pancake that's not thin and eggy! Made with coconut flour, flax, and eggs, these beauties rise well and hold together wonderfully. This recipe can easily be doubled or tripled and kept in an airtight container in the fridge for one week. Reheat in the microwave for 10-15 seconds at a time. 
Safe to top each serving with up to 15 grams of Walden Farms Pancake Syrup without affecting diet ratio.
Ingredients
Cream
- 88 grams heavy cream
Swerve
- 6 grams (Swerve is a sweetener)
Coconut-flour
- 21 grams coconut flour
Eggs
- 150 grams egg, beaten well
Butter
- 28 grams, melted
Flaxseed-meal-
20 grams
Salt
- 1 gram
Baking-powder
- 2.5 grams
Instructions
Step 1
Combine the butter, swerve, eggs and cream into a medium bowl and combine using a whisk until the thoroughly mixed
Step 2
In a large bowl combine the coconut flour, flax seed meal, salt and baking powder
Step 3
Add the wet ingredients to the dry mixture and whisk together until you have a uniform batter. Set aside for a couple minutes to allow it to thicken
Step 4
Preheat a large skillet to medium low heat and grease butter or coconut oil
Step 5
When the skillet is heated, using a 1/4 measuring cup add the batter to the skillet. Cook on first side for 3-5 minutes and then flip and cook for an additional 30 seconds
Step 6
Serve immediately with desired toppings, such as sugar free syrup or blueberries, depending on your ketogenic ratio and carbohydrate allotment
Notes
2:1 ketogenic diet ratio. 
Suitable for classic/modified ketogenic diet, modified atkins diet.
Nutrition Information
Dietary Restrictions
Classic Ketogenic