Contributed by:
BMC Teaching Kitchen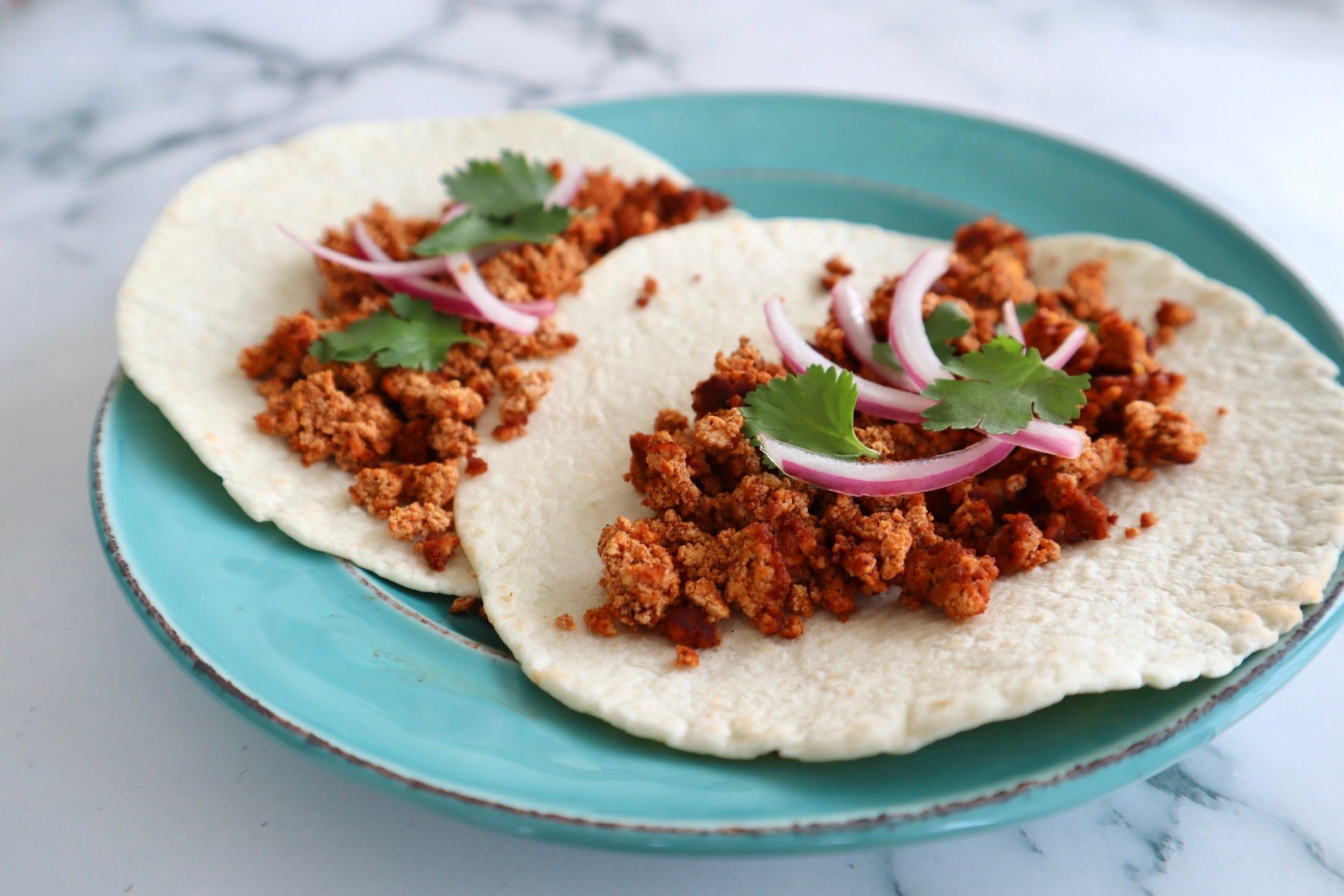 This is an easy, quick, plant based meal! You can buy pickled red onions or make your own to add on top. Adding guacamole or salsa on top can add some extra flavors and add more vegetables to your meal. 
Ingredients
Chorizo-Tofu
Tofu
- 1 (14 oz) package, extra-firm
Oil
- 1 Tablespoon, avocado
Garlic
- 3 cloves, minced
Chili-powder
- 1 Tablespoon
Cumin
- 1 teaspoon
Cayenne-pepper
- ¼ teaspoon
Tomato-paste
- 2 Tablespoons
Tortilla-and-Toppings
Tortillas
- 6 small, corn
Onions
- 6 Tablespoons, pickled
Avocado
- 1 small
Lime
- 1 medium
Coleslaw
- ½ cup, premade mix
Salsa
- ¼ cup
Cheese
- ¼ cup, shredded
Instructions
Step 1
Firmly squeeze tofu to get rid of excess water and pat with a paper towel (don't worry if it begins to crack or come apart). Add to a bowl.
Step 2
Heat oil in a large, non-stick skillet over medium-high heat. Crumble the tofu with your fingers into the pan and cook, tossing occasionally, for 5 minutes or until golden brown and crisp around the edges. Using a spatula, break up large pieces.
Step 3
Add garlic, chilli powder, cumin, cayenne, and tomato paste to the tofu and cook, tossing occasionally, for 5 minutes or until tofu pieces are evenly coated and crisp.
Step 4
Divide among the 6 tortillas and add your favorite toppings (onions, avocado, lime, coleslaw, salsa, cheese if desired).
Notes
Nutrition Information