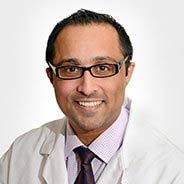 Dr. Tejal Brahmbhatt 
July 25, 2018
When trauma surgeon Tejal Brahmbhatt, MD, enters the operating room, he knows that seconds matter. He is also confident in the team by his side.
"They're like a NASCAR pit crew," said Dr. Brahmbhatt. "Everybody has an assigned role, and they do a specific thing at the same time."
BMC is the busiest provider of trauma and emergency services in New England, with more than 130,000 emergency visits and approximately 2,000 trauma activations per year; many trauma activations are victims of community violence. 
Dr. Brahmbhatt recently spoke with Boston 25 News about his role in saving lives and how BMC is prepared 24/7 to treat multiple trauma patients at once.
BMC's care for truama victims does not end in the operating room.
An integral apart of BMC's Truama Center is the Community Violence Response Team, a group of clinicians dedicated to providing individual and family counseling services to survivors of violence and family members, of all ages, who have been impacted by violence.
These services are free, non-insurance based, and include include crisis intervention, psycho-education, ongoing counseling, therapeutic support, case management, advocacy and referrals to community partners.
As the road to healing after trauma can be challenging for the victim and their family members no matter how the injury occurred, BMC's Violence Intervention Advocacy Program (VIAP) also helps guide victims of community violence through recovery from physical and emotional trauma. VIAP presents options for families that bring hope and healing to their lives, and in turn, this guidance helps strengthen others who are affected by violence and contributes to building safer and healthier communities.
For more information on BMC's Trauma Center, visit: https://www.bmc.org/acute-care-trauma-surgery.
Contact: Jenny Eriksen Leary 617.638.6841, jenny.eriksen@bmc.org