Framingham Study is a population-based, observational cohort study that was initiated by the United States Public Health Service in 1948 to prospectively investigate the epidemiology and risk factors for cardiovascular disease. It has grown into an ongoing, longitudinal study gathering prospective data on a wide variety of biological and lifestyle risk factors and on cardiovascular, neurological and other types of disease outcomes across 3 generations of participants. While initially focused on the clinical assessment of risk factors and disease, the study has evolved, incorporating advances in medical science (newer diagnostic criteria, biomarker assays and imaging technologies) as these became available. Extensive genotyping data is available on over 60% of all participants (including over 90% of persons attending examinations after 1990) and samples of sera and plasma from successive exams have been stored for future studies.
The Study began in 1948-50 with the recruitment of the Original cohort (5209 participants; 2,873 women, 2,336 men; age 28-62 years, mean age 45 years) comprising two-thirds of the adult population then residing in the town of Framingham, MA. These persons have been evaluated biennially and are currently undergoing the 29th biennial examination. In 1971, children of the Original cohort members and their spouses were assembled into the Offspring cohort (5124 persons, 2,641 women, 2,483 men; age 5-70 years, mean age 37 years; 3514 biological offspring). Members of this cohort have been reassessed 7 times. Starting in 2002, a third generation has been recruited and this Gen 3 cohort comprises 4095 individuals (2183 women, 1912 men; mean age 40 years) who have undergone an initial examination. At each study examination participants are evaluated with medical histories, physician examinations, laboratory tests for vascular risk factors, and at some examinations with cognitive test batteries and brain imaging.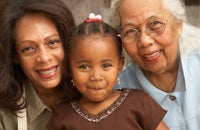 At the initial examination 25 persons in the Original cohort and 7 persons in the Offspring cohort had prevalent stroke. Follow-up through 2004 of the remaining 5,184 Original cohort and 5, 117 Offspring has yielded 1132 incident strokes (920 in the Original cohort) and an additional 240 incident TIAs (160 in the Original cohort) that were not preceded by stroke. In 1975, a dementia-free cohort of 2,842 Original cohort members was established based on neurological and detailed neuropsychological examination of the entire cohort and of these, 450 persons had developed incident dementia by 2004. The entire Offspring cohort has been followed for incident dementia since their first examination and 23 persons had developed dementia by 2004. In addition, 372 survivors of the Original cohort and 2307 Offspring underwent volumetric brain MRI and neuropsychological testing between 1999 and 2004 and are currently undergoing a second round of testing. By the end of 2004, 534 Original cohort members (aged 84-115, mean 90) and 4,123 Offspring cohort (aged 38-93, mean 66) remained alive.
The Framingham Study has assembled a dense and complex database over the past 50+ years. These data include
Repeated measures of conventional and novel vascular risk factors including the components of the Framingham Stroke risk profile (blood pressure, antihypertensive treatment, smoking, diabetes, atrial fibrillation, EKG-LVH), plasma homocysteine, C-reactive protein
Extensive inflammatory, hormonal and other biomarker data
Longitudinal measures of subclinical disease gathered through serial carotid ultrasounds, echocardiography, arterial tonometry and CT and MR imaging of cardiac structure, central arterial and coronary atherosclerosis.
Data on the subclinical structural and functional changes that accompany brain aging gathered through volumetric brain MRI and detailed cognitive testing.
Data on the clinical end-points of incident stroke, mild cognitive impairment without dementia and clinical dementia (vascular and Alzheimer type). These data are gathered through examination and prospective follow-up by study neurologists and neuropsychologists. Information on clinical course after disease onset is also available.
Information regarding diet, physical activity, depression and social networks
Directly observed data on hearing, vision, hand grip and walking speed
Data on alternative causes of morbidity and mortality including cancer, cardiac and peripheral vascular disease, bone, pulmonary and renal disease
Extensive neuropathological data on over 100 deceased persons gathered through an ongoing Framingham Brain Donation Program. Donors typically identified themselves during life and were evaluated with annual neurological, cognitive and MRI examinations prior to death and with retrospective family interview after death.
A dense genetic database including genome wide polymorphism information on 550,000 SNPs and fine-mapping of over 50 candidate genes of potential cardiovascular relevance in over 9000 persons across 3 generations.