Creamy Herb Yogurt Dip
Appetizer, Sauces and Dressings, Side Dish, Snack
Contributed by:
Jane Garofalo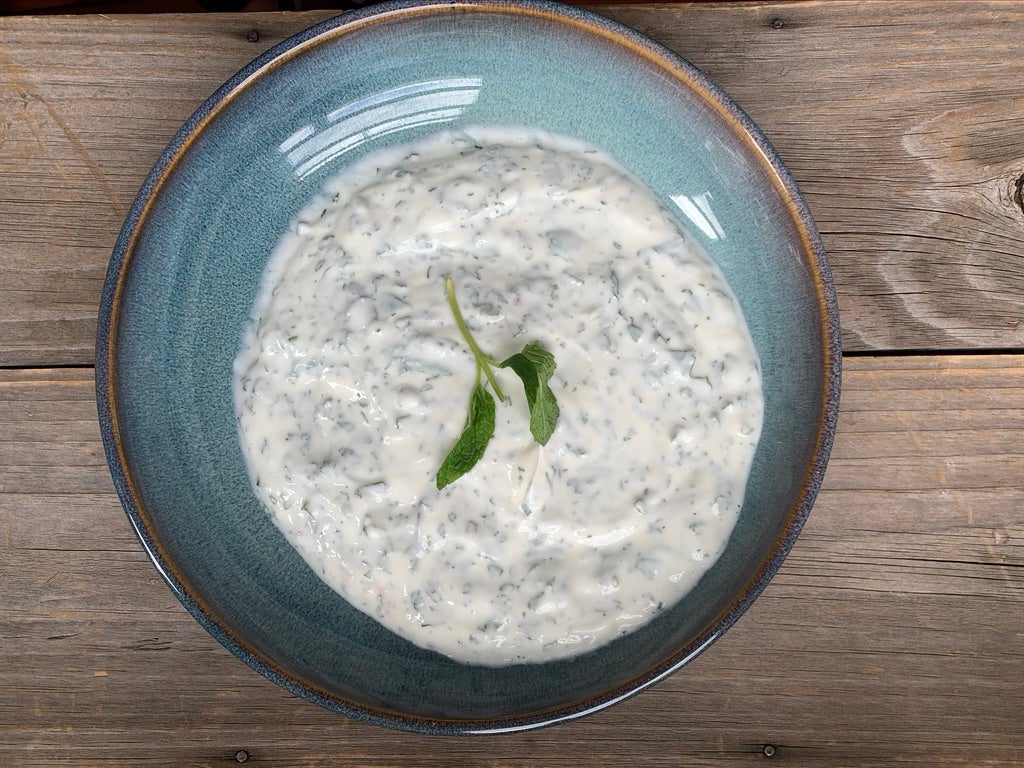 This creamy dip is an excellent snack for dipping sliced vegetables like peppers, carrots, or celery. It can also be used as a salad dressing or zesty sandwich spread. The low-fat and plain Greek yogurt is a great source of calcium and an excellent source of protein with no added sugars. Compared to other yogurts, the Greek yogurt is lower in lactose but higher in protein. The cilantro and scallions add flavor as well as vitamins and minerals. 
For baby, just the yogurt without the added ingredients can be eaten at 6 months. However, full-fat yogurts are best for baby. Although your baby can have low-fat yogurt from time to time, they require the fat content in the full-fat versions. For adults, non-fat, low-fat, or full-fat yogurt versions are safe and healthy to eat.
Ingredients
Oil
- ¼ cup
Scallions
- ½ -1 bunch
Herbs
- ½ bunch fresh cilantro, dill, parsley or basil (about 1 cup chopped)
Red-pepper-flakes
- ½ -1 teaspoon (depending on spice preference)
Salt
- 1 pinch
Ground-Pepper
- 1 pinch
Yogurt
- 2 cups low-fat, plain Greek yogurt
Lemon
- ½
Pepper
- 1 medium, finely diced, ano color (optional)
Instructions
Step 1
Chop finely the scallion and fresh cilantro.
Step 2
Heat the olive oil in a medium frying pan on medium-low heat. Add the scallions, red pepper flakes, and cilantro. Cook and move with a spatula every few minutes or until the red pepper flakes start to turn the oil orange (about 5 minutes).
Step 3
Remove from the heat and let cool. Season with salt and pepper.
Step 4
Add the yogurt into a bowl. Add the oil with scallions and cilantro. Squeeze the lemon and add to the bowl. At this point you can add the diced pepper. Mix and add salt and pepper to taste.
Step 5
Enjoy as a dip with sliced vegetables or as a sandwich spread!
Notes
This dip tastes a lot like ranch but has lower calories and is packed with protein. For a quicker alternative, you can use a ranch packet with Greek yogurt. Adding vegetables or herbs makes for an extra nutritious snack. Serve this dip with fresh vegetables, with a burger, or over a baked sweet potato. See our swap out options or seasoning guide to choose ingredients that you and your family will enjoy.
Nutrition Information