Keeping Pregnant Women with Addiction Healthy Before, During, and After Delivery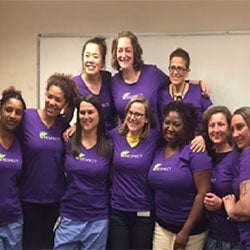 Massachusetts is one of the top states for access to treatment for substance use disorders, especially for pregnant women. Still, only 66 percent of pregnant women with substance use disorders in Massachusetts receive treatment before giving birth. Project RESPECT, a Boston Medical Center program that engages pregnant women in recovery, is working to change that statistic.
"Substance use disorder is the highest cause of maternal mortality, even when mothers are in the hospital post-delivery," says Kelley Saia, MD, director of Project RESPECT. "It's always a challenge to engage high-risk, high-utilizing patients fully in care, but our goal is to engage them in ongoing recovery treatment."
Addiction Treatment Before Delivery
Project RESPECT sees an average of 45 patients a week for medical treatment and counseling. More than 60 percent of Project RESPECT's referrals come from detox centers around Massachusetts. These patients are admitted to BMC's high-risk obstetrics service for up to two weeks, where Project RESPECT helps connect them to services and get on medication-assisted treatment. The goal is to find out what patients need and want, but help guide them to treatment.
After connecting patients to appropriate treatment programs, the Project RESPECT team works with them throughout pregnancy and beyond. The team acts as care providers, a support system, a resource for advice, and an advocate in the legal and social systems when necessary.
Addiction Treatment After Delivery
Most importantly, Project RESPECT's work doesn't stop when the baby is born. "We've spent the last 15 years focused on prenatal care, but it turns out that after delivery is the most dangerous time," says Saia.
Instead of the traditional six-week postpartum check-up, Project RESPECT schedules three appointments – for one week, three weeks, and five weeks out – with new mothers before they even leave the hospital. They then continue to see mothers at regular intervals and check in frequently to ensure that everyone is staying on track. The program's partner in this care is SOFAR, another BMC program that provides support and resources for mothers in recovery and their children in pediatric primary care.