When an Aspiring Doctor Becomes the Patient
---
Maria Narvaez is a busy 26-year-old. She recently earned her master's degree in Medical Sciences from Boston University to fulfill her dream of becoming a physician, she works full time as a research assistant for the section of pediatric infectious diseases at Boston Medical Center, and she's a breast cancer survivor.
When a lump was found in Maria's breast, she was not too concerned. She was young and did not have a family history of breast cancer. In July 2018, a mammogram and biopsy revealed unexpected news; Maria had invasive ductal carcinoma, a type of breast cancer.
Things moved quickly after her diagnosis. She was introduced to Michael Cassidy, MD, a surgical oncologist at BMC, who explained her surgical options, and to Naomi Ko, MD, a medical oncologist. And she met with Claire Hacking, a genetic counselor, who after some genetic testing, revealed to Maria that she had an ATM mutation, which is a gene mutation that made her more likely to get breast cancer.
All of this was very overwhelming and as most patients newly diagnosed with cancer do, Maria sought a second opinion at another hospital. She left that appointment feeling more confident than ever with the care she would receive at BMC.
"I felt like everyone I met at BMC truly cared about me as a person, not just a patient," says Maria. "They were very thorough in their explanations and answered my many questions. It put my mind at ease knowing that they would be taking care of me. I felt like we were all on the same team and that I truly had input in my care."
What followed next were a lot of appointments and scans so her providers could decide on the best course of action. Dr. Cassidy explained that there were options: she could have a lumpectomy, where only the cancer and the tissue that surrounds it is removed, preserving the breast; a total mastectomy, which is when the surgeon removes the entire breast; or a double mastectomy, which is when both breasts are removed. They decided together on the total mastectomy in the one affected breast.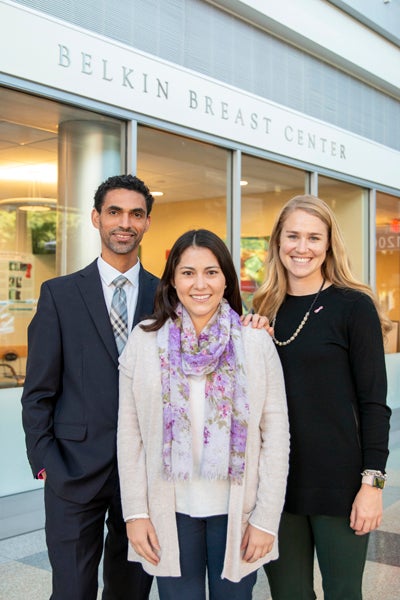 Maria with Dr. Nilton Medina and
Jillian Strassner, PA
After this decision, Maria met with Nilton Medina, MD, FACS a plastic surgeon at BMC who, along with his physician assistant (PA), Jillian Strassner, would reconstruct Maria's breast after her initial surgery. On August 21, Dr. Cassidy performed a total mastectomy on Maria and Dr. Medina performed the immediate first stage of reconstruction surgery. There was some pain afterwards, but she was comforted by her mom who came up from Florida to stay with her for many weeks, and by an in-hospital visit from Drs. Cassidy, Ko, and Medina. "It is a privilege to be a part of the team caring for Maria. She has shown remarkable resilience at such a young age," says Dr. Cassidy. "Maria was engaged in her care and was able to make complex decisions that fit her personal priorities. Working closely with Drs. Ko and Medina, and with Maria's input, I think that as a team we were able to tailor her treatment specifically to her cancer and her life."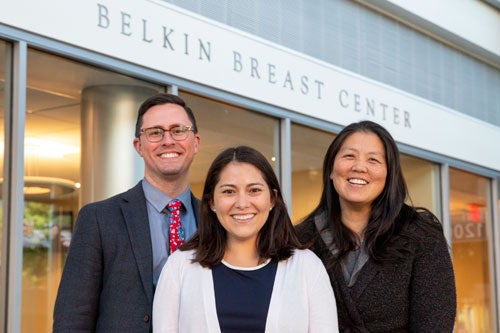 Maria with Drs. Michael Cassidy and Naomi Ko
After examining the results performed on the tissue removed during surgery, Drs. Ko and Cassidy worked with Maria to decide on her ongoing treatment to prevent the cancer from spreading or returning. They decided that her option would be hormone therapy for the next several years. Hormone therapy slows or stops the growth of hormone-sensitive cancer by preventing the body from producing hormones or by interfering with effects of hormones on breast cancer cells. This also means that Maria is entering early menopause, which can come with its own set of challenges. Dr. Ko provided options for managing these symptoms, like acupuncture treatment at BMC. Today, Maria is back at work and feeling better. She has ongoing appointments with Dr. Medina and Jillian in preparation for her implant surgery in a few months. "It's been a pleasure working with Maria," says Jillian. "She is a lovely person and I look forward to seeing her weekly for her appointments that are preparing her for her second surgery."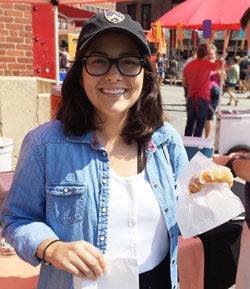 While she needed to put her dreams of going to medical school on pause, she has since hit the play button again and began working on her applications two weeks after her surgery. "I think this experience will help me be a better doctor, given my unique perspective of having been a patient," says Maria. "I want to be a provider like the ones on my care team at BMC, and make patients feel like they are an important member of their care team."
"Maria is a lovely person and I think she will be a great clinician having gone through this unique experience," says Dr. Medina "It will help her to relate to her patients that much more." Dr. Ko agrees, "Maria is a remarkable woman and has tackled her diagnosis with such poise and strength. This will help her to become a uniquely empathetic physician."
As far as being a young breast cancer survivor goes, Maria has this message to relay, "If you feel something abnormal, get it checked out and follow up routinely. This can happen to anyone and I feel lucky to have caught it when I did."