Groundnut (Peanut) Stew with Lemony Greens
Other
Contributed by:
BMC Teaching Kitchen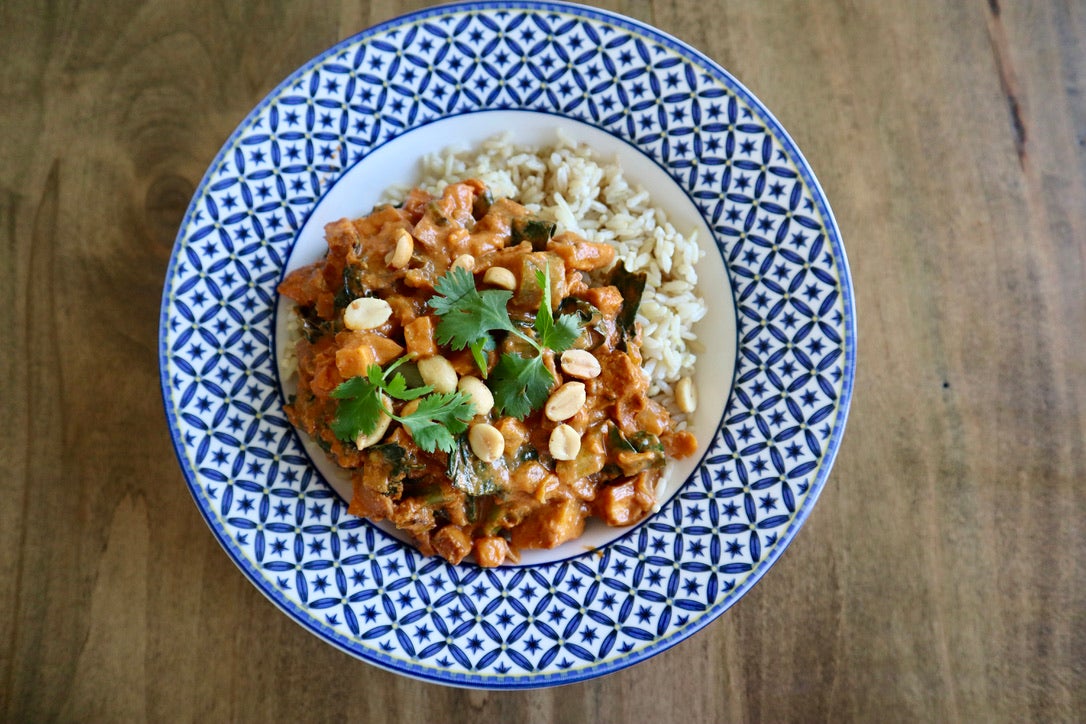 This is a hearty stew, brightened by the lemon and fresh cilantro or other herb of choice. It contains a starch, the sweet potatoes, so can be a meal in itself. It is also delicious served alongside white or brown rice. 
Ingredients
Sweet_Potatoes
– 2 small (about 3 cups when peeled and chopped)
Onion
– 1 large
Celery
– 2 stalks
Garlic
– 2 cloves
Oil
– 3 Tablespoons, canola, vegetable, avocado or olive oil
Protein
- 1 lb ground chicken or turkey, 93% lean
Spice
- 1 Tablespoon curry powder
Spice
- ½ teaspoon red pepper flakes
Broth
– 4 cups (low-sodium chicken broth, vegetable broth or water)
Nut_Butter
- ½ cup peanut, almond or sunflower seed butter (smooth or chunky)
Tomatoes
- 1 (15-oz) can, no-salt-added diced tomatoes (do not drain)
Salt
– ½ teaspoon
Greens
– 4-6 cups chopped, kale, Swiss chard, spinach etc.
Lemon
– 1 Tablespoon lemon juice
Nuts
– ¼ cup chopped peanuts, almonds, walnuts, pumpkin seeds or sunflower seeds (for garnish)
Herbs
– ¼ cup chopped (fresh) or 2 Tablespoons dry cilantro, basil, parsley or oregano
Instructions
Step 1
Wash and peel the sweet potatoes and dice into 1 inch cubes. Set aside.
Step 2
Heat 2 Tablespoons of oil in a large stock pot, over medium-high heat. Add ground turkey and cook until brown and cooked through, about 5 minutes.
Step 3
While the turkey cooks, finely dice the onions, celery, and garlic. Add to the turkey and sauté until soft, about 3 minutes.
Step 4
Stir in curry powder and pepper flakes and cook for 1 minute.
Step 5
Add the broth, peanut butter, sweet potatoes and diced tomatoes. Simmer for 15-20 minutes until sweet potatoes are soft.
Step 6
While the soup simmers, add the chopped greens to a large bowl. Drizzle with lemon juice and oil. Toss to coat.
Step 7
To serve, place a cup of greens in each bowl, top with stew, and garnish with chopped peanuts and fresh cilantro.
Notes
Peanuts (also called "ground nut") are common throughout Africa and are often served with rice. Peanut butter lends a creaminess to this soup and the warm spices add rich flavor to this hearty, healthy stew. The lemony greens add a healthy, colorful kick!
Nutrition Information